Video mantra chanting: Lama Tsongkhapa's Migtsema wonderfully chanted by Yoko Dharma. Benefits: healing, compassion, metta, wisdom
The benefits of the powerful Migtsema prayer or mantra is well-documented by many great teachers of the Gelug lineage — including H.H. Dalai Lama, H.E. Lama Zopa Rinpoche, H.E. Zasep Tulku Rinpoche. Its beauty and simplicity and benefits are near-legendary. For busy people, Lama Tsongkhapa's practice is particularly efficacious, as it combines three major practices in one meditation.
"After I pass away and my pure doctrine is absent,
You will appear as an ordinary being,
Performing the deeds of a Buddha
And establishing the Joyful Land, the great Protector,
In the Land of the Snows."

-Buddha Shakyamuni in the Root Tantra of Manjushri
Of course this Great Protector in the Land of Snows was Lama Tsonkhapa. Virtually all Tibetan Gelugpa teachers teach this very powerful, yet accessible praise and mantra. The Migtsema does not require initiation or empowerment—although the guidance of a teacher and initiation are beneficial.
As the embodiment of three Buddhas — Avalokiteshvara, Manjushri and Vajrapani — Lama Tongkhapa's practice and mantra is particularly effective for Buddhist practitioners. Simply chanting the Migtsema, (chant along with the magnificent voice of Yoko Dharma in the video below!) can have many benefits, from healing, to increasing your love and compassion, to insights and wisdom.
New video and audio of Yoko Dharma chanting the Migtsema, Lama Tsongkhapa's precious prayer mantra:
More about Lama Tsonkphapa's wonderful practice>>
Note
Chant along with Yoko Dharma!
The Migtsema praise or maintra of Lama Tsonkhapa is a renowned Buddhist practice that combines all three of:
Karuna and Metta: Lama Tsongkhapa embodies Chenrezig (Avalokiteshvara), the Buddha of Compassion
Wisdom understanding Emptiness (Shunyata): Lama Tsonkhapa embodies Manjushri, Buddha of Wisdom
Action and Practice (Power): Lama Tsongkhapa embodies Vajrapani, the Bodhisattva or Power
Lama Tsongkhapa was the founder of the Gelug school, considered an Enlightened Being embodying the qualities of Chenrezig, Manjushri and Vajrapani.
Renowned for it's near-miraculous healing and protective qualities, the Migtsema can be chanted by anyone, with or without empowerment or teachings.
Chanted in Tibetan (English translation below):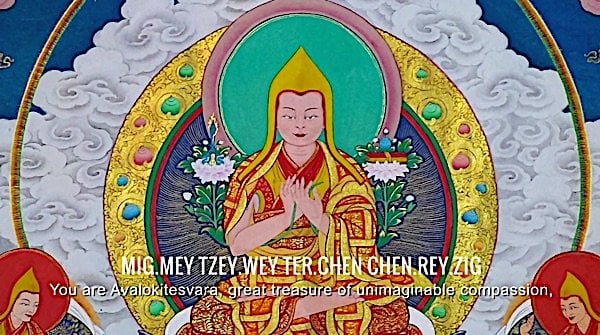 MIG.MEY TZEY.WEY TER.CHEN CHEN.REY.ZIG
You are Avalokitesvara, great treasure of unimaginable compassion,

DRI.MEY GYEN.PEY WANG.PO JAM.PEL.YANG
And Manjushri, master of stainless wisdom,

DÜ.PUNG MA.LÜ JOM.DZEY SANG.WEY DAG
And Vajrapani, Lord of the Secret and destroyer of hordes of maras without exception.

GANG.CHEN KEY.PEY TSUG.GYEN TSONG.KHA.PA
Tsong Khapa, crown jewel of the sages of the Land of Snows,

LO.ZANG DRAG.PEY ZHAB.LA SOL.WA DEB
Lozang Dragpa, I make requests at your lotus feet.
Note
Please support the "Spread the Dharma" mission as one of our heroic Dharma Supporting Members, or with a one-time donation.
Please Help Support the "Spread the Dharma" Mission!
Be a part of the noble mission as a supporting member or a patron, or a volunteer contributor of content.
The power of Dharma to help sentient beings, in part, lies in ensuring access to Buddha's precious Dharma — the mission of Buddha Weekly. We can't do it without you!
A non-profit association since 2007, Buddha Weekly published many feature articles, videos, and,  podcasts. Please consider supporting the mission to preserve and "Spread the Dharma." Your support as either a patron or a supporting member helps defray the high costs of producing quality Dharma content. Thank you! Learn more here, or become one of our super karma heroes on Patreon.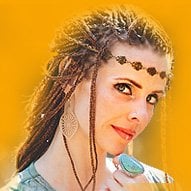 Yoko Dharma
Author | Buddha Weekly
I sing to create awareness and positive global change. Invoking healing, peace and transformation through the power of music, my intention and my lyrics.
As I grow and cultivate these things in my own life, my motivation is to inspire others to do so as well. If we can realize the true wisdom and compassion that is deep within us and if we genuinely come from a place of caring and compassion when relating to other people, I believe we can truly change the whole world.