Why is Maha Rakta Ganapati recommended by some Buddhist Teachers as the remover of obstacles, the protector of prosperity?
Why is Maha Rakta Ganapati recommended by Buddhist Teachers as the remover of obstacles — the protector of prosperity? What makes Ganapati a spiritual superstar? Why is Ganesha so loved around the world? In Buddhism, what makes his practice unique and powerful? We answer these questions and more in this in-depth feature. [Don't miss our "deity documentary" film "Remover of Life's Obstacles: Red Ganapati Ganesha in Buddhism, embedded below, or on YouTube>>]
Ganapati — the much-loved deity Ganesha — transcends spiritual boundaries. In various forms, Ganesha is found in most schools of Buddhism. In Tibetan Buddhism, Vajrayana, the twelve-armed Red Ganesha, the Wish-Fulfilling Jewel, is especially loved.
VIDEO "Remover of Life's Obstacles" Red Ganapati
Venerable Zasep Rinpoche, explained his versatile popularity:
"Ganesha is honoured as a Yidam deity as well as a Dharma Protector in both the Hindu tradition and the Tibetan Buddhist tradition. Ganesha is a protector of Dharma practice and prosperity; he also removes hindrances and obstacles.

Ganesha, Vajrayogini, and Kurukulla are the three red deities, part of the thirteen golden Dharmas of the Sakypa tradition of Tibetan Buddhism.

Ganesha is one of the fifteen directional protectors – in that group he is known as a Vinayaka."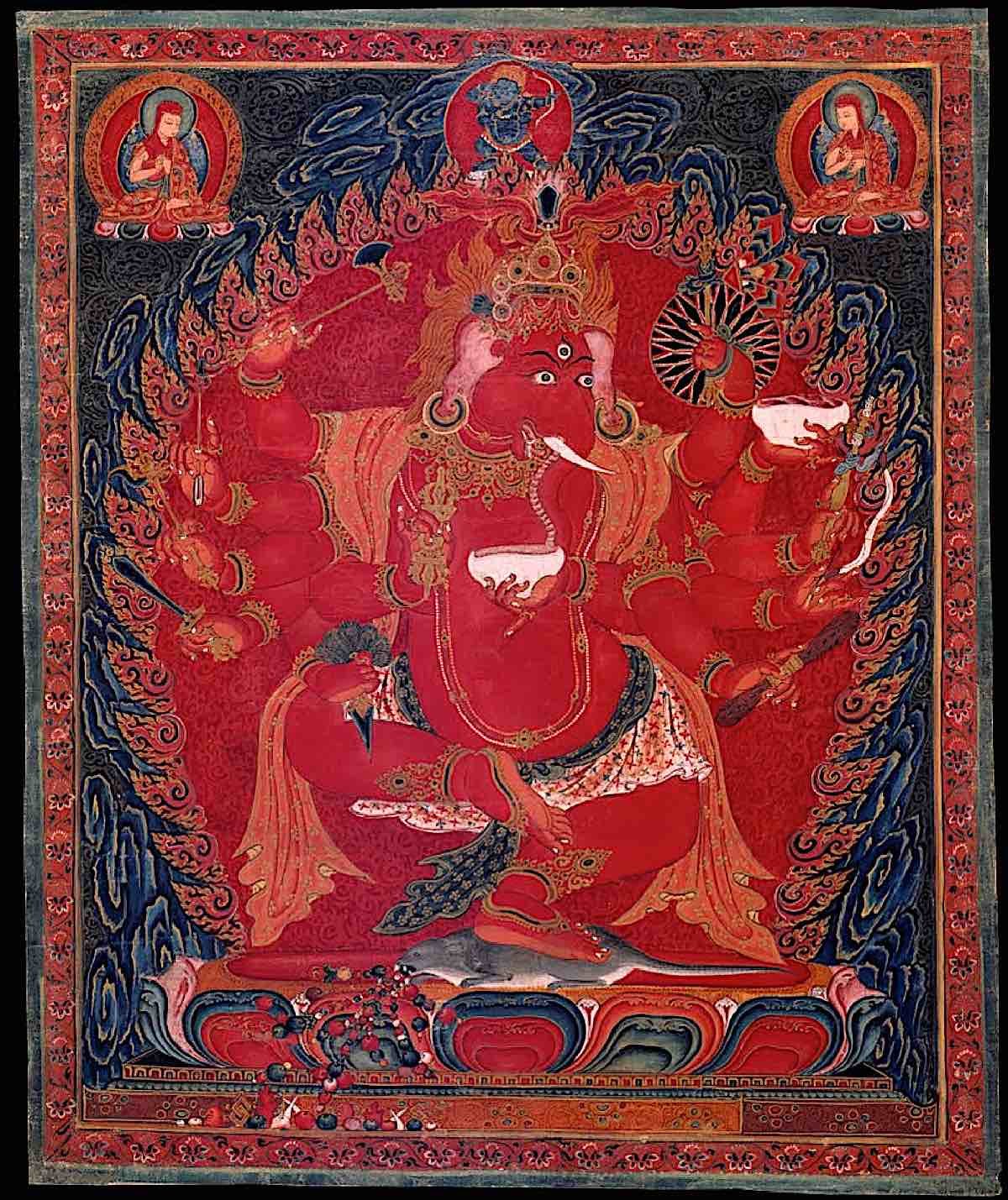 Ganapati in Most Schools of Buddhism
Ganapati practice is pervasive and popular in most schools of Buddhism, including Mahayana and Vajrayana. Zasep Rinpoche illustrated with this example:
"Ganesha also promised to protect the Dharma in front of Guru Padmasambhava at the great stupa, Gomasala Ganda, in India. Guru Padmasambhava composed 108 Sadhanas of Ganesha and gave them to Tibet's second great king Trisong Detsen."
Rinpoche also explained that there are 32 aspects of Ganesha in Hinduism and several in Buddhism, including as an aspect of Avalokiteshvara [See the charming story below.]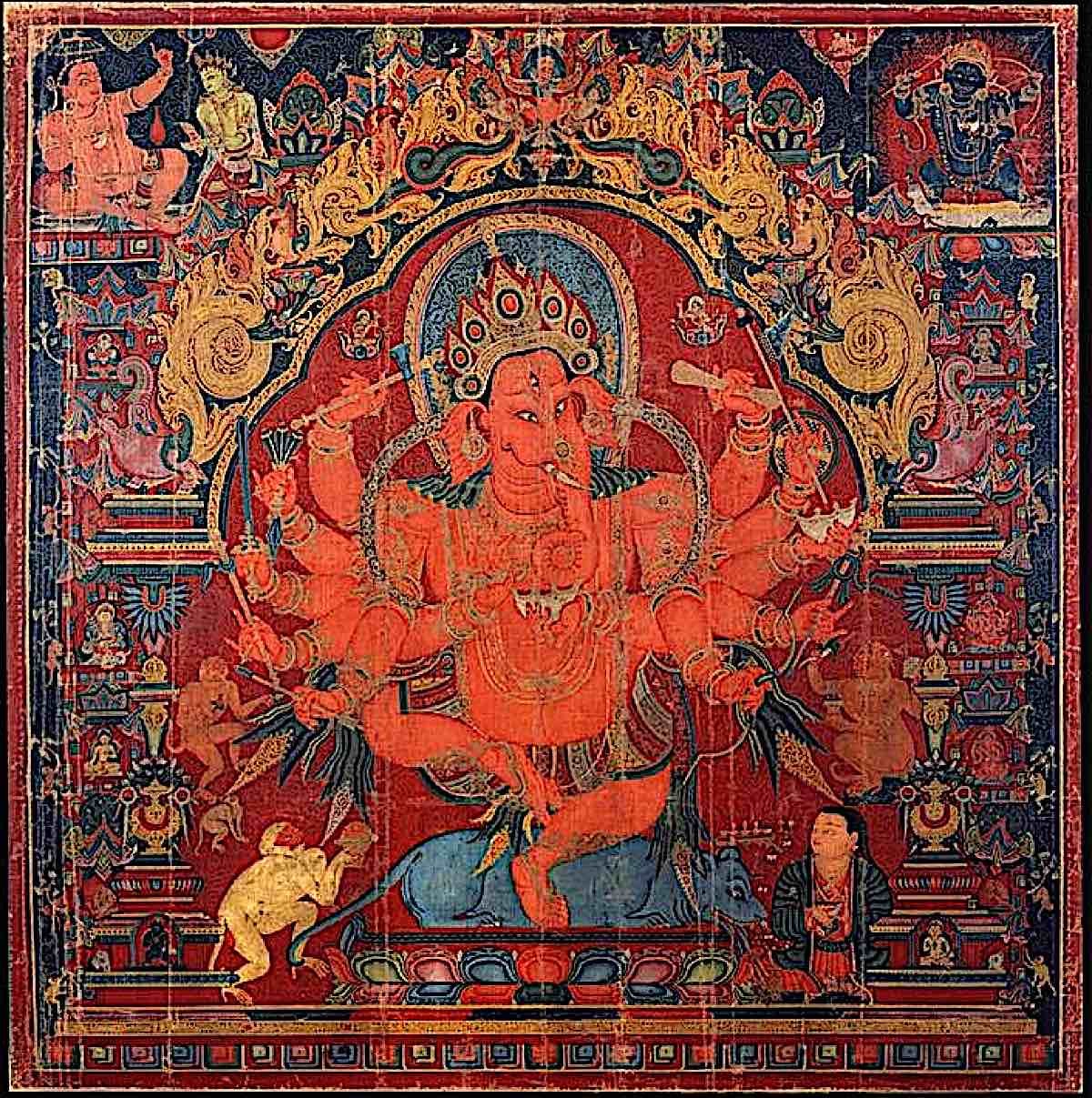 The Story of Avalokiteshvara and Ganesha
From the chapter of Ganesha-Ganapati in Zasep Rinpoche's book Source of All Buddhist Protectors, he synopsized the charming story of how Avalokiteshvara "convinced" Ganesha to protect the Buddha Dharma:
"Avalokiteshvara knew Ganesha was a powerful god and wanted him to become a Dharma protector. Avalokiteshvara decided the only way to do this was to manifest as an even more powerful Ganesha. One day Ganesha and his attendants went on an outing… While they were gone Avalokiteshvara manifested himself as Ganesha and entered the royal palace. The consort of Ganesha and her entourage greeted him and offered flowers and music….when the real Ganesha returned to the royal palace, the consort and entourage were very confused and told him the great Maha Deva Ganapati was already sitting on the golden throne! … Then Ganesha was overwhelmed by the power of Avalokiteshvara; right away he took refuge and the Bodhisattva vows from him, to protect and maintain the holy Dharma."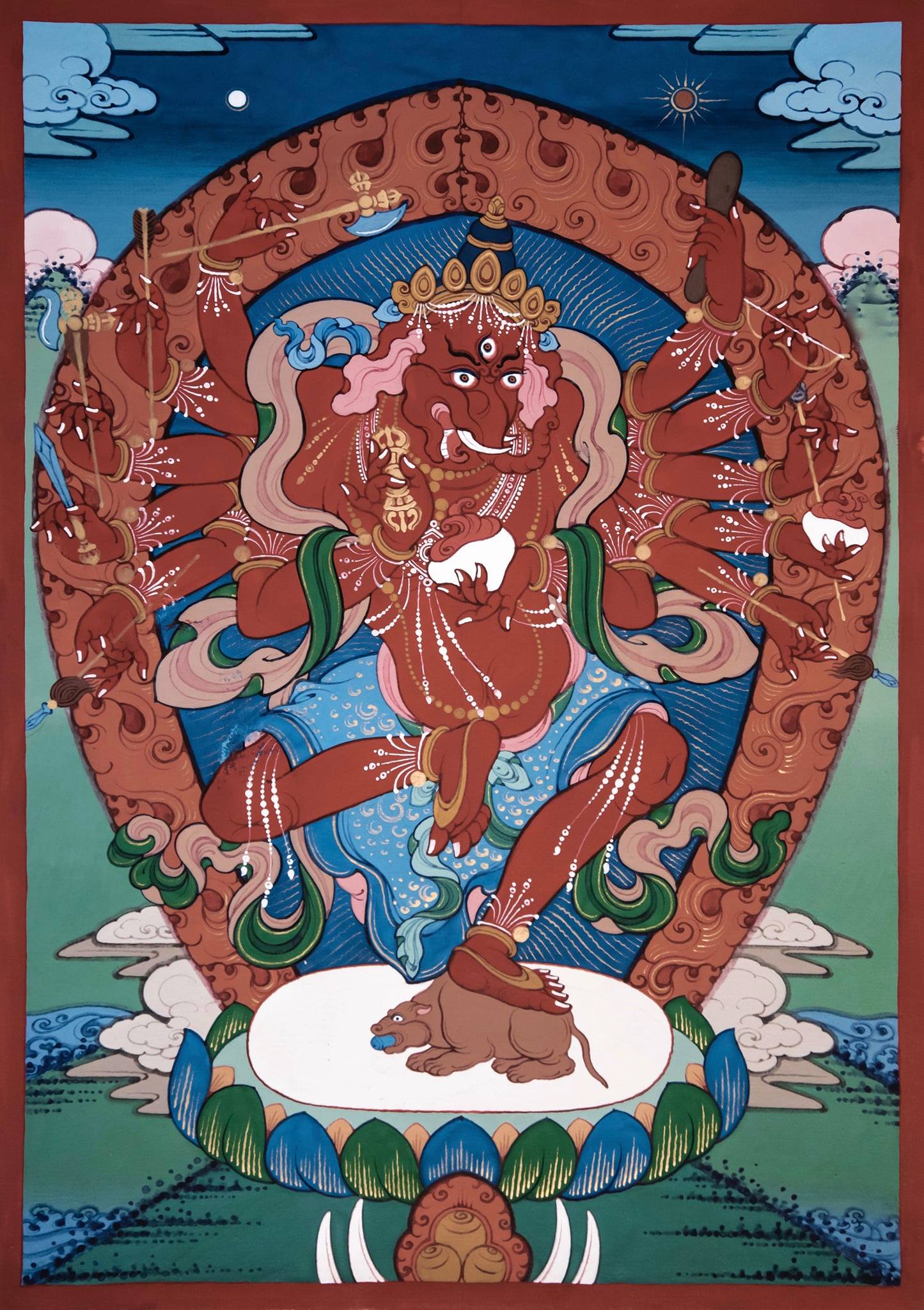 Heart Dharani of Ganesha
Ganapati's Heart Dharani is a Sutra proclaimed by Shakyamuni Buddha in the Arya Ganapati Hridaya. [1 ] [See the full quoted Sutra below.] In the sutra, Buddha suggested Ganapati's dharani be practiced first, before other practices and meditations, to help remove obstacles to practice. Buddha said to Venerable Ananda:
"Retain this, the Heart of Ganapati. The people who read this will accomplish all their endeavors. All the aspirations they hold in their minds will be accomplished as well. They will accomplish all the secret mantras, too. All their wealth and resources will become abundant."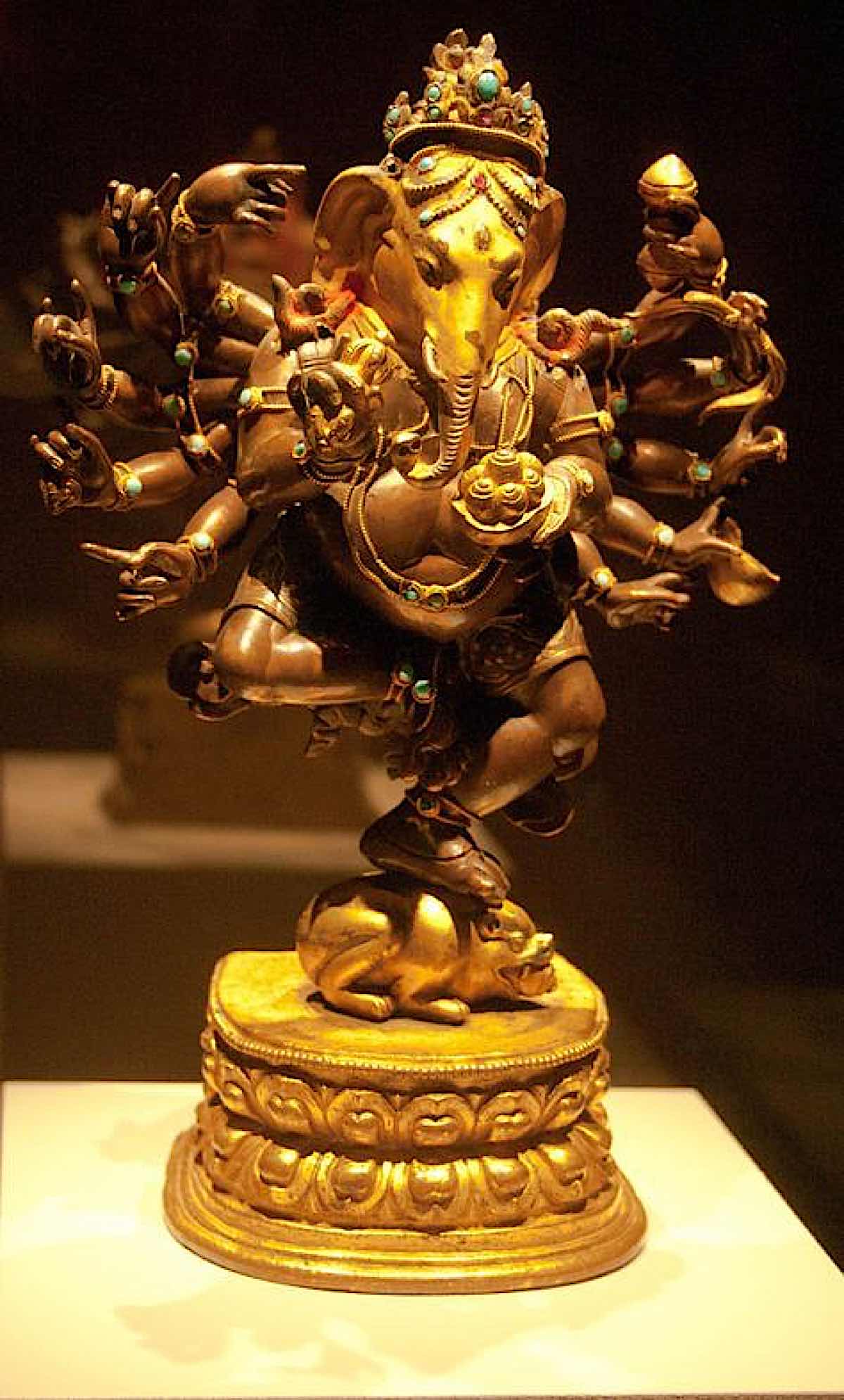 Venerable Zasep Rinpoche said:
"At the time of Buddha Shakyamuni, Buddha advised his chief disciple Maha Ananda, that the monks, nuns and lay devotees should first take refuge in the Buddha, Dharma and Sangha, then make offerings to Ganesha. They should recite his Mantras seven times, twenty-one times or 108 times, then they could achieve their wishes and remove obstacles to Dharma practice."
The shortest version of the mantra would be:
OM AH GA HUM SVAHA
In simple terms: Om Ah and Hum respectively represent Buddha's Body, Speech and Mind and GA is the seed-syllable of Ganapati Ganesha.
The full Dharani Shakyamuni Buddha referred to, is:
TADYATHĀ/ NAMO TUDDHE/ GANAPATI/ KATA KATA/ KITI KITI/ KUTA KUTA/ MATRA MATRA/ DARA DARA/ DHAHA DHAHA/ GHRINA GHRINA/ DABĀ DABĀ/ JAMBHA JAMBHA/ SAMAYA MANUSMARANA TUDDE TUDTRA/ BACHANAYE SVĀHĀ/ ABUTE BHIDUKSHA BANCHA TANA/ BASAMA GARACHHA/ THAMAHA BHAYA/ MAHĀBAYĀ/ MAHETETA KSHINIYA/ PRAKOMPAYASI/ TADYATHĀ/ OM KURU KURU/ MURU MURU/ CHURU CHURU/ NAMA NAMA SVĀHĀ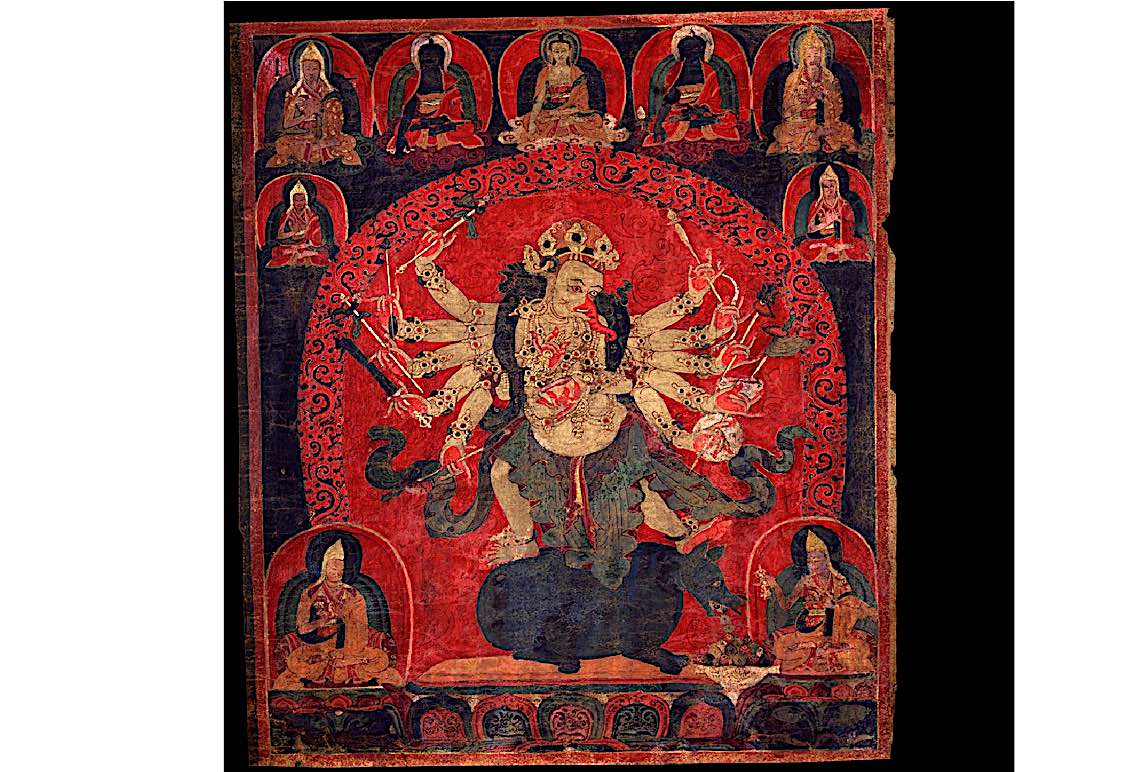 Prayer to 12-armed Ganapati
Traditionally, devotees would make a daily offering of flowers, carrots, and other sweet offerings with a simple prayer such as:
Lord Ganapati, you are the embodiment of

Vajra Body, Speech and Mind of the Buddhas

Arising from non-dual wisdom,

I offer fragrant flowers, carrots and other substances,

To you, the Lord who removes obstructors,

I pray to you and your entourage,

Please send your blessings and siddhas upon us!
Siddhas can be loosely translated as "wish-granting" although depending on context has many meanings, including the greatest of Siddhis — Enlightenment.
The Wish-Granting Ganapati with 12 Arms
Ngorchen Konchog Lhundrup (1497 – 1557) described Ganapati (Great Red Ganehsa) as "…beside a lapis lazuli rock mountain is a red lotus with eight petals, [standing on] …a blue rat expelling various jewels; Shri Ganapati with a body red in colour, having an elephant face with sharp white tusks and possessing three eyes, black hair tied in a topknot with a wishing-gem and a red silk ribbon [all] in a bundle on the crown of the head. With twelve hands, the six right [hands] hold an axe, arrow, hook, vajra, sword and spear. The six left [hold] a pestle, bow, khatvanga, skullcup filled with blood, skullcup filled with human flesh and a shield together with a spear and banner. The peaceful right and left hands are signified by the vajra and skullcup filled with blood held to the heart. The remaining hands are displayed in a threatening manner. Wearing various silks as a lower garment and adorned with a variety of jewel ornaments, the left foot is extended in a dancing manner, standing in the middle of the bright rays of red flickering light." [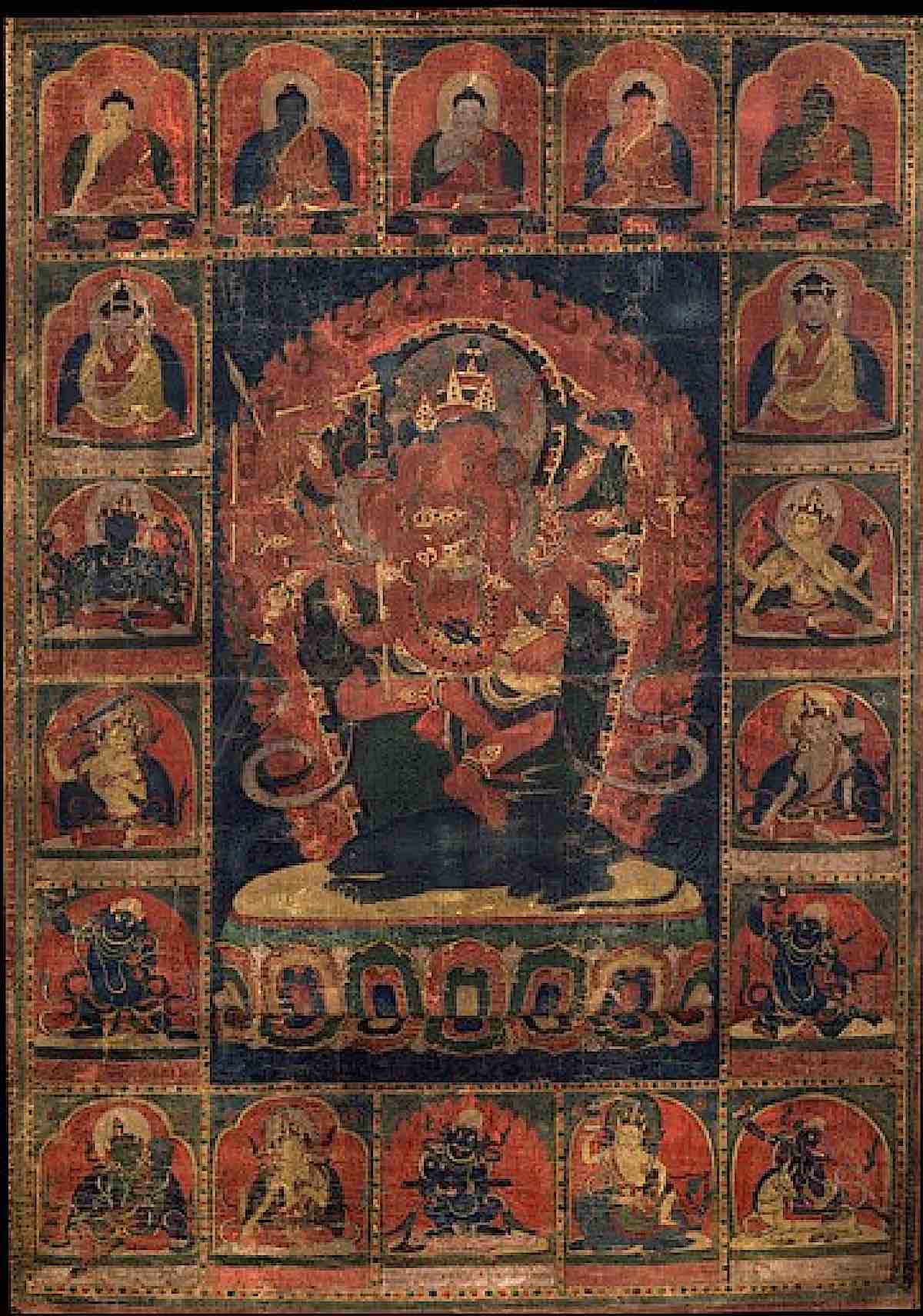 2]
Ganapati — Clears Away Obstacles
As the clearer of obstacles, he often appears prominently in many mandalas and Thangkas, or at the door of the temple or home. (For example, see 12-Armed Maha Rakta Ganapati top left of the Hayagriva Sangdrup thangka below.) As a remover of obstacles, he is a vital symbol and Enlightened Deity.
Ganesha under foot?
As the clearer obstacles, he appears symbolically under the feet of Mahakala — not because his brother Mahakala is subduing him or trampling on him, but because this symbolizes Ganesha supporting Mahakala's work. This is why Ganesh does not appear in distress under the feet of Mahakala of Vinayaka [See thangka of Vignantaka standing on Ganesha below]; both are emanations of Avalokiteshvara.
Ganapati clears away obstacles, obscurations — and supports our practice. Ganesha practice is foundational and supportive — symbolized by under our feet — or, where he is our key "clearing" practice he appears at the doorway, protecting us.
Ārya Mahā Gaṇapati Hṛdaya
namo bhagavate āryamahāgaṇapatihṛdayāya |
namo ratnatrayāya ||
Thus I have heard. Upon a time, the Blessed One was staying at Rajagriha, on the Vulture Peak, together with a great assembly of monks: forty-five hundreds of monks and numerous great Bodhisattvas. On that occasion the Blessed One told the Venerable Ananda:
"Ananda, whoever, son or daughter of high birth, would keep [in mind], recite, obtain and propagate these "heart" [mantras] of Ganapati, his will be the accomplishments of all his tasks"
oṃ namo 'stu te mahāgaṇapataye svāhā |
oṃ gaḥ gaḥ gaḥ gaḥ gaḥ gaḥ gaḥ gaḥ |
oṃ namo gaṇapataye svāhā |
oṃ gaṇādhipataye svāhā |
oṃ gaṇeśvarāya svāhā |
oṃ gaṇapatipūjitāya svāhā |
oṃ kaṭa kaṭa maṭa maṭa dara dara vidara vidara hana hana gṛhṇa gṛhṇa dhāva dhāva bhañja bhañja jambha jambha tambha tambha stambha stambha moha moha deha deha dadāpaya dadāpaya dhanasiddhi me prayaccha |

oṃ rudrāvatārāya svāhā |
oṃ adbhutavindukṣubhitacittamahāhāsam āgacchati |
mahābhayamahābalaparākramāya mahāhastidakṣiṇāya dadāpaya svāhā |
oṃ namo 'stu te mahāgaṇapataye svāhā |
oṃ gaḥ gaḥ gaḥ gaḥ gaḥ gaḥ gaḥ gaḥ |
oṃ namo gaṇapataye svāhā |
oṃ gaṇeśvarāya svāhā |
oṃ gaṇādhipataye svāhā |
oṃ gaṇapatipūjitāya svāhā |
oṃ suru suru svāhā | oṃ turu turu svāhā | oṃ muru muru svāhā |
"These Ananda, are the "hearts" of Ganapati"
"Any son or daughter of high birth, whether monk or nun, lay brother or sister who undertakes any matter [such as] accomplishing the [rites to call a sacred being by means of] mantra, worshipping the Three Jewels, travelling to another country, going to the royal court or concealing [from view] should upon worshipping the Blessed Buddha, practice seven times the Arya Ganapati Hrdaya [spells]: for him all tasks will be accomplished; no doubt about this!. He should forever put an end to all strifes and quarrels , violence and envy, and become entirely calm. Day upon day abiding the rules and practicing a full seven times: it will come out into the fortune of this great one! Upon his coming to the royal court there will be great kindness (prasada). He will become "Keeper of hearing [1]" (Shruti-Dhara). There wil be no major illness to his body. Never will he assume the descent as a tara-praksina or the descent as a humble bee: nothing ellse will occur to him that the Mind of Awakening. In every birth he will be remembering [his previous] births."
Thus spoke the Blessed One, and upon receiving [his teaching] these monks, these great Bodhisattvas and whole attendance, the world with the gods, the humans, the asuras, the garudas and the gandarvas rejoiced at the words of the Blessed One.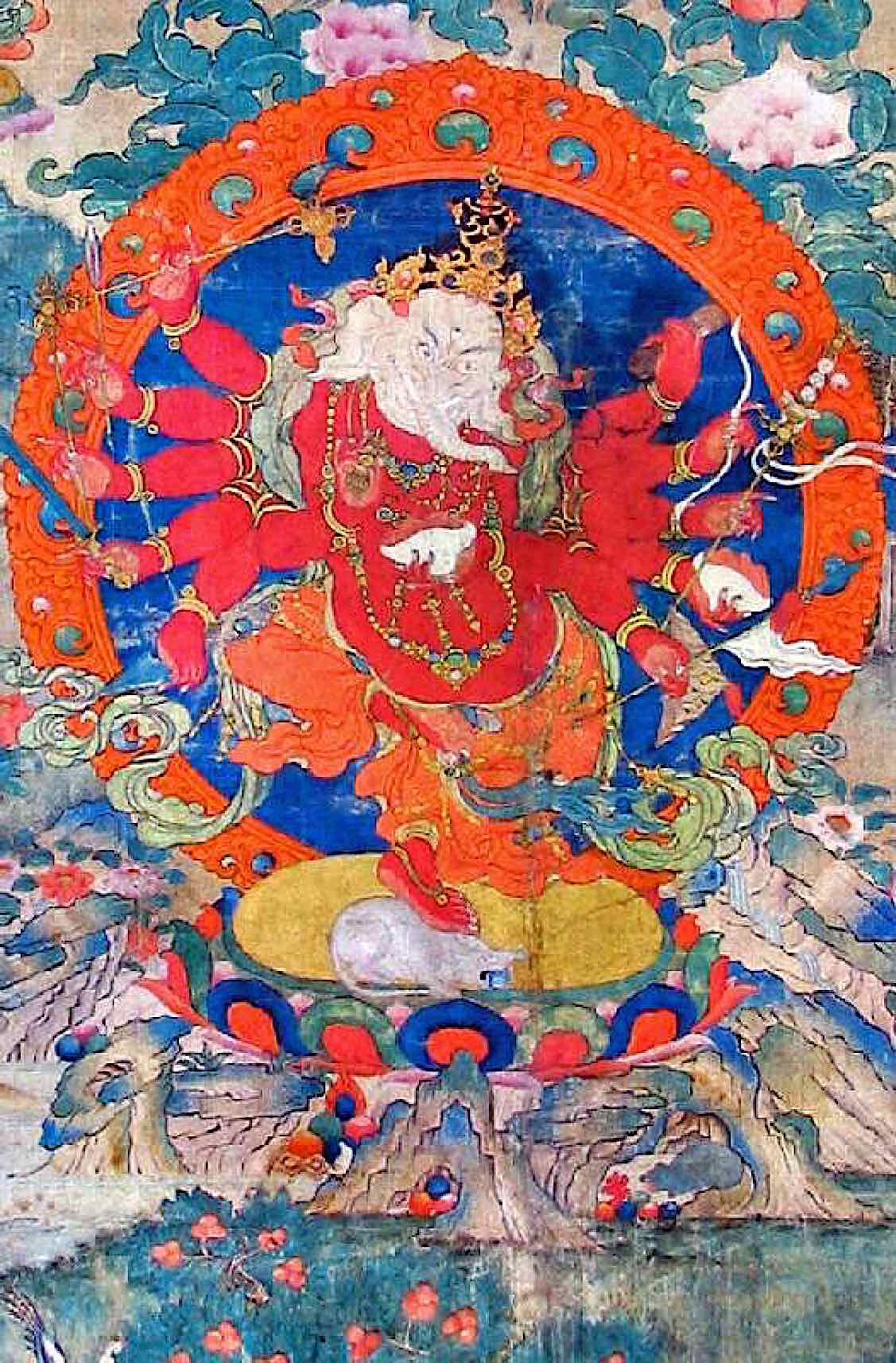 Practicing Ganapati

Although it is best to have empowerment, any with faith and good heart can practice this sadhana and mantra with one proviso — you must not self-generate as Ganapati. If you have a Yidam, you would self-generate as your own Yidam, then visualize/imagine Ganapati in front of you.
 Sadhana of Twelve-armed Red Ganesha Wishfulfilling Jewel
Compiled by Gyal Khenpo Drakpa Gyaltsen
Translated, modified with the addition of refuge, Bodhicitta, offerings, dedication and auspicious prayers by Zasep Tulku Losang Tenzin Gyaltsen.
NAMO GURU VAJRA VARNAYE
Maha Deva, Tsog Dagpo Ganesha is the protector for yogis and yoginis who have honored Samaya and who practice the Sadhana.
Ganesha is the source of virtue and prosperity. He is the provider of glory and good fortune of the three realms, so I make supplications to him to protect life and Dharma practice.
First set up the altar for Ganesha, place a statue or painting on the altar, arrange a jewel shaped red Torma decorated with butter ornaments of Sun, Moon and Nanda. Also set up the special three white offerings— milk, yogurt, and rock sugar with carrot. Set up two sets of offering bowls starting from right to left on the altar.
If you have the initiation of Heruka, Vajrayogini, Yamantaka Hayagriva, or Six-Armed Mahakala, do the short Sadhana of that deity (or at the very least, do the mantras). Sit on a comfortable cushion, place the Bell, Vajra, Damaru and inner nectar cup on the table in front of you, and begin with the Yidam deity Sadhana, then front- generated Puja of Ganesha.
Taking Refuge
For myself and all sentient beings throughout space I go for refuge until I am enlightened
To my Gurus, the Buddhas, the Dharma and the Supreme Sangha. (x3)
Cultivating Bodhicitta
For the benefit of all sentient beings I must achieve full Enlightenment.
For this purpose, I shall practice the Guru Yoga for the Wisdom and prosperity deity, Maha Deva Ganapati. (x3)
Consecrate the Torma offerings in advance
OM RURU PURU ZWALA TISHTA SIDDHA LOTSANI SARVA ARTA SADHANAYE SVAHA (x3)
(While saying the above mantra do the Sky Treasure mudra) OM VAJRA AMRITA KUNDALI HANA HANA HUNG PHET
OM SVABHAVA SHUDDHA SARVA DHARMA SVABHAVA SHUDDHO HUNG
From the state of emptiness I visualize myself arising
—as Heruka, Vajrayogini, Yamantaka (or whichever deity I practice).
I invite Great Maha Deva Ganesha to this marvelous mountain of lapis lazuli light, decorated by the red lotus flowers and the great fabled blue mongoose vomiting all kinds of jewels. He has the red syllable GAM on his back, then the red GAM transforms into glorious Red Ganesha with elephant face, three eyes and long white tusks. His hair is tied up on his crown and decorated with red jewels on the top and silk strips hanging on the side. He has twelve arms; the first right arm holds an axe, the second a great arrow, the third an iron hook, the fourth a Vajra, the fifth a sword, the sixth a Phangdu (spear). His first left hand holds a wooden pestle, the second a bow, the third a Khatvanga, the fourth a skullcup filled with blood, the fifth a skullcup filled with meat, the sixth holds a shield with a silk strip banner. He is also holding a Vajra and bell at his heart. He wears a Dhoti (lower garment) with marvelous jewels. His left foot stands on a great fabled blue mouse and his right foot is in the dancing posture. On his crown there is an OM, at his throat an AH, and at his heart a HUM. At the center of his heart, there is a GAM, the seed syllable of Ganesha.
Light shines forth from my heart as an invocation of Maha Deva Ganesha from one of the 33 realms of Devas known as Do Amo Linka; the glorious Maha Deva Ganesha and his unimaginable entourage descend and dissolve into the front- generated Ganesha. (Ring bell)
OM GA GA SIDDHI SIDDHI SARVA ARTHA METRA SADA YA HUM HUM ZA ZA SOHA (x100 or recite as much as you can)
DZA HUM BAM HO
The commitment beings and wisdom beings become one.
PADMA KAMALA YE TAM
SAMAYA HO
Absorbing the Wisdom Beings and Receiving the Empowerment
From the blue HUM at my heart light-rays emanate bringing forth
From their natural abodes the wisdom beings and the empowering deities.
The wisdom-beings dissolve into me. We become non-dual. The empowering deities confer the empowerment on me, the surplus nectar remains
Above me as Amitabha Buddha on the crown of my head. Making offerings that have been blessed from above, Consecrated water, purified water, flowers and powder incense,
Bright flame, excellent aromas, high quality delicious food, All kinds of beautiful musical instruments I offer to Opponents of Mara and the great Maha Deva Ganesha. Whatever I have obtained, as well as imagined offerings,
I consecrate them by the power of my mantra recitation, Concentration and fine mudras. I also bless them,
I offer them with great care and honor to the deities
I request and make supplications to Maha Deva,
Please provide long life, virtues, power and energy,
Glory, prosperity and all kinds of marvels,
All my wishes fulfilled without any hindrance.
Offerings to Ganapati
(EDITOR: Here make Kriya Tantra offering mudras, or visualize making the offerings.)
OM GANAPATI ARGHAM, PADYAM, PUSHPE, DHUPE, ALOKE, GANDHE, NAIVIDYA, SHABDA, HUM SVAHA OM GANAPATI OM AH HUM !
Praise to Maha Deva Ganesha
The embodiment of Buddha's body, speech and mind,
Arise from the non-dual wisdom.
The Lord of accumulation, the power of accumulation and owner of accumulation,
I prostrate to the great owner of the Geg obstacles.
Translator's note: Ganesha is known as Geg Kyi Gyalpo, the king of obstacles, owner of obstacles. This term sometimes causes a bit of confusion and concern. Lord Ganesha is a god of peace, love, prosperity and remover of hindrances. He never causes harm or obstacles. But from a divine Lila point of view he has a subtle influence, inspiring living beings to be joyful and playful. He generates long life, good health and lots of fun in life. There is nothing else quite like him; he is unusual. With his elephant face, he looks majestic and very beautiful. Playful, powerful, kind, generous and somewhat child-like, he is not serious like other Protectors, and enjoys wealth and the good life. For some Dharma practitioners, who have little sense of humour, they doubt that Ganesha is serious enough. While he inspires people with worldly happiness, sometimes this can be an obstacle and a distraction for their minds. However, I think in this degeneration age we need gods like him when we are facing suffering, sadness, depression, dangers of pandemics and illness. We need joyful cheerful happy Dharma Protectors like Lord Ganesha.
Mantra recitation of Ganesha-Ganapati
From the heart of myself, visualized as the Yidam mantra, light rays emanate and strike at the GAM syllable at the heart of the front-generated deity, requesting a rain of food, wealth and all kinds of siddhis.
Mantra of glorious Ganesha.
OM AH GA HUNG SOHA (x100)
(When you do Lerung retreat do 100,000 mantras, or you could recite until you receive good signs of realization.)
OM GAM GANA SIDDHI SODHA METRI YAZA HUNG SOHA (x 21)
Make Mandala offering, concentrating on the object of offerings.
I offer mind-capturing flowers, ornaments and jewels, Sweet Ladoo made with rice, honey, sugar and turmeric, Fresh carrots and fruit with hundreds of flavours, Cloud-like offerings of the ten directions;
Please accept these offerings with delight.
Mandala-like beautiful food, lamp light, and water offerings, Rice wine, raisin wine and sweet drinks,
Naturally pure or fermented drinks,
Accept these uncontaminated offerings.
Blessed by Samadhi, Mantras and Mudras,
Accept these desirable good quality offerings,
Which I set up with a pure mind and my imagination, Ver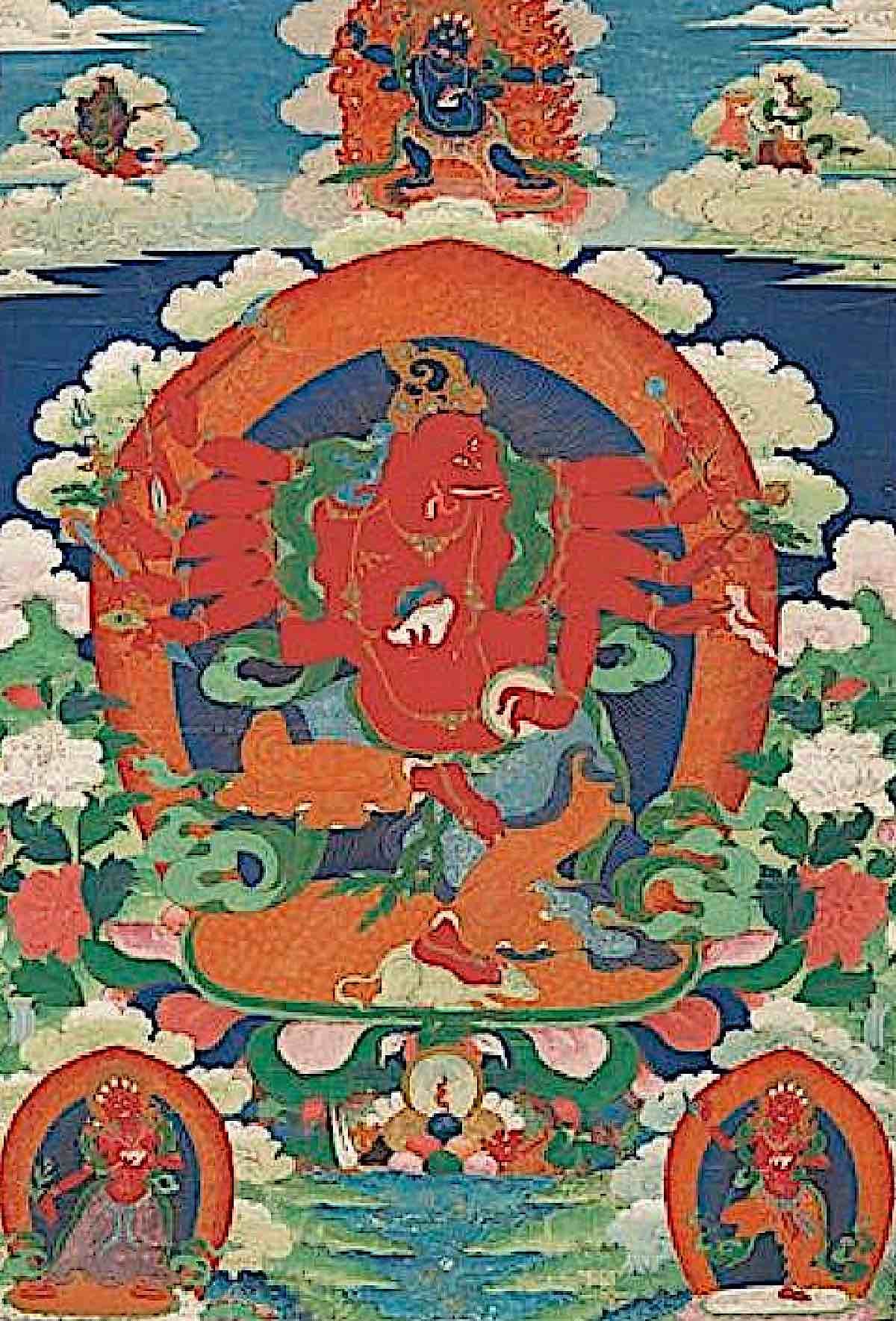 Great Maha Deva Ganesha, enjoy my offerings.
OM GANAPATI, ARGHAM, PADYAM, PUSHPE, DHUPE, ALOKE, GHANDE, NAIVIDYA, SHABDA OM GANAPATI OM AH HUM
When you wish to make Torma offerings, here is the method
OM HUNG HA HO HRI (x 3)
The front-generated deity drinks the essence of the Torma, drawing it up with his tongue in the form of a Vajra straw.
OM GANAPATI SAPARIVARA IDAM BALINGTA KHA KHA KAHI KAHI (x3)

OM GANAPATI AKARO MUKAM SARVA DHARMA NAM ADYA
NUPANA NATWATI NAMA SARVA TATHAGATA AVALOKETISHVARA OM SAMBARA SAMBARA HUM (x3)
OM GANAPATI, ARGHAM, PADYAM, PUSHPE, DHUPE, ALOKE, GHANDE, NAIVIDYA, SHABDA
OM GANAPATI OM AH HUM
Say the 100 syllable mantra of Vajrasattva
OM VAJRA SATTVA SAMAYA MANU PALAYA
VAJRA SATTVA TENO PATISHTA DRIDHO ME BHAVA
SUTO KAYO ME BHAVA SUPO KAYO ME BHAVA ANURAKTO ME BHAVA SARVA SIDDHI ME PRAYACCHA SARVA KARMA SUCHA ME
CHITTAM SHRIYAM KURU HUM HA HA HA HA HO
BHAGAVAN SARVA TATHAGATA VAJRA MA ME MUNCHA
VAJRA BHAVA MAHA SAMAYA SATTVA AH HUM PHAT
Dedication
By this merit may I reach the siddhi of prosperity; through this opportunity provided by Ganapati, may I be able to help others, providing food, medicine and whatever they need.
Auspicious prayer
May there be the auspiciousness of the great compassionate Avalokiteshvara,
May there be the auspiciousness of the Six-armed Mahakala and Khetrapala, and so on.
May everything be auspicious for Lord Ganapati and his entourage, and the wealth deities.
May there be goodness increasing like a waxing moon with the bliss and bountiful riches of a Buddha-field.
---
NOTES
[1] Buddha, Śākyamuni. The Noble Gaṇapati's Heart-Dhāraṇī: A Scripture from the Tibetan Buddhist Canon (Kangyur) . Sugatagarbha Publications. Kindle Edition.
[2] Iconography of Maha Rakta Ganapati Ganesha, Himalayan Art https://www.himalayanart.org/search/set.cfm?setID=6090
Please support the "Spread the Dharma" mission as one of our heroic Dharma Supporting Members, or with a one-time donation.
Please Help Support the "Spread the Dharma" Mission!
Be a part of the noble mission as a supporting member or a patron, or a volunteer contributor of content.
The power of Dharma to help sentient beings, in part, lies in ensuring access to Buddha's precious Dharma — the mission of Buddha Weekly. We can't do it without you!
A non-profit association since 2007, Buddha Weekly published many feature articles, videos, and,  podcasts. Please consider supporting the mission to preserve and "Spread the Dharma." Your support as either a patron or a supporting member helps defray the high costs of producing quality Dharma content. Thank you! Learn more here, or become one of our super karma heroes on Patreon.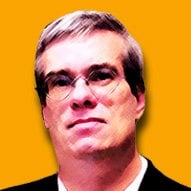 Lee Kane
Author | Buddha Weekly
Lee Kane is the editor of Buddha Weekly, since 2007. His main focuses as a writer are mindfulness techniques, meditation, Dharma and Sutra commentaries, Buddhist practices, international perspectives and traditions, Vajrayana, Mahayana, Zen. He also covers various events.
Lee also contributes as a writer to various other online magazines and blogs.