Remembering His Eminence Choden Rinpoche: The Hidden Meditator Passes into Dharamadhatu
On Sept 11 at 1:30am, Kyabje Choden Rinpoche showed the aspect of passing away at Sera Jey Monastery.
"With great sadness, we must convey to you the news of His Eminence Choden Rinpoche's passing into dharamadhatu," writes Choden Lobrang in a letter to students and friends. (Sera Jey Monastery, South India, Sept 11, 2015).
Today, September 14, "At 11:05 this morning Rinpoche came out of clear light meditation (Thugdam). People can now come and pay respect to Rinpoche's holy body between 2:00pm today and until tomorrow at 8:00am," reports His Eminence's Facebook page. "There has also been another evening of prayers and recitation here at the house. The self initiations continued with Cittimani Tara, and preparations for the Holy cremation. Last nights text recitations included the wonderful Essence of Nectar by Yeshe Tsöndru. Its like a very condensed Lam Rim and is highly recommended. This was then followed by Bodhisattva Charyavatara then Praise of Dependent Origination recited through till dawn."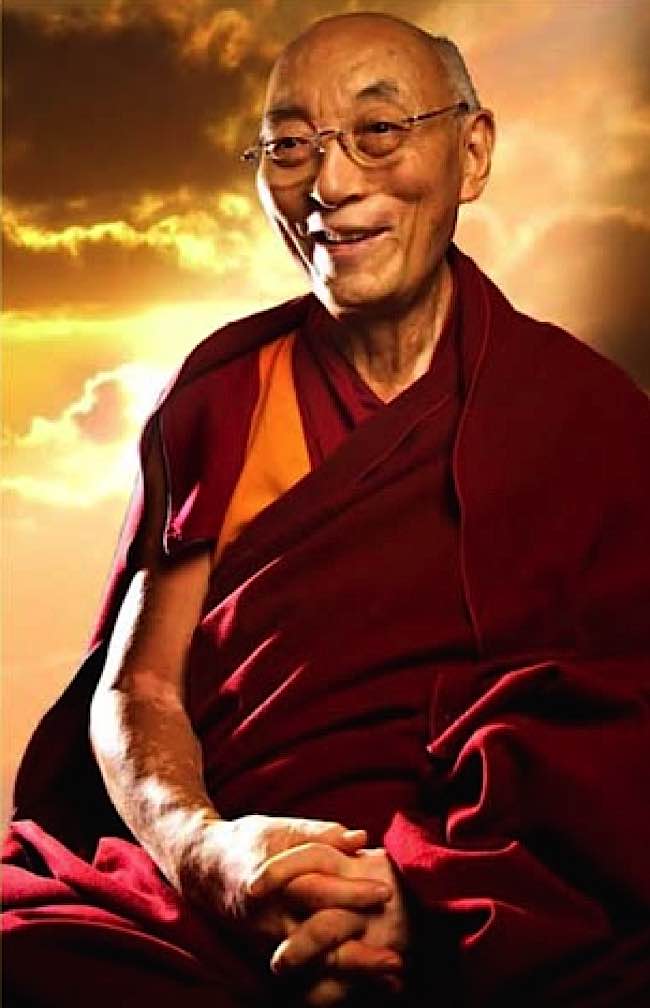 Remembering HE Choden Rinpoche: The Hidden Meditator
Choden Rinpoche of Sera Je Monastery was one of the highest Gelug lamas. He was the "hidden meditator" for 19 years. Famously, during the communist Chinese takeover of Tibet in 1959, Choden Rinpoche never left a tiny, dark room in Lhasa. From 1965 to 1985, he remained in solitary retreat, never leaving the room even to go to the bathroom. [1]
Choden Rinpoche recalled the day the Communist soldiers besieged the monastery in an article in Mandala Magazine. The soldiers "rounded up all the monks and put us in a courtyard. After this they ransacked the whole monastery. All the monks were circled by soldiers with their weapons. We'd heard that in eastern Tibet the soldiers had rounded up all the monks and shot them dead, so everyone was frightened that would happen. From dawn to sunset the monks were all standing in the courtyard." [2] They were told they'd be taken to be killed, but 'luckily' they were imprisoned instead. After one month in prison, he became ill and was taken to a hospital. The next few years were very difficult for all the monks in Tibet, but after the Cultural Revolution in 1965 they became even more dangerous. Without texts, drum, bell or vajra, Rinpoche went into extensive retreat.
Rinpoche's attendant at the time, Venerable Tseten Gelek, remembers that time: "He spent all his time on that bed, meditating… They had to change the bedding once a month because it got smelly from the sweat. He used a bedpan as a toilet… Until 1980 he didn't talk to anybody, only the person who brought food to his room."
His Eminence explained, "The main thing I wanted to do was practice Dharma sincerely, no matter what external factors were arising." [2]

Early Life of His Eminence
Born in 1933, Choden Rinpoche was recognized at the age of three as a Tulku. At seven, His Holiness Pabongka Rinpoche gave ordination to Choden Rinpoche. H.E. Choden Rinpoche remembered that time fondly: "I was 6 when I met Pabongka. I really admired everything he did: the way he walked, the way he dressed, everything. I felt, 'if only I could be like him.'"[2]
At the age of seventeen he enrolled in Sera Je Monastery. He became an prominent student of His Holiness Trijang Rinpoche. "His main gurus are Pabongka Rinpoche, Trijang Rinpoche and the Dalai Lama," according to an extensive biography in Mandala Magazine. [2]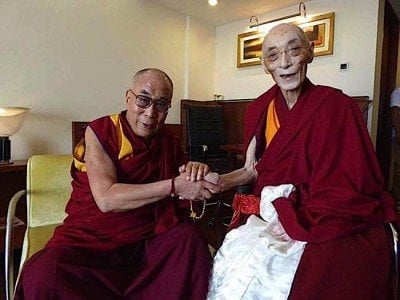 Teaching to the World
For decades, Rinpoche taught precious Buddhist canon to thousands of monks, and regularly toured monasteries and dharma centers around the world. He has taught and traveled in America, Europe, Mongolia and Asia. Many thousands have taken novice ordination from His Eminence.
Choden Labrang, on Sept 11, wrote: "As most of you know, last year in July, the glorious protector of the teachings and sentient beings, endowed with great understanding of the five sciences [medicine, craftmanship, logic, grammar, and the inner science of Buddhism], His Eminence Choden Rinpoche, the supreme Jetsun Losang Gyalten Jigdrel Wangchug, manifested the state of illness from the perspective ordinary disciples. However, through the fortunate convergence of the power of the blessing of His Holiness the Dalai Lama's compassion, the sincere requests of his disciples that Rinpoche may remain long and stable like a vajra, and meticulous medical care, the illness temporarily receded and Rinpoche was able to bestow vast, essential, hard to find teachings on profound sutra and tantra, especially the Manjushri Ja-myang Chokhor cycle, to fortunate disciples in the main temple of Sera Jey Monastery."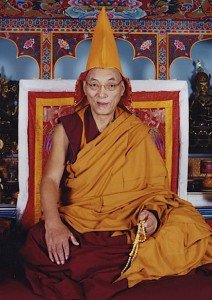 Unfortunately, Rinpoche's illness "reached a critical state, each day becoming more severe according to the doctor. Concerned by this condition, Rinpoche's close disciples requested His Holiness the Dalai Lama for an observation. Observing ominous signs, His Holiness invited Rinpoche to meet him in Delhi. On August 29th, His Holiness held a relaxed meeting with Rinpoche in his hotel room in Delhi. The following day, Rinpoche comfortably arrived at his home in the great seat of Sera.
Shortly afterwards, on Sept 11, "Rinpoche entered a state of meditation. Remaining in that state, at 1:30 AM on September 11th, 2015, in his room in the Labrang, in order to inspire towards the Dharma disciples grasping at permanence, Rinpoche progressively actualized the three emptinesses and the clear light, finally showing the aspect of dissolving his mind into dharmadhatu."
NOTES
[1] "The Life of a Hidden Meditator: Choden Rinpoche" by Choden Rinpoche and Venerable Tseten Gelek (August 2000)
[2] Mandala Magazine July-August 2000, page 63. Full article as PDF available here>>
Please support the "Spread the Dharma" mission as one of our heroic Dharma Supporting Members, or with a one-time donation.
Please Help Support the "Spread the Dharma" Mission!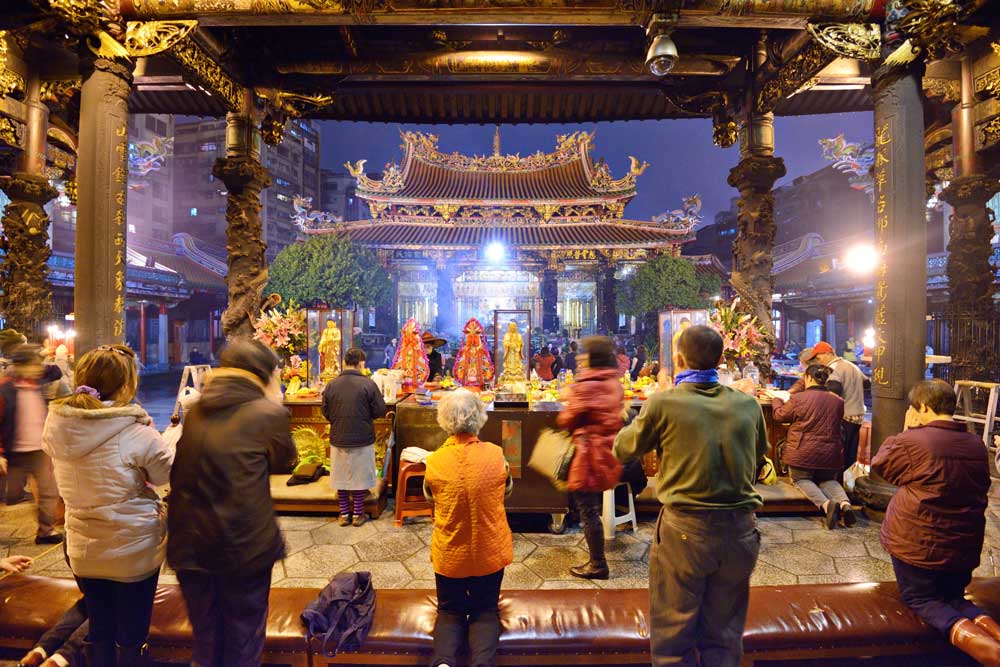 Be a part of the noble mission as a supporting member or a patron, or a volunteer contributor of content.
The power of Dharma to help sentient beings, in part, lies in ensuring access to Buddha's precious Dharma — the mission of Buddha Weekly. We can't do it without you!
A non-profit association since 2007, Buddha Weekly published many feature articles, videos, and,  podcasts. Please consider supporting the mission to preserve and "Spread the Dharma." Your support as either a patron or a supporting member helps defray the high costs of producing quality Dharma content. Thank you! Learn more here, or become one of our super karma heroes on Patreon.
Josephine Nolan
Author | Buddha Weekly
Josephine Nolan is an editor and contributing feature writer for several online publications, including EDI Weekly and Buddha Weekly.