One Hand Speaks: Dharma Teacher AlejAndro Anastasio Speaks with Buddha Weekly About His Life as an Authorized Vajrayana Teacher, Inspirational Speaker, Martial Artist and One-Handed Superhero
When Alejandro Anastasio was a child, he wanted to grow up to be a Jedi Knight. Instead, he grew into a popular inspirational speaker, Buddhist teacher and martial artist. Luke Skywalker would be proud. As AlejAndro says, on his website, "You can do a lot with one hand!" He likes to joke "need a hand?"
He's a Vajrayana teacher, but "don't call me Rinpoche" — one of the much needed new Vajrayana teachers trained in the west. He is the current director of the Boise Dharma Center in Idaho. His dedication to his own teacher Dzogchen Khenpo Choga Rinpoche is epic, and his stories of his teacher are heart-warming.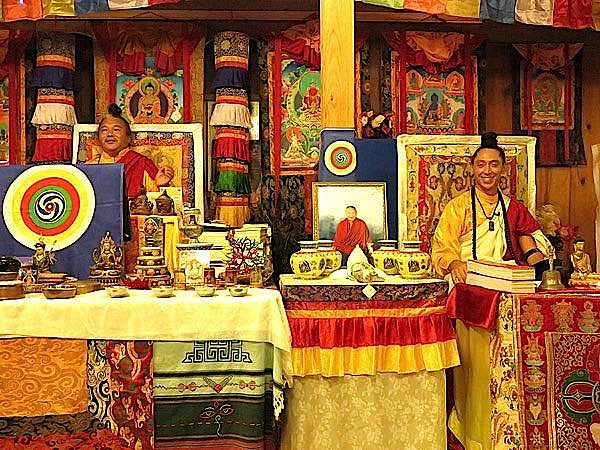 I've been impressed by this courageous, compassionate and inspiring teacher for a long while. It took a few months to finally arrange an interview, but well worth the wait. I discovered a sparkling gem of a role model — especially for children in his martial arts teacher role — a one-handed hero who set out to bring happiness to the lives of many people. It's no surprise he was a finalist in the Toastmaster World Championship of public speaking in 2014, or that he is invited to speak around the world. He's funny, quirky, happy, and wise. Oh, and did I mention he's a third degree black belt?

Although the interview ran long, his stories are so engaging, and he is so eloquent, I didn't have the heart to edit them, so we've broken this into two parts. Here, starting in part one, is our interview with one of the most interesting new generation Vajrayana teachers in North America. [For a more formal biography, see "About AlejAndro Anastasio" and "About Boise Dharma Centre" at the end of this interview.]
Tell us a little about your journey from Roman Catholic to Tibetan Buddhist.
"I was actually born and raised Roman Catholic. I attended private Catholic school for 13 years. However, during that time my father always had a statue of Buddha in our house. I currently have the statue he had while I was growing up on my personal shrine in my home. Though my father raised us on superheroes and science fiction he also loved to watch David Carradine as Kwai Chang Caine in the television series Kung Fu. This was truly my first experience with anything Buddhist. This laid seed that later sprouted into both my connection to Buddhism and the martial arts. To add to this was how much my brothers and I enjoyed watching "Kung Fu Theatre" after Saturday morning cartoons. It may sound strange but this was my first real introduction to Buddhism."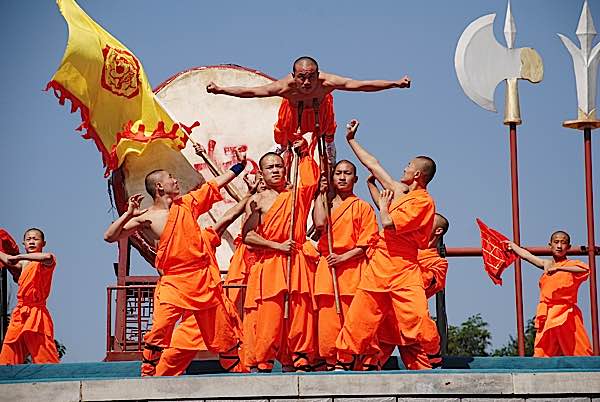 Shaolin Monks and Martial Arts
"But it wasn't until my late 20s and 30s when I was studying and teaching Aikido in Boise, Idaho that I really started to acquire my deep interest for Buddhism. In 1999 a group of traveling Shaolin Monks came to the United States. They were touring the world sharing their culture, building Sand Mandalas, and spreading the Teaching of Buddha's Compassion. I had a very profound experience listening to one of them speak. I attended an open invitation to visit with the Monks where I was given a Mala by one of them. It is still the mala I use to this very day.
The following year one of my early martial arts instructors, great mentor, and dear friend Teja Bell Sensei, who is a 4th Degree black belt in Aikido and Zen Priest, started getting me deeper into Zen Buddhism. Once, while I was in California doing some Aikido training, Teja asked me if I wanted to attend a performance by a group of Shaolin Monks. They were demonstrating their Martial Art skills, the power of their chi, debating, and offering a performance explaining the time Bodhidharma first came to the Shaolin Temple."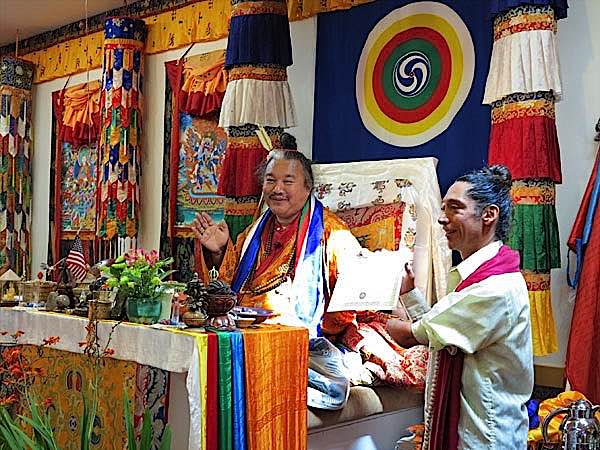 Bowing with One Hand
"Again I had another powerful experience. During part of the performance when they were sharing a story of Bodhidharma, of the origins of why the monks bow with one hand. Since I was born without my left hand — and only bow with one hand — I experienced a profound connection on seeing this gesture. There was something about Shaolin Monks bowing with one hand. My visceral experience was so powerful thatTeja Bell Sensei (and Zen Priest) leaned over to me and asked, "something very special there for you AlejAndro?"
But it was not until 2002 that I truly found my devotion to Tibetan Buddhism and my Root Teacher Dzogchen Khenpo Choga Rinpoche. I had been running a full time professional Aikido school and working part time when my father was diagnosed with lung cancer. One day he told us and then nine months later he died. Watching my father die of cancer and experiencing how much it hurt my mother and family was the condition of incredible suffering. I was suffering more at this time than any other time in my life. Watching my father die, taking care of my mother, running a full time martial school, and having a part time job was taking it's toll to say the least."

"I do not want to suffer anymore!"
"It was at this time a nine year old girl in my martial art school said, "Sensei… You do not look very good. What do you want right now?" After a moment of deep reflection I said, "I do not want to suffer anymore!" She then told me a Tibetan Monk was coming to Boise to teach that night across the street from her house. Somewhere through all my suffering I had a moment of what seemed like the echo of a memory. I remember hearing the Dharma could end all of your suffering. I put my high ranked students in charge for the rest of the night and immediately left for the teaching.
That night I attended. That night changed my life forever. That night I met my teacher and from that point on I have suffered less and less. That night I had found Buddhism."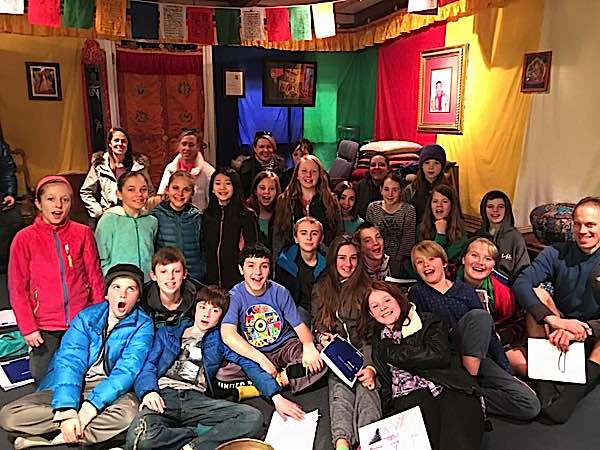 Please tell us about your teacher.
"Mostly I like to share the humorous stories or the profound experiences of my time with my teacher. In many cases they are one in the same. And in all do fairness I must say my best experiences are humorous — and the lessons learned are profound. I would like to share three experiences that have deeply solidified my relationship as a student to my Vajra Master Dzogchen Khenpo Choga Rinpoche. The first one I will share is to offer a little more depth and detail about how I found Buddhism, and meeting my Teacher for the first time.
As I mentioned at the time I met my teacher I was suffering deeply, more profoundly than at any other time in my life. I could go into greater detail but I think it is enough to say I almost saw no way out of my situation. I was on a downward spiral of despair with no end insight. Or so it seemed. When I look back on this time I am so viscerally aware of how negatively powerful it can be to spin the wheel of suffering to the point of losing control."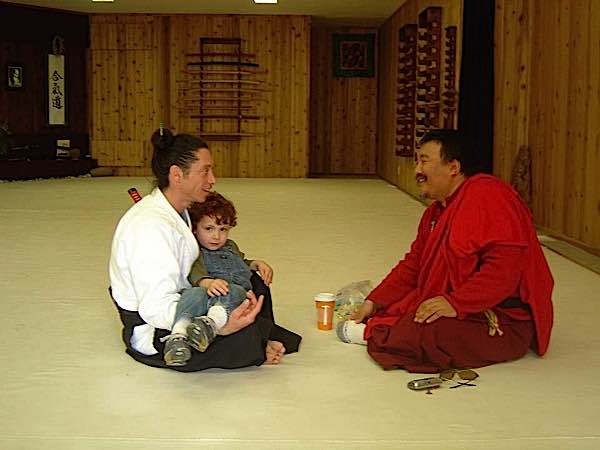 "I must have looked like a lost child"
"I can only image what I looked like to my teacher as I virtually kicked down the door. I must have looked like a lost child frantically searching for something important. I knew what I had lost but was not sure how to find it. "Where or when did I lose my happiness and how could I find it?"
I just remember bursting through the doors of this house where the Teachings were to be held. I did not even knock or ask who lived there or who was in charge. I just pulled up, walked up to the location, and walked in the house. I was not even aware I was over an hour early for the Teaching.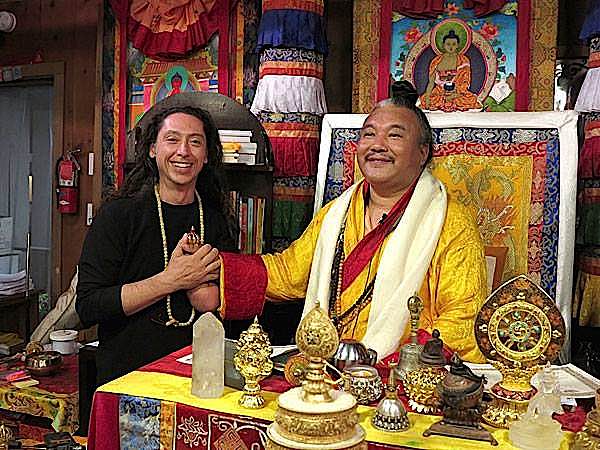 Little did I know the Rinpoche sitting on the floor would end up being my Varja Master. I looked around desperately and then saw him looking right at me. He had the strangest look on his face; he was staring right at me. As he started to speak his expression ever so slightly changed.
"What are you doing here?" he asked. Now it is important for me to share that he said those words as if I was a crazy person. To hear those words with the expression of, "what are you even doing here" on his face took me right out of the moment. The moment was on the edge of surreal.
In that moment I could only answer the question. My heart opened; I looked right into his eyes and said, "I do not want to suffer anymore!" And I meant it from the bottom of my heart. He then smiled with a kindness I will never forget and said, "Good. Sit down."
Since that moment in November 2002 I have never left his side. Over these past years I have come to realize the quality of truly wanting to end my own suffering. When I look back on that moment, I realize my teacher could see my own sincere intention to end my suffering. My Teacher laughs every time I tell that story in front of him."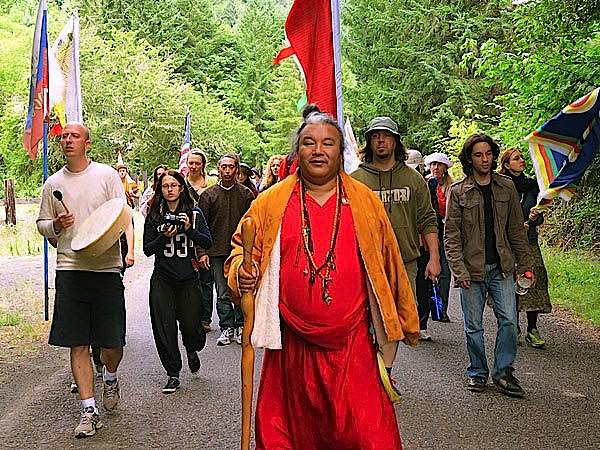 Relaxing in the Sun by a Creek
"Our United States sangha started looking for land to buy so our Teacher would have a more permanent place to teach. Often when Dzogchen Khenpo Choga Rinpoche came to Boise, Idaho to teach, we would take a few days and go look at land for sale. This was everything from just raw land to an unused Christian Missionary School and even a small hot spring resort. On one visit we were looking at some land in the Boise Front Foothills with a few of our Sangha members and the real estate agent. The grass was green, the Idaho sunlight was on the edge hot, and the hills rolled like soft waves of water.
As the group of us took in the view, the real estate agent asked if we were ready to see other parts of the property. As we started to walk my Teacher leaned toward me and asked if I could see the small rolling hill to our left. I said yes. Then he said, "when I count to three I want you to run with as fast you can until both of us get over that hill. "Do you understand?" I again said yes. As the real estate agent was spouting off tidbits of useful information about the property my teacher started to count. When he said three we both started to run as fast as we could. I am sure our sangha and the agent were confused. We crested the small hilltop and started to descend into this beautiful little valley. There was a small creek of delicately running water and a wooden fence with a very large male bull just on the other side. As we paused to take in the moment, my teacher said we should go and sit by the water."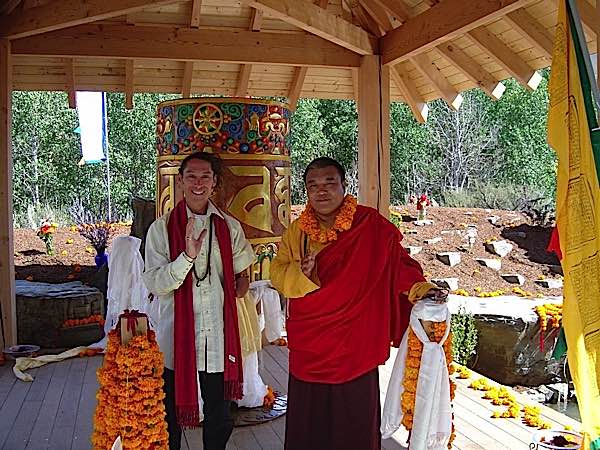 "You are always so busy!"
"He said, "AlejAndro please sit down and take off your shirt. Sit in the sun with me and relax. You are always doing so much and are so busy. I want you now to just feel the sun, lay back, and relax." And so we laid there in the sun not saying a word to one another enjoying the warmth of the sun.
Then he said, "now take off your shoes and put your feet in the water." As we both sat there with our shirts off and our feet in the water I had a very calm and open feeling to me. "How about we play in the mud like children?"
My only response to this was, "OK." And so we did. We started to move mud around with our feet redirecting the small creek that was our playground. "I have an idea," he said. Let's build a small dam." Our hands and feet were covered with mud. Then, he said, "I have a better idea, let's build a Stupa!" In a very short amount of time Dzogchen Khenpo Choga Rinpoche and I were sitting looking and this very small and slightly lopsided Stupa made of mud.
"How do you feel right now AlejAndro?" He asked.
"I feel content and free," was my sincere reply.
"Good AlejAndro! This is how I want you to feel most of the time."
As we walked back to meet with the small group of people we left behind I began to think about how long we might of been gone. Then I started to think what they might be thinking. I worried about how upset they might be that we left them. But then I remembered the great time I just had with my teacher and his request I feel content and free. As I settled back into that feeling, Dzogchen Khenpo Choga Rinpoche said, as if reading my mind, "good AlejAndro… Good!"
We both laughed as we joined the others."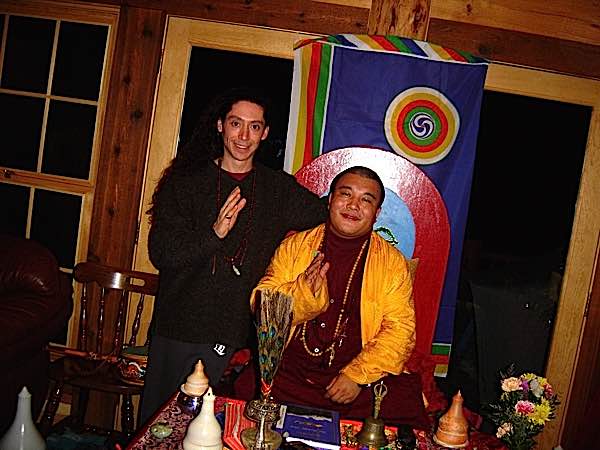 The Beginning (or End) of a Rainbow
"We were having a three-day retreat in a small town about two hours north of Boise, Idaho. Our first Autumn Retreat! It was held at one of our sangha member's cabin just outside of McCall, Idaho. It was to be quiet and secluded, and our Teacher would teach to us for three days. I was excited to say the least. Many sangha members had left early to go and clean the cabin and get everything ready. I had to work late and was not getting there until the day of retreat. As much as I wanted to go early that was not how my karma was to unfold.
While I was getting ready to leave work I got a call for one of the sangha members at the cabin. She told me that our teacher had to take a latter flight and was arriving in Boise within the hour. She said you are the only on in Boise right now who can go pick him up and bring him here! If someone here leaves right now we will not even be close to his arrival time. So I said I would get him. She told me how fortunate it was I had to work on this day so I could pick up our beloved Teacher.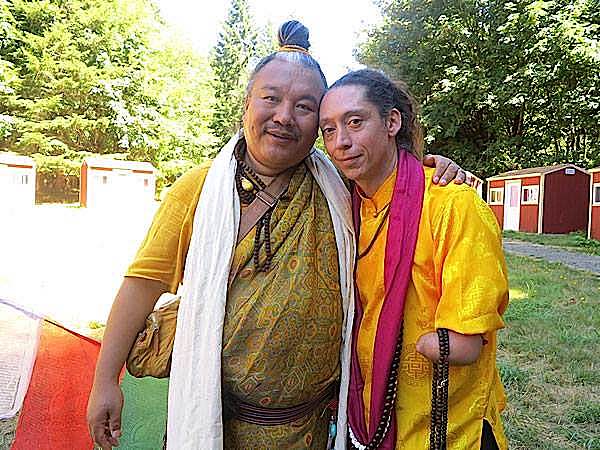 As I left work I stopped off at home to grab my bags and then headed over to the airport to pick up my Teacher. I was as excited as a young child getting ready to see their hero. This is actually not too far from the truth.
Everything went pretty smoothly. Auspicious is the commonly used word when favorable conditions all line up in a row. Traffic was easy and smooth, mostly green lights, and I found a close parking spot. My Teacher's flight arrived right on time. As soon as I arrived at the welcoming area I could see him walking toward me. I bowed to greet him, he passed me his small bag as he pulled his carry-on luggage. He asked me if it was just us two on the almost 3 hour drive. I replied, "yes," with a big ear-splitting grin. As we were talking and walking toward the main doors to leave the airport I had no idea what was about to happen.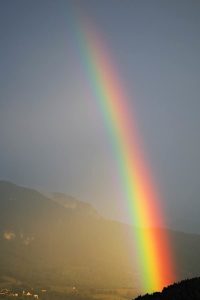 The automatic doors opened as we stepped outside and were immediately stopped in our tracks by one of the most beautiful sights I have ever seen. I was completely stunned. Out of the corner of my eye I could see my Teacher standing completely still with the wide-eyed stare of realization. I followed his lead and started reciting mantras. My Teacher recited something — to this day I still do not know what it was. I can only image how we must have looked.
How do I describe it. It was either the beginning or the end of a rainbow. I have never seen anything like it before that moment or since that moment. I have seen many beautiful natural things and many, many rainbows, but nothing like this
There was a circular column of rainbow about ten feet in front of us shooting straight up into the sky. Or was it dropping straight down onto the earth? I could not tell. It was as large as a city bus was round. It had this effervescent almost moist shimmering glow to it — like light refracting off a diamond, creating numerous rainbows but it was much more visceral and three-dimensional.
For a moment I could not believe what I was seeing. Rainbows do not look like that. As I looked up the column I followed it up for as far as I could see. I was assuming at some point I would see where the "bow" in the rainbow began. But it simply went straight up into the sky.
I am not sure how long we chanted or even stood there. But as soon as the rainbow started to fade my teacher's chanting did too. And as powerful as walking into that moment was, it has now ended. I looked at my teacher. He looked at me. We grabbed our bags and starting walking.
Now I know why they say there is a pot of gold at the end of a rainbow."

You seem to have many things on the go. Teaching, motivational speaking, martial arts, you're an artist. How do you manage it all? 
"If you search for me online you do find a lot of different things. Yes, I am an authorized Dharma Teacher under the guidance of Dzogchen Khenpo Choga Rinpoche and the Dzogchen Lineage, and head teacher of the Boise Dharma Center (boisedharmacenter.org). I am also an international speaker. I have spoken in Finland, Estonia, Austria, Czech Republic, Singapore, Malaysia, and across the United States. I speak, usually with humor about the benefits of not having two hands. I know that may seem like an odd thing to hear but I do get 50% off all manicures.
My teacher supports my positive speaking direction and intention. He has told me that I am so happy with my one-handed life it lifts people. You can see more of me at OneHandSpeaks.com.
AlejAndro motivates kids (video):
One thing I really value is my youth empowerment speaking engagements. My professional speaking is really about sharing inspiration through humor — and a steady undercurrent of Dharma.
As a small part of my speaking career I have a one-handed superhero-speaking persona. I grew up as a fan of science fiction and superheroes. That was a big deal when I was a kid, who grew up with one hand. Superheroes gave me a lot of hope. I feel all superheroes offer hope and inspiration. This was just what I needed as a kid. And now, as an adult.
I have created my own one-handed superhero, my villains, my universe, and my storyline. I even have my superhero and all the villains illustrated and on my superhero speaking website at theguardianofhope.com. My superhero, my universe, my mission, the villains, and the storyline all have a Dharma overtone."
Why a Superhero?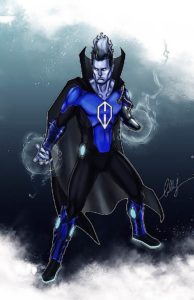 "Once my teacher asked me what I wanted to be when I was a kid. I told him I wanted to be a Jedi Knight. He said before that? I told him I wanted to be a superhero. He asked me to tell him about my dream as a child. I told him how much I wanted to be a superhero to help people. I explained how super heroes inspired and helped me when I was a child. I visualized being a superhero.
My teacher said, "You should practice dharma with the same enthusiasm, sincerity, and intense visualization. You should want to be free from suffering and want to help to free others from suffering. Buddha's power is more than all the superheroes and Jedi combined."
This was at the time a very cool, yet odd, teaching for me. After that moment I started to pay attention whenever I got excited about superheroes and Jedi Knights. I realized this is actually a powerful form of visualization and I should apply this to my Dharma practice. As strange as it may seem, this has been incredibly powerful for me.
I honor my Teacher's skillful means for helping and teaching me in ways that work for who I am as a person."
About AlejAndro Anastasio
AlejAndro Anastasio is an authorized Dharma teacher who has studied Buddhism for the past 14 years under the direction of his root teacher, H.E. Dzogchen Khenpo Choga Rinpoche. He has attended numerous weeklong retreats with Khenpo Rinpoche, including the 2012, 2013, and 2016 Dzogchen Lineage One Month Internship, where he received instructions and blessings to teach. AlejAndro has taught Buddhism in four countries and teaches often in the United States. AlejAndro's Dharma teachings are simple, deep and humorous, with a focus on application in one's daily life. He is currently the director of the Boise Dharma Center in Boise, Idaho.
About Dzogchen Khenpo Choga Rinpoche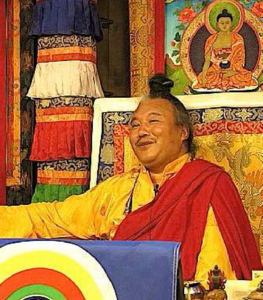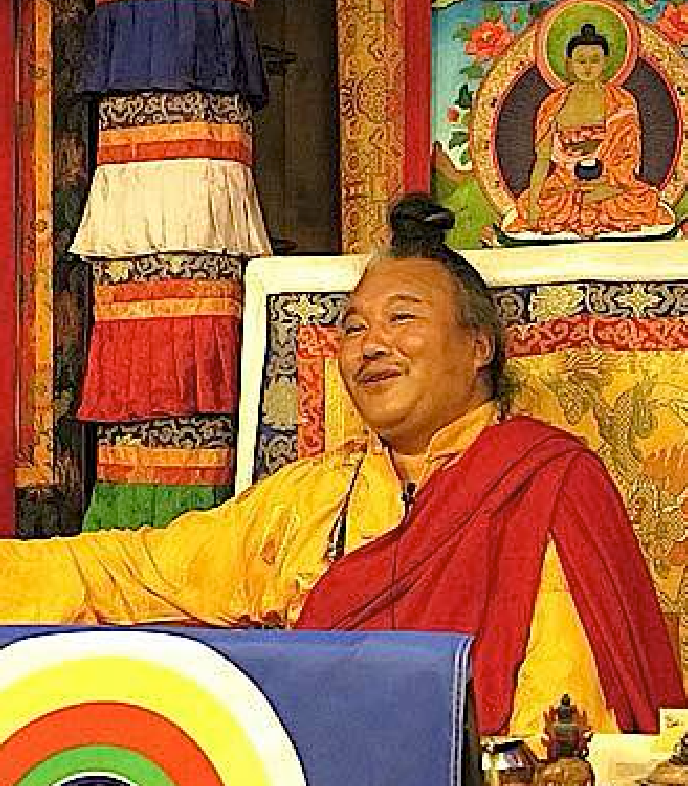 Excerpted from Dzogchenlineage.com: Great Perfection of Wisdom lineage holder Dzogchen Khenpo Choga Rinpoche was born in Tibet, where he began training in Buddhism at the age of five at the Dzogchen Monastery. He has been recognized as the reincarnation of enlightened Tibetan master Gedun Chopel, who is the emanation of Manjushri, the Bodhisattva of the Buddha's Wisdom. He received the transmissions and teachings of the Sutras, Tantras and Shastras from forty-two Buddhist masters and the complete empowerments and instruction of the Dzogchen Tantras from his root masters Khenchen Padma Tsewang, Drupchen Chatral Chochyab, and Guru Dechen Namdrol.
He studied and taught for ten years at the Dzogchen Shri Singha Five Sciences University the five major sciences of Fine Arts, Medicine, Linguistics, Philosophy, and Buddhism, as well as the five minor sciences of Poetics, Synonymy, Prosody, Drama, and Astrology. For seven years he meditated in the Siltrom Mountain caves in the Holy Dzogchen area of Tibet, under difficult conditions, with little food and only a few tattered clothes. During that time, he recited millions of mantras and was directly granted the blessings of Buddha Shakyamuni, Padmasambhava, Shri Singha, Bodhisattva Manjushri, Avalokiteshvara and Tara. Continuously he studies and practices with diligence, as well as being patient, disciplined, and generous to others. He is always radiating wonderful blessings and healing powers of wisdom to all beings and all elements.
Rinpoche is the thirty-third holder of the Dzogchen lineage, lama of Dzogchen Monastery, a Professor of the Dzogchen Shri Singha University, Spiritual Leader of Dzogchen Shri Singha International, Founder of the Dzogchen Shri Singha Dharma Centers, and Director of Dzogchen Shri Singha International Charitable Organizations. He has written more than thirty books on the five major sciences. He currently teaches Dharma and gives practice training to thousands of students, in more than forty countries around the world.
About Boise Dharma Centre
AlejAndro: "The Boise Dharma Center (BDC) is located in Boise, Idaho USA. We have been operating and offering classes, retreats, and workshops for over 14 years. I have had the honor and privilege of being with the BDC since we formally became a sangha under Dzogchen Khenpo Choga Rinpoche. We are a small center offering Dzogchen Vajrayana teachings. We have the great fortune of having an Authentic Dzogchen Sacred Shine Set put together by our Teacher. Additionally, I have been collecting smaller Buddha Statues for the last 16 years and have over 1100 total that stand at the BDC. We have a lot of younger people in our centre with a good mix of ages overall. In general we go deep and have a lot of laughter.
Some Relevant Links
www.TheAlejAndroCorporation.com
Please support the "Spread the Dharma" mission as one of our heroic Dharma Supporting Members, or with a one-time donation.
Please Help Support the "Spread the Dharma" Mission!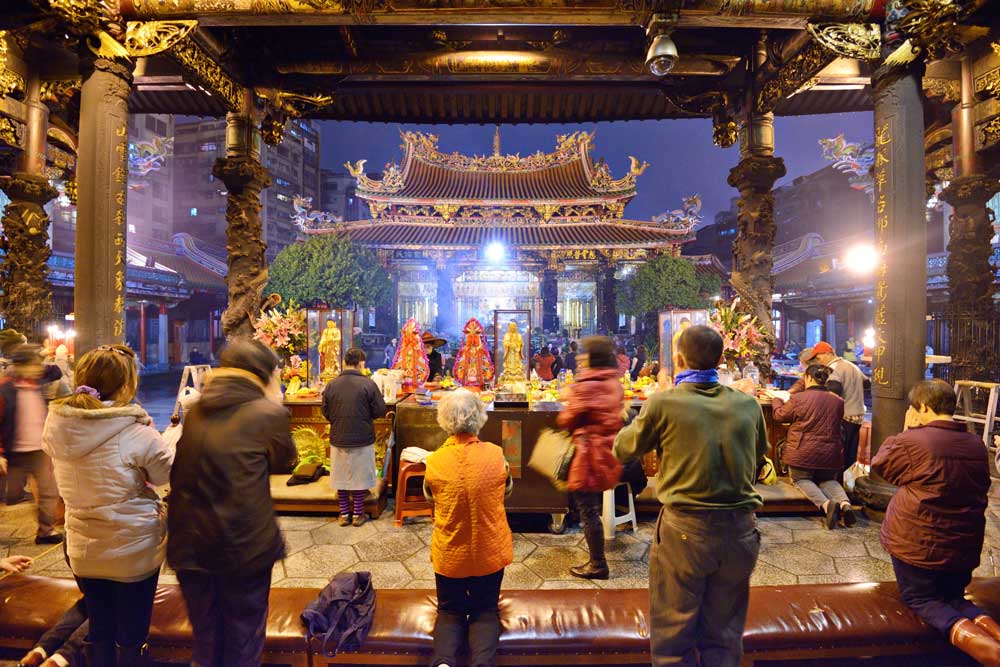 Be a part of the noble mission as a supporting member or a patron, or a volunteer contributor of content.
The power of Dharma to help sentient beings, in part, lies in ensuring access to Buddha's precious Dharma — the mission of Buddha Weekly. We can't do it without you!
A non-profit association since 2007, Buddha Weekly published many feature articles, videos, and,  podcasts. Please consider supporting the mission to preserve and "Spread the Dharma." Your support as either a patron or a supporting member helps defray the high costs of producing quality Dharma content. Thank you! Learn more here, or become one of our super karma heroes on Patreon.
Lee Kane
Author | Buddha Weekly
Lee Kane is the editor of Buddha Weekly, since 2007. His main focuses as a writer are mindfulness techniques, meditation, Dharma and Sutra commentaries, Buddhist practices, international perspectives and traditions, Vajrayana, Mahayana, Zen. He also covers various events.
Lee also contributes as a writer to various other online magazines and blogs.