Long Life Prayer to Amitayus, Padmasambhava, Vajrakumara and White Tara: Chokgyur Lingpa (1829–1870). Translated from the Tibetan by Dzongsar Jamyang Khyentse Rinpoche
Why do we aspire to long life in Buddhist practice — especially given we are also instructed by our teachers, and by Sutra teachings to renounce clinging and attachment to things such as long life? The reason to seek long life is clearly stated in the long-life prayer below:
May we perpetually uphold and propagate the buddhadharma,

Spreading benefit and happiness to all sentient beings
From a Dharma point-of-view — versus our selfish, mundane wish for health and long life —  we "wish" for a long life dedicated to Dharma practice, compassion and "Spreading the Dharma" to help other sentient beings. We especially wish this for our lineage teachers, but also for their entourage (which includes us) and ourselves.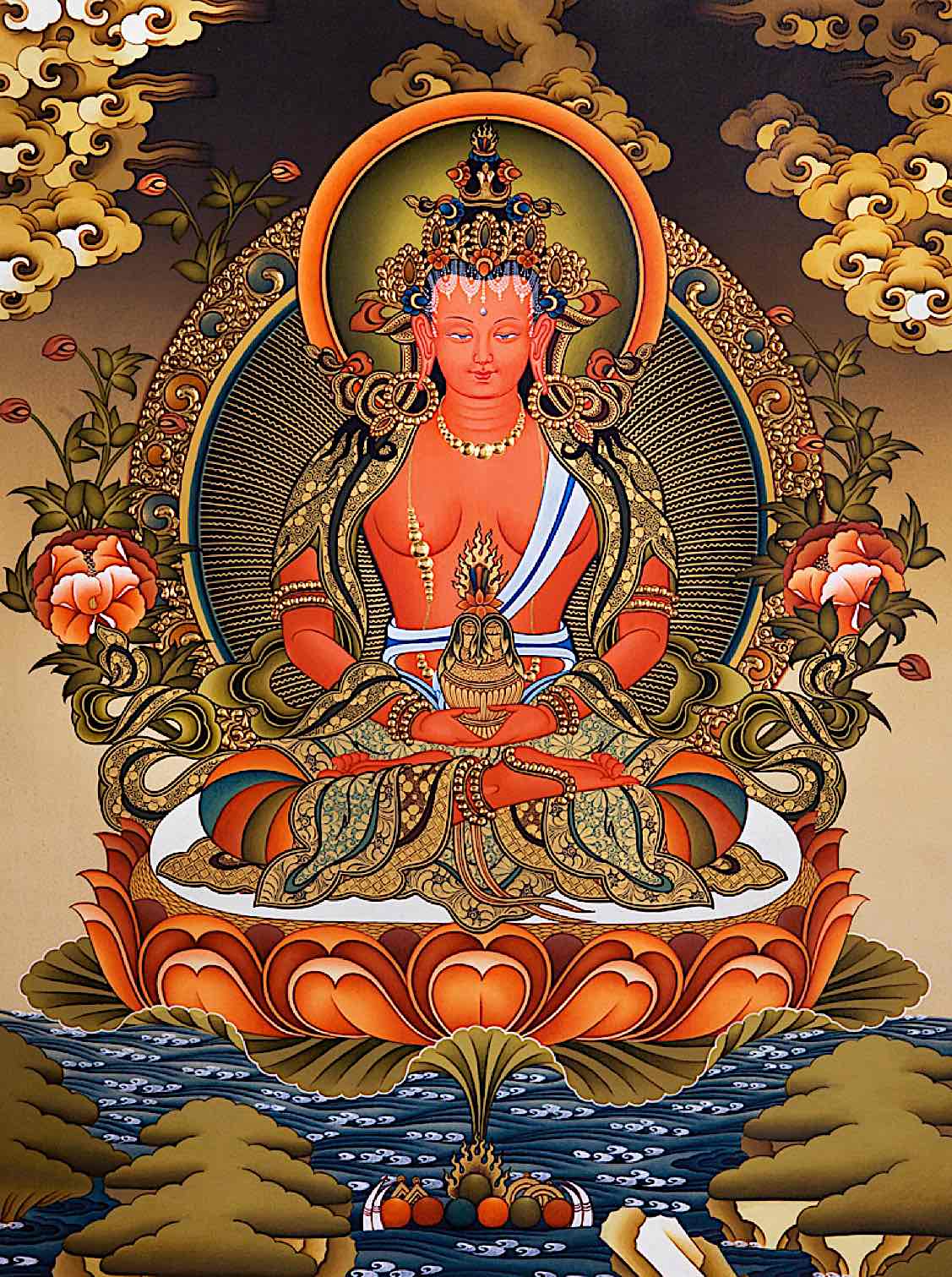 A short life benefits no one
A short life benefits no one, especially given that Sutra reveals to us that it can take many lifetimes to attain Enlightenment for the benefit of all sentient beings. Our goal is to retain our precious human life as long as possible to practice Dharma, help sentient beings and work out any negative karma that may be obstacles to our Enlightenment.
There are many long-life practices, most famously Amitayus, White Tara and Ushnisha Vijaya.
In our lovely example below, we have a concise, combined practice (with mantras and visualization) quoted from Chokgyur Lingpa below. In this praise and prayer, we appeal to Vairocana, Amitabha, Amitayus, Guru Rinpoche, Vajrakumara (Vajrakilaya), and White Tara, with specific long-life mantras from Amitayus, Guru Rinpoche, Vajrakumara, and White Tara.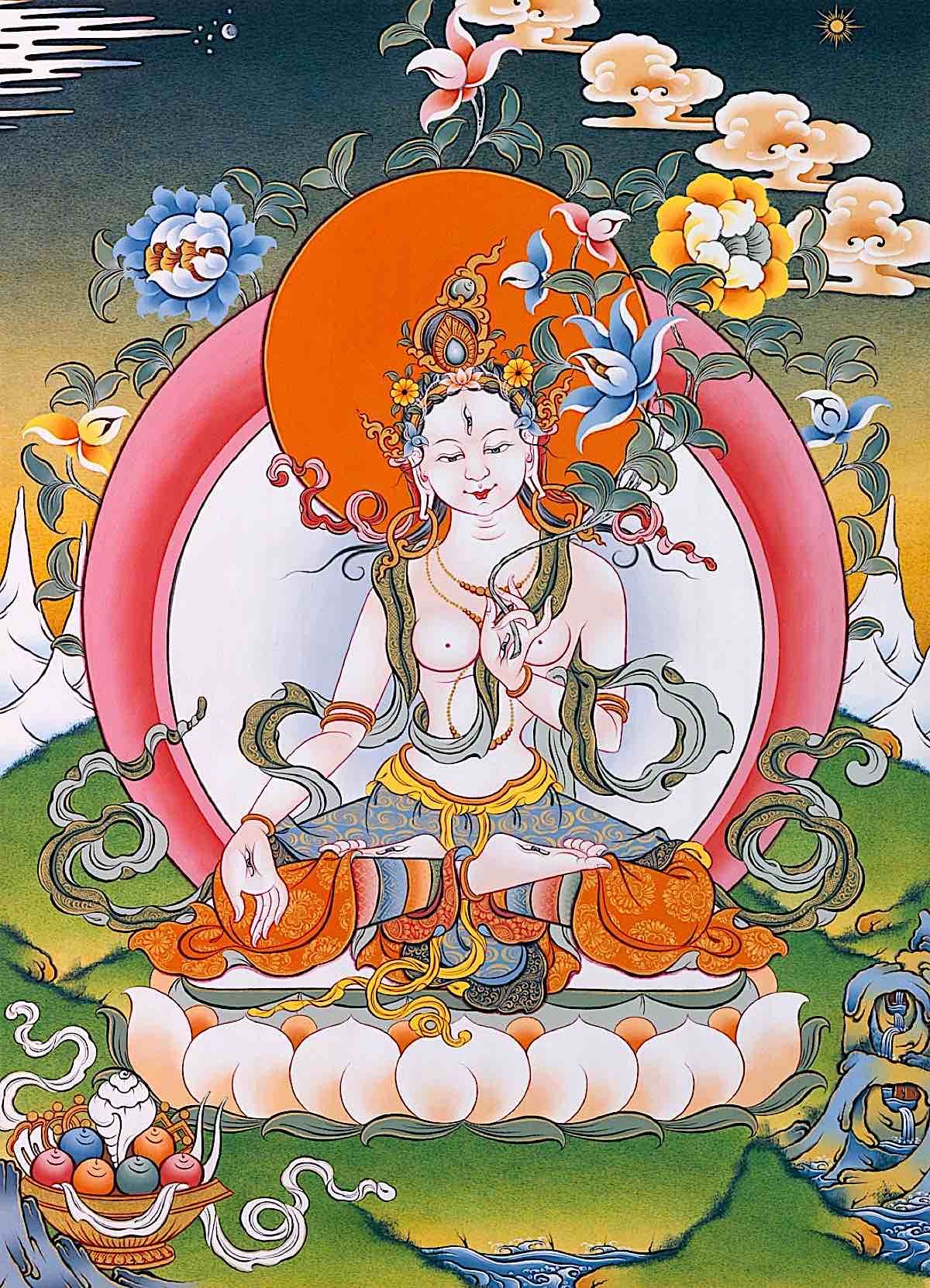 ---
For features on these individual Enlightened deities, see:
---
NOTE: Although the context of this prayer — and most long life practices — is the long-life of our lineage teachers, when we make this non-selfish aspiration, the practitioners also benefit from long-life within the limitations of their personal karmas. Here, as is common, you visualize your own root guru as — in this particular practice — as Uddiyana Amitayus. In other practices, your root guru might be visualized as a different Enlightened emanation such as White Tara. 
This prayer is from the treasure-revealer Chokgyur Lingpa (1829–1870). Translated from the Tibetan by Dzongsar Jamyang Khyentse Rinpoche.
NOTE: Normally we see these mantras in Tibetan form, which transposes B for V due to the characters in the Tibetan script (vs Sanskrit) – for example, "Bam" as the seed syllable of Vajrayogini but in Sanskrit this is "Vam." Here, we are most fortunate that the most eminent Dzongsar Jamyang Kyentse Rinpoche translates this for us into English but with Sanskrit phonetics. For example, in Tibetan, the Sanskrit "Vam" would be "Bam" due to differences in Tibetan script.

IF YOU PREFER TIBETAN SEE THE APPENDIX BELOW WITH TIBETAN PHONETICS.

---
The Vitality That Accomplishes The Deathless Vajra State
OM AH HUM
Lord of Life, Vairochana, the unchanging essence of supreme body,
Guardian of Life, Amitabha, the unobstructed supreme speech,
Boundless Life, Aksobhya, the undeluded supreme mind,
The long life deities of the ratna and karma mandalas who are the essence
Of the spontaneously accomplished qualities and unobstructed buddha activities.
Grant your blessings to make the guru's life firm.
OM AMARANI JIVANTIYESVAHA
In the supreme and stainless buddhafield of deathlessness,
Upon a vajra throne supported by fearless lions,
Is the root guru in the form of Uddiyana Amitayus.
From his body light radiates out which gathers back the life essence of samsara and nirvana,
All the buddhas and bodhisattvas confer on him the empowerment of immortality,
May he remain in the state of the vajra rainbow body.
OM AH HUNG VAJRA GURU PADMA SIDDHI AYUSHE HUM NRI JAH SARVA SIDDHI PHALA HUM AH
Arising as the glorious Vajrakumara,
From my body emanate out countless messengers and supreme sons
Who swiftly dispel all the obstacles, enemies and hindrances to the guru's life.
By the merit of liberating the enemies of the guru,
I also attain victory over the legions of demonic obstacles and
Raise the victory banner of the dharma through teaching and practice.
OM VAJRA KILI KILAYA SARVA VIGHNAM VAM HUM PHAT
Arya Tara appears in the sky in front; the unchanging bright purple light of dawn
Radiates out from the utpala flower she holds.
As it falls upon master and students simultaneously,
All our wishes are swiftly accomplished and.
We attain the immortal vajra life force.
May we perpetually uphold and propagate the buddhadharma,
Spreading benefit and happiness to all sentient beings.
OM TARE TUTTARA TURE SARVA ARTHA SIDDHI SIDDHI KURU SVAHA
Written by Chokgyur Lingpa (1829–1870). Translated from the Tibetan by Dzongsar Jamyang Khyentse Rinpoche at Vajradhara Gonpa, NSW, Australia, in 2001.
Appendix — Tibetan Phonetics of mantras
NOTE: The White Tara mantra is slightly different from the traditional White Tara mantra (below) which includes one's self in the mantra with MAMA (indicating oneself):
OM TARE TUTTARA TURE MAMA AYUR PUNYA JNYANA PUSHTIM KURU SVAHA
Although most teachers, today, teach the Tibetan version of these mantras (For example, Bighnam instead of Vignam), this translation shows the Sanskrit phonetics. If you prefer the Tibetan phonetic versions of these mantras, these would be:
Amitayus:
OM AMARANI DZIWENTIYÉ SOHA
Guru Rinpoche:
OM AH HUNG BENZAR GURU PÉMA SIDDHI AYUKHÉ HUNG NRI DZA SARWA SIDDHI PHALA HUNG AH
Vajrakamura / Vajrakilayla:
OM BENZAR KILI KILAYA SARWA BIGHANEN BAM HUNG PEY
White Tara:
OM TARÉ TUTARÉ TURÉ SARWA ARTHA SIDDHI SIDDHI KURU SOHA
Please support the "Spread the Dharma" mission as one of our heroic Dharma Supporting Members, or with a one-time donation.
Please Help Support the "Spread the Dharma" Mission!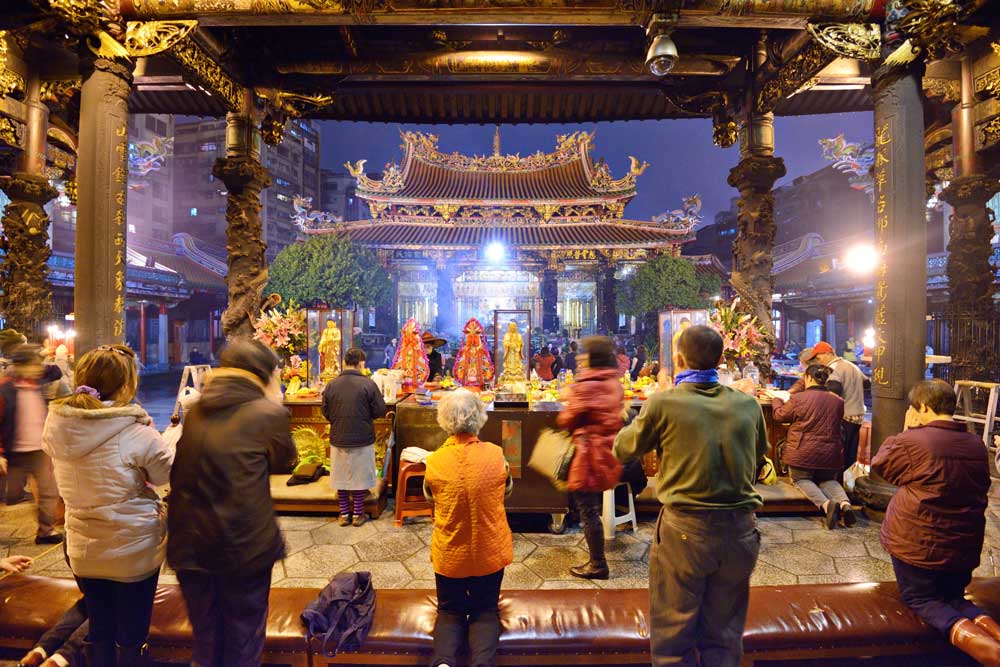 Be a part of the noble mission as a supporting member or a patron, or a volunteer contributor of content.
The power of Dharma to help sentient beings, in part, lies in ensuring access to Buddha's precious Dharma — the mission of Buddha Weekly. We can't do it without you!
A non-profit association since 2007, Buddha Weekly published many feature articles, videos, and,  podcasts. Please consider supporting the mission to preserve and "Spread the Dharma." Your support as either a patron or a supporting member helps defray the high costs of producing quality Dharma content. Thank you! Learn more here, or become one of our super karma heroes on Patreon.
Lee Kane
Author | Buddha Weekly
Lee Kane is the editor of Buddha Weekly, since 2007. His main focuses as a writer are mindfulness techniques, meditation, Dharma and Sutra commentaries, Buddhist practices, international perspectives and traditions, Vajrayana, Mahayana, Zen. He also covers various events.
Lee also contributes as a writer to various other online magazines and blogs.