Wealth Deities: Generating Karma for Prosperity by Practicing Generosity. How to Reconcile Renunciation with Wealth Practices in Buddhism.
Lama Atisha, the revered lama and Mahasiddha, came across an old man, dying of starvation in Bodghaya. Lama Atisha offered his own flesh, cut from his body, to save the old man. But the old man said, "How can I eat a monk's flesh?" Lama Atisha felt helpless in the face of this suffering.
In Lama Atisha's moment of despair, Chenrezig, the Compassionate One, appeared to Atisha and said, "I will manifest as Jambhala, the Buddha of wealth, to help suffering beings. I shall alleviate their poverty so they will not be distracted from practicing the good heart."
This is just one version of the timeless story of Jambhala, a "wealth deity," a profoundly simple story that illustrates why wealth is not necessarily the root of all evils.
Buddhism is non-materialistic, but…
Although we think of Buddhism as non-materialistic, "a lack of money is an obstacle" to practice, Jonathan Ciliberto wrote in a review of  "A Shower of Jewels: Deities of Wealth" in Buddhist Art News.
Poverty itself can make practice difficult. It is difficult enough to find birth in the precious human realm, our opportunity to practice the Dharma, without adding to suffering with the burden of poverty. One of the great perfections of practice is generosity—helping all sentient beings. Instead of thinking of wealth as selfish (or feeling guilt about its accumulation), we should instead consider the Buddhist concept that wealth can be a virtuous means to help others.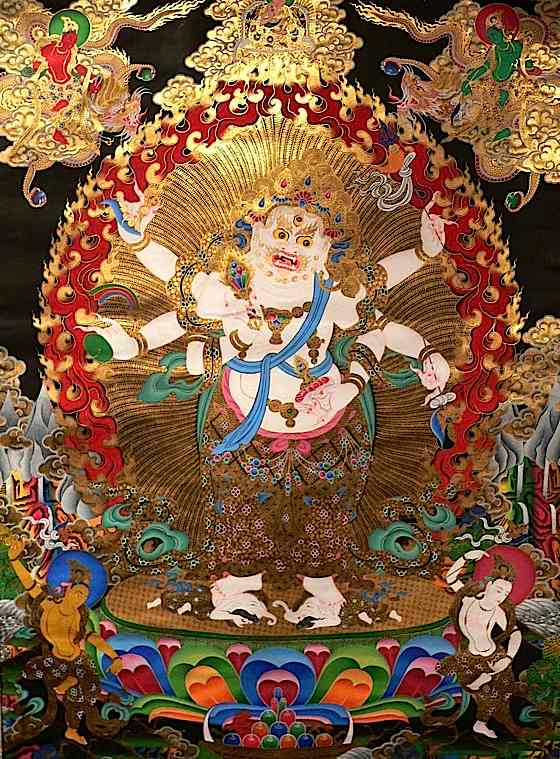 Wealth Practice Can be Virtuous
In the west, particularly when discussing spirituality and generosity, there can be a stigma attached to the idea of accumulating wealth.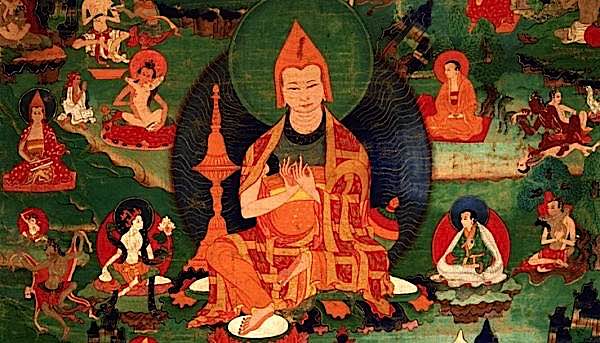 Wealth or auspiciousness practice is widespread
Venerable Zasep Rinpoche, during a teaching on White Mahakala at Gaden Choling, explained that in eastern countries wealth practice is not frowned upon as it might be in western cultures. While meditating on — and trying to accumulate — wealth might seem the opposite of generosity, as always with Buddhist philosophy, it comes down to intention. If the intention of accumulating wealth is to achieve virtuous deeds — generosity, healing, relieving the suffering of others and yourself — then wealth practice and meditation can be thought of as meritorious. Of course, you have to be generous with your wealth.
White Mahakala himself is an emanation of Avalokiteshvara, the Compassionate One. "How wonderful it is that Shakyamuni Buddha, gave us all these practices to help us," said Zasep Rinpoche. He pointed out we have Medicine Buddha practice for health, Manjusri for wisdom, and White Tara for long life — and for wealth we have deity meditations on White Mahakala.
The best explanation I've seen, from a western perspective, was from the book Worlds of Transformation: Tibetan Art of Wisdom and Compassion (Authors, Marilyn Rhie, David P. Jackson, and Robert A.F. Thurman):
"These deities of prosperity are… benevolent, and are helpful to spiritual people by supporting the educational purpose of life in the Buddhist perspective." (p. 228, 232). [More on this excellent book here>>]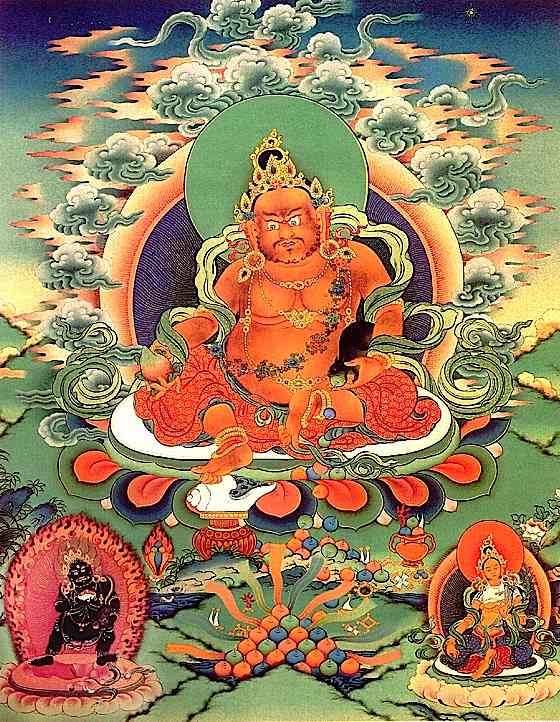 Why practice for wealth?
Simply put, if we are living in poverty ourselves, it is difficult to help others:
If every day is a battle for survival, how can we stop to help others survive? If we can't think beyond the next mortgage payment and the kid's university tuition, how are we to focus on compassionate giving? How much more help is it to have enough wealth to allow us to be unselfish to as many sentient beings as possible?
The purpose of practicing White Mahakala, or Jhambala, or any wealth deity is fundamentally to provide the means to oneself and others. It's purpose is also to remove obstacles to our own practice, such as poverty which might prevent us from dedicating the time for practice. If we can't afford to take time off for retreat, or we're so worried about our bills that we put off our daily practice, we will find practice blocked. If we're so poor we have nothing to give to others, how can we practice generosity? If we can't even help ourselves, how can we selflessly help others?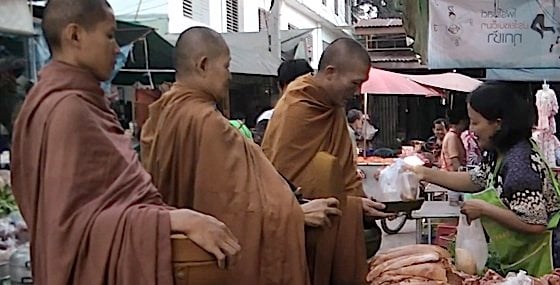 How does Renunciation and Wealth Aspiration Reconcile?
Many Buddhists might point to monks who renounce the world to defend the notion that poverty is a merit to practice. For those, at the stage of the path where renunciation is beneficial, this is certainly of great merit. Yet, these monks in turn depend on the charity of lay followers. Especially in countries with robust Sanghas of monks, these communities rely on the generosity of others who have the means to give.  Of course, giving is a practice, but how much more beneficial is it to help as many beings as possible? The monks give us a chance to accumulate the positive karma of giving.
Ultimately, wealth practice supports dharma practice generally, helps dharma centers, and removes obstacles that arise when we do not have enough time, money, or other resources.
One of the attendees at the White Mahakala teaching by Zasep Rinpoche asked if there were any dangers to this wealth practice. Rinpoche answered, with his typical beaming smile,
"There is no danger if the motivation is pure."
Please support the "Spread the Dharma" mission as one of our heroic Dharma Supporting Members, or with a one-time donation.
Please Help Support the "Spread the Dharma" Mission!
Be a part of the noble mission as a supporting member or a patron, or a volunteer contributor of content.
The power of Dharma to help sentient beings, in part, lies in ensuring access to Buddha's precious Dharma — the mission of Buddha Weekly. We can't do it without you!
A non-profit association since 2007, Buddha Weekly published many feature articles, videos, and,  podcasts. Please consider supporting the mission to preserve and "Spread the Dharma." Your support as either a patron or a supporting member helps defray the high costs of producing quality Dharma content. Thank you! Learn more here, or become one of our super karma heroes on Patreon.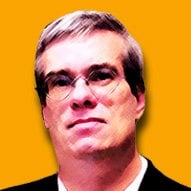 Lee Kane
Author | Buddha Weekly
Lee Kane is the editor of Buddha Weekly, since 2007. His main focuses as a writer are mindfulness techniques, meditation, Dharma and Sutra commentaries, Buddhist practices, international perspectives and traditions, Vajrayana, Mahayana, Zen. He also covers various events.
Lee also contributes as a writer to various other online magazines and blogs.