How I Found the Right Teacher of the Dharma
By Ruth Wambui, Guest Contributor
Buddhism has become one of the most popular spiritual practices in the world, particularly in the West. More and more people learning about Buddhism, and adopting one form or another of Buddhist practice. They certainly would have been drawn to the Buddha's message, the Dharma. They might be drawn by the core message, the focus on personal development, the flexibility of practice, the focus on kindness and generosity.
In my experience, you should attempt to find a Buddhist teacher to guide you. This ensures you be able to progress on the path, develop personally and avoid practices that might be detrimental.
Contents of Feature (click to navigate)
Absolute Trust a Must
This particularly important in Vajrayana Buddhism, where there is a focus on the enlightened guru. Vajrayana is the "thunderbolt" path because it promises to bring personal enlightenment in one lifetime, but this inevitably requires guidance. Vajrayana lays great emphasis on the role of gurus or religious teachers, who have mastered the dharma. The Tibetan translation of the word guru is lama, thus these two words may be used interchangeably to refer to Vajrayana religious teachers. Vajrayana Buddhism varies widely in practice and often emphasizes empowerment from a teacher, and yidams (personal deity practice) and mantras appropriate to your current needs. Nothing in Buddhism is ever mandatory but progress is facilitated by guidance. On this rapid path, though, students must have absolute trust in their teacher if they are to attain any understanding of its practices. In view of this, the importance of finding a good teacher cannot be understated.
Finding a Guru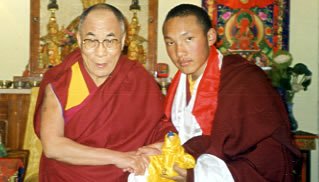 The first step in finding an ideal teacher or guru would be to identify a Buddhist community near you. If you are urban, you may have many options, but often you are limited in choice if you live rurally. The internet also greatly facilitates the search for teachers. Great lamas often travel to various cities for empowerments or dharma talks, often—as in the case of the Dalai Lama—in large venues. Receiving empowerment certainly bonds you to that teacher.
Buddhists are usually friendly and down to earth people, who would not hesitate to help you out. Visit temples or dharma halls and speak to the sangha—they will most definitely be helpful. Seek out temple monks or holy persons. Always ask about lineage. All lineages are legitimate, although they may differ in practice. Research those practices. Most lineages have websites.
A Guru is for Life
Once you have found a possible teacher, it will be up to you to decide whether or not he is the right one for you—and also up to the teacher. A guru is for life. It's important to understand that you cannot just walk away if you disagree in future. You are making a commitment in life. So, take your time.
You should, of course, ask of the lineage, the main tenets of the lineage, the teacher's schedule and availability and speak to his followers. If the teacher is from a known lineage, you can feel comfortable, but you still are bonding for life.
Given the importance of the teacher or guru in Vajrayana Buddhism, a patient investigation will be essential for your practice. Indeed, even the Buddha himself used to encourage his students not to take everything as the truth, but to test his teachings themselves. Try to focus on the teachings rather than the teacher, although the teaching style is important, too. The ethical conduct of the teacher should be impeccable, and no pressure should be exerted on you to become a disciple.
Most Buddhist teachers are very simple people with open lifestyles. Beware of flamboyant, charismatic teachers, who may be driven by the wrong motives. Use your own intuition and reason to determine the best teacher for you. Based on your own personal observations and perception, you will be able to determine whether your are in the right place.
Then commit with joy.