Happy Birthday Venerable Zasep Rinpoche: May the pure white light of your peerless wisdom shine undiminished until the end of existence
The writers and editors at Buddha Weekly wish Venerable Zasep Tulku Rinpoche a very happy birthday — and wishes for his long life. Our headline is a quote from the long-life prayer to Zasep Rinpoche composed by the illustrious Kyabje Trijang RInpoche at the request of Ponpo Nawang Losang.
The birthdays of any great Buddhist teacher should be celebrated — they have dedicated their lives to the Dharma — and especially the great lights who came out of Tibet, teachers of ancient lineage stretching back to  Shakyamuni Buddha (563 BCE – 483 BCE)
Venerable Zasep Rinpoche's long life prayer video with prayer vocalized beautifully by Peter Haeder and images of Rinpoche's amazing life:
There is something special about Dharma preserved in the ancient land of Tibet — and the people who migrated from the high mountains. As Rinpoche explained in his Autobiography, A Tulku's Journey from Tibet to Canada:
"To become who I am today, I began with many advantages. I was born into a loving, well-to-do family in an incredibly beautiful homeland rich in tradition, and I was given a rigorous spiritual education from highly realized Buddhist masters. Later on in my youth, I had a lot of suffering. I had to flee my homeland, I had to endure great hardship and loss as a refugee, and I had to adapt to a strange new world with values and customs so very different from the ones I had learned as a child. My experiences as a refugee faced with building a new life made me who I am today."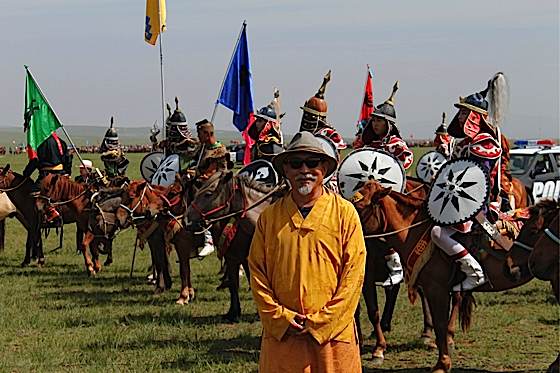 Zasep Rinpoche's teachers and gurus are of illustrious lineage. From the Buddha Weekly Review: "some of the most illustrious masters of the last century, who, besides the Dalai Lama and his Root Guru Trijang Rinpoche, included: Kyabje Zong Rinpoche, Tara Tulku Rinpoche, Kyabje Ling Rinpoche, Lati Rinpoche, and Guru Deva Rinpoche."
Venerable Zasep Rinpoche is spiritual guide and founder for many meditation centers in Canada, the United States, Australia, and also teaches in Mongolia and Mexico. He is fluent in more than one language and a popular teacher. He first began teaching in English in Australia, where he translated for Tibetan teachers at the invitation of Lama Yeshe.
H.H. the Dalai Lama, H.H. the Karmpa and H.H. Kyabje Ling Rinpoche — all in one year!
Later, in 1981, he came to Canada, where he now lives.  In an early "Interview with the Teachers" story in Buddha Weekly [Full interview here>>], Zasep Rinpoche described the fortunate circumstances that year, referring to the founding of Gaden Choling in Toronto:
"Gaden Choling is a very old centre… I came here in the autumn of 1981. When I arrived here, there was an auspicious event, something that had not happened before. Three great lamas arrived in Toronto at the same year.
H.H. the Dalai Lama came in October to Toronto for the first time. Then, H.H. the 16th Karmapa arrived in November. Then, my teacher, H.H. Kyabje Ling Rinpoche, he also arrived in November. All these things happened in the fall of 1981 in Toronto.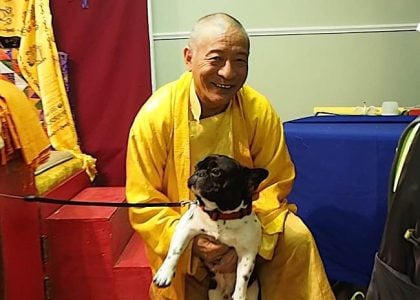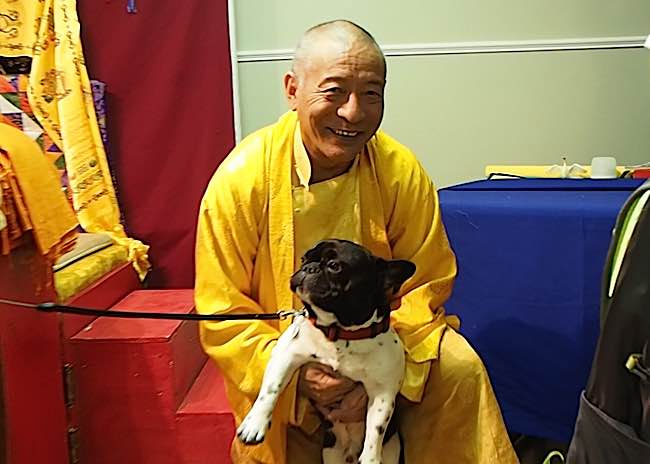 When I arrived here, we were so energized by these great lamas, that a group of dharma students of the Gelug tradition told me they were thinking of setting up a meditation center here. They had been thinking about it for a couple of years. When H.H. Kyabje Ling Rinpoche arrived in November, we asked Rinpoche to give us a name. He gave the name Gaden Choling. Gaden Choling means joyful dharma land."
Today, Gaden for the West is the umbrella organization for many meditation centers and a retreat center in Nelson, B.C.
In Buddha Weekly's review of A Tulku's Journey from Tibet to Canada, we wrote: "Although it's not meant to be high pace adventure, Zasep Rinpoche's biography reads like a spiritual and physical adventure both. We follow a Tibetan Rinpoche forced to flee his invaded country, facing bombers and bandits, on a desperate journey to refugee status in Nepal, then on to India, Thailand, Australia, United States, and finally, citizenship in Canada. We first meet a boy, deeply devoted to his grandfather and grandmother and family; we relive his six-decade adventure from boy Tulku refugee, to a revered Guru and spiritual head of Vajrayana Buddhist centres in Australia, Canada and the United States."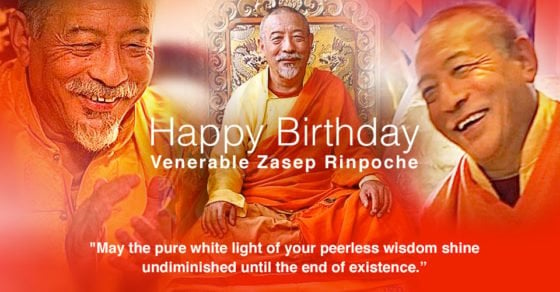 Immortal Rain
The Long Life Prayer of Venerable Zasep Tulku
By Kyabje Trijang Rinpoche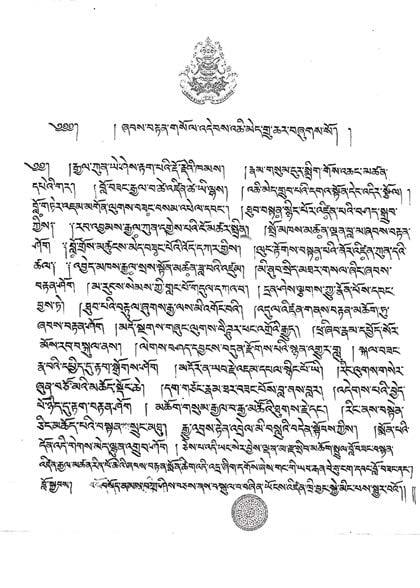 Wisdom of all the Buddhas,
Eternal adamantine nature,
Clad in the three maroon robes and displaying the marks of perfection,
Lobsang Gyalwa Tsedzin, benefactor of life,
Please grant the joyous occasion for the attainment of immortality,
Here and now!
Lobsang Tenzin Gyaltsen
Treasure of knowledge of Jamgon's
Noble heritage and wish-fulfilling power,
Concerned solely with upholding the Dharma in both theory and practice,
You please all the infinite Buddhas immensely
Oh, learned propagator and holy teacher,
Please stay firmly with us.
The pure white light of your peerless wisdom
Reveals the bountiful jasmine garden of
Dharma's precepts and training.
May your smile, like a full moon in a night in the autumn,
Shine undiminished until the end of existence.
Bodhisattva Lobsang Tenzin Gyaltsen,
Please remain firmly with us!
Though the pernicious mind like an elephant is difficult to tame,
You have controlled it with the sharp hook of mental alertness.
Never crossing beyond the rules of the Vinaya,
May you, Reverend Elder, truly live long!
Explaining in detail through exacting discernment
The lapis lazuli lineage of the Sutras and Tantras
In well-spoken rhymes of complete perfection,
May your melodious tones always proclaim the Scriptures
And grace the ears of us fortunate ones!
Thus the teachings of Father Jampal Nyingpo
Are like a wick in a lamp of refined molten gold.
May you through your life of purity and goodness
Be the one who raises its flame higher and higher
And ever remain steadfastly with us!
By the compassion of the Triple Gem and the Ocean of Conquerors,
By the power of the Dharma Protectors long trusted and honoured,
By the true strength of unequivocal causal interdependence,
May the purpose of this prayer be accomplished
Spontaneously and without hindrance!
SaveSaveSaveSave
SaveSave
SaveSaveSaveSave
Please support the "Spread the Dharma" mission as one of our heroic Dharma Supporting Members, or with a one-time donation.
Please Help Support the "Spread the Dharma" Mission!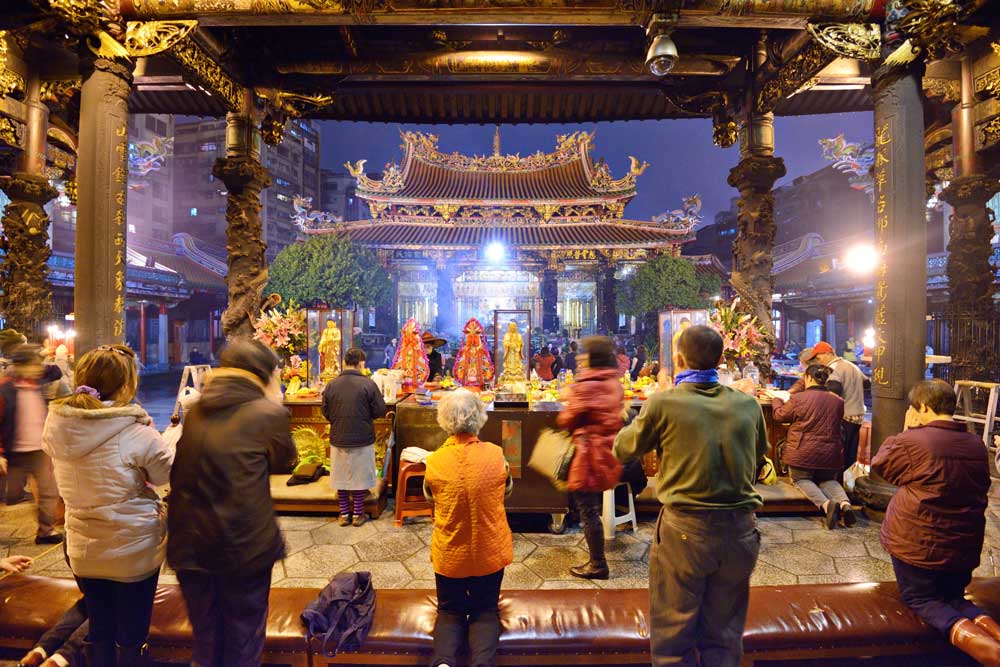 Be a part of the noble mission as a supporting member or a patron, or a volunteer contributor of content.
The power of Dharma to help sentient beings, in part, lies in ensuring access to Buddha's precious Dharma — the mission of Buddha Weekly. We can't do it without you!
A non-profit association since 2007, Buddha Weekly published many feature articles, videos, and,  podcasts. Please consider supporting the mission to preserve and "Spread the Dharma." Your support as either a patron or a supporting member helps defray the high costs of producing quality Dharma content. Thank you! Learn more here, or become one of our super karma heroes on Patreon.
Lee Kane
Author | Buddha Weekly
Lee Kane is the editor of Buddha Weekly, since 2007. His main focuses as a writer are mindfulness techniques, meditation, Dharma and Sutra commentaries, Buddhist practices, international perspectives and traditions, Vajrayana, Mahayana, Zen. He also covers various events.
Lee also contributes as a writer to various other online magazines and blogs.