Buddha Weekly Special: Interviews with the Buddhist Teachers — Zasep Tulku Rinpoche
Buddha Weekly begins its special series "Interviews with the Teachers" with an extensive hours-long interview with the most Venerable Zasep Tulku Rinpoche. Rinpoche is spiritual director of many temples, meditation centres and retreat centres in Australia, the United States and Canada and teaches also in Mexico and Mongolia. He was first invited to teach in Australia by Lama Thubten Yeshe in 1976.
Do you have a teacher you'd like to recommend for a Buddha Weekly Interview? Please use our "Suggest a Teacher" Contact Form>>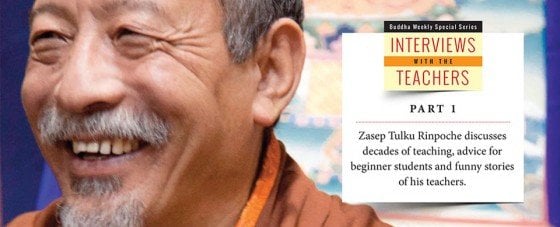 In Part 1, now published here>>
Excerpt: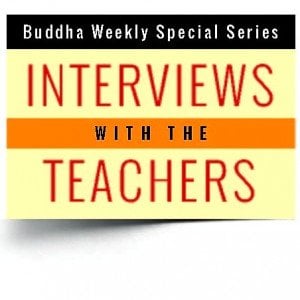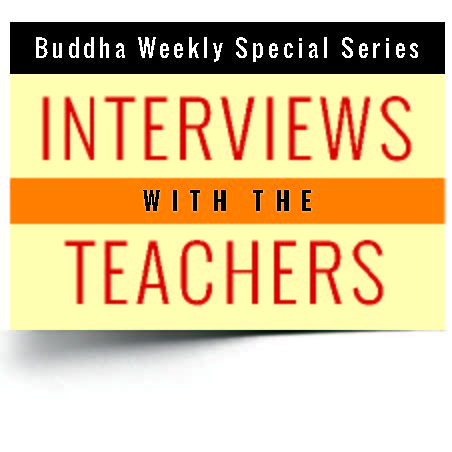 Zasep Rinpoche on the importance of mindfulness meditation: "You make the choice. Why not put aside a little time for meditation? Meditation doesn't make you even more busy. Actually, it makes you more calm, and it helps you. It improves the quality of your daily activity — your work. It also gives you energy. Meditation helps boost your immune system. Why? In part because meditation releases stress… So, think about what is more important for you. What is more worthwhile? Making another ten-minute phone call, or sending text messages, or meditating?"
Zasep Rinpoche on an auspicious event: "Gaden Choling is a very old centre. I can share a few interesting stories. I came here in the autumn of 1981. When I arrived here, there was an auspicious event, something that had not happened before. Three great lamas arrived in Toronto at the same year.
"H.H. the Dalai Lama came in October to Toronto for the first time. Then, H.H. the 16th Karmapa arrived in November. Then, my teacher, H.H. Kyabje Ling Rinpoche, he also arrived in November. All these things happened in the fall of 1981 in Toronto…" (continued in interview)
Zasep Rinpoche on his teacher H.H. Zong Rinpoche: "He had a great sense of humor. He likes sight-seeing. We went to Disney Land in Los Angeles, and we walked all day. At the end of the day, I said, "Are you tired?" and he laughed and said "No!"
I asked him, "What was the Disney Land experience like for you?"
He said, "It's like going through the Bardo". Because it's between death and birth. You know, because it's sort of not real. And he laughed. He thought that was very funny…" (continued in interview…)  Interview now published >>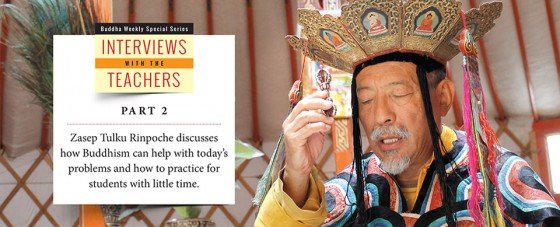 Excerpt:
Zasep Rinpoche on western perspectives of hell realms: "You can have a hell realm right now in your mind. For example, if your mind is tormented all the time. Today, there is so much suffering and mental illness. If you are suffering now, then you are in already in the hell realm. If your mind is so agitated, angry, distracted and jealous — then, you already experiencing the demigod realm. If you are always greedy, never satisfied, or you feel you are deprived or poor, and you want more, more, more — if you are always grasping after money, then your mind is like the mind of a hungry ghost. If you always blissful, happy, calm, joyful — then your mind is like the god realm. All six realms can be experienced right here in this lifetime."
Zasep Rinpoche on rebirth: "A lady came to me once and said, 'I call myself a Buddhist, but I don't believe in reincarnation.' I said to her, 'You can be a Buddhist without believing in reincarnation. You're not saying that you disbelieve it, just that you don't have proof. Buddha himself said, be in the present moment, be here now… Don't worry about the past. It's only memories. The future is a dream. Don't worry about the future. Stay in the now. The most important thing is to watch your body, speech and mind, and if you cultivate virtues, and practice loving kindness, then you are a good Buddhist." (continued in interview…) Interview publishes Monday, February 29 at 5pm ET.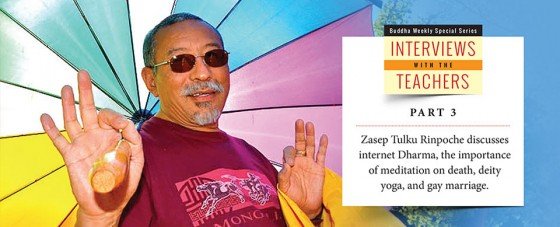 In Part 3, published and NOW LIVE
Excerpt:
Zasep Rinpoche on the rise of internet dharma: "Generally, it has a positive effect. It's beneficial to have easy access to teachings on YouTube, and you can download material, pictures and sadhanas and you can find so much information. It's generally useful and helpful… It all depends on the individual. Internet can be very impersonal, you know? It can also be addictive. Even some monks, now, instead of holding malas and doing mantras, they have their phones in hand, sending messages, text messages. In some ways it's nice. The monks even use chat for spiritual debating. But in some ways it's really bad. Instead of doing mantras and practices, they spend time online."
Zasep Rinpoche on the importance of death meditation: "Generally, meditating on death and dying is very important. In Lamrim, it says, "Meditating on death and dying helps motivate Dharma practice." Life is too short. Death can happen any time, you don't know. As we get older, we know we don't have much time left. I've got maybe ten years, fifteen years, maybe twenty years. So, the time goes fast, and death's going to happen sooner or later."
Zasep Rinpoche on initiations: "Don't be a spiritual materialist. You need a good base in Sutra and Lamrim practice. Then, if you want to do Deity Yoga you don't try to jump. Don't rush. Practice Lower Tantra first."
Zasep Rinpoche on finding a teacher: "That's a difficult question. You have to decide what you want in a teacher. If you are new to Buddhism, and looking at a particular teacher, you should find out their background. You should go to their talks and teachings. Where did he or she study? How many years retreats has the teacher completed? What kind of study he or she did… You have to go around, listen to teachings, listen to different teachers, then decide." (Continued in interview…)
Please support the "Spread the Dharma" mission as one of our heroic Dharma Supporting Members, or with a one-time donation.
Please Help Support the "Spread the Dharma" Mission!
Be a part of the noble mission as a supporting member or a patron, or a volunteer contributor of content.
The power of Dharma to help sentient beings, in part, lies in ensuring access to Buddha's precious Dharma — the mission of Buddha Weekly. We can't do it without you!
A non-profit association since 2007, Buddha Weekly published many feature articles, videos, and,  podcasts. Please consider supporting the mission to preserve and "Spread the Dharma." Your support as either a patron or a supporting member helps defray the high costs of producing quality Dharma content. Thank you! Learn more here, or become one of our super karma heroes on Patreon.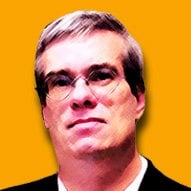 Lee Kane
Author | Buddha Weekly
Lee Kane is the editor of Buddha Weekly, since 2007. His main focuses as a writer are mindfulness techniques, meditation, Dharma and Sutra commentaries, Buddhist practices, international perspectives and traditions, Vajrayana, Mahayana, Zen. He also covers various events.
Lee also contributes as a writer to various other online magazines and blogs.