The Ultimate Purification and Healing Practice: Chenrezig Nyung Nye Two-Day Practice: As Effective as 3 Months of Any other Practice
In Mahayana Buddhism, one Nyung Nye two-day intensive practice is considered to be as effective as three months of any other purification practice. It is also considered to be a very effective "healing practice." [1] It combines the purifying practices of taking precepts, prostrations, fasting and silent meditation on day two, sadhanas and offerings. All of these activities help us purify our negative karmas. The practice ideally requires Chenrezig Avalokiteshvara empowerment, or empowerment from any Padma (Lotus) family deity, including Tara.
By taking the full Mahayana precepts and Refuge, together with meritorious activities such as prostration, we purify all negativities.
EVENT NOTE: December 3,4,5 Gaden for the West will host a Nyung Nye weekend purification and healing retreat on Zoom, open to all, starting with the empowerment of 4-armed Chenrezig on Friday evening and the 2-day retreat on Saturday and Sunday. The Zoom event can be taken in moderation, depending on your own needs and health. You can take the Chenrezig / Avalokiteshvara empowerment on the Friday night, and not attend the retreat — or you can take initiation and retreat. You can substitute full body prostrations for seated bows if you have physical limitations (always be guided by your health practitioners). Chenrezig empowerment is always a wonderful opportunity to renew Bodhisattva vows and receive the blessings of the Compassionate One.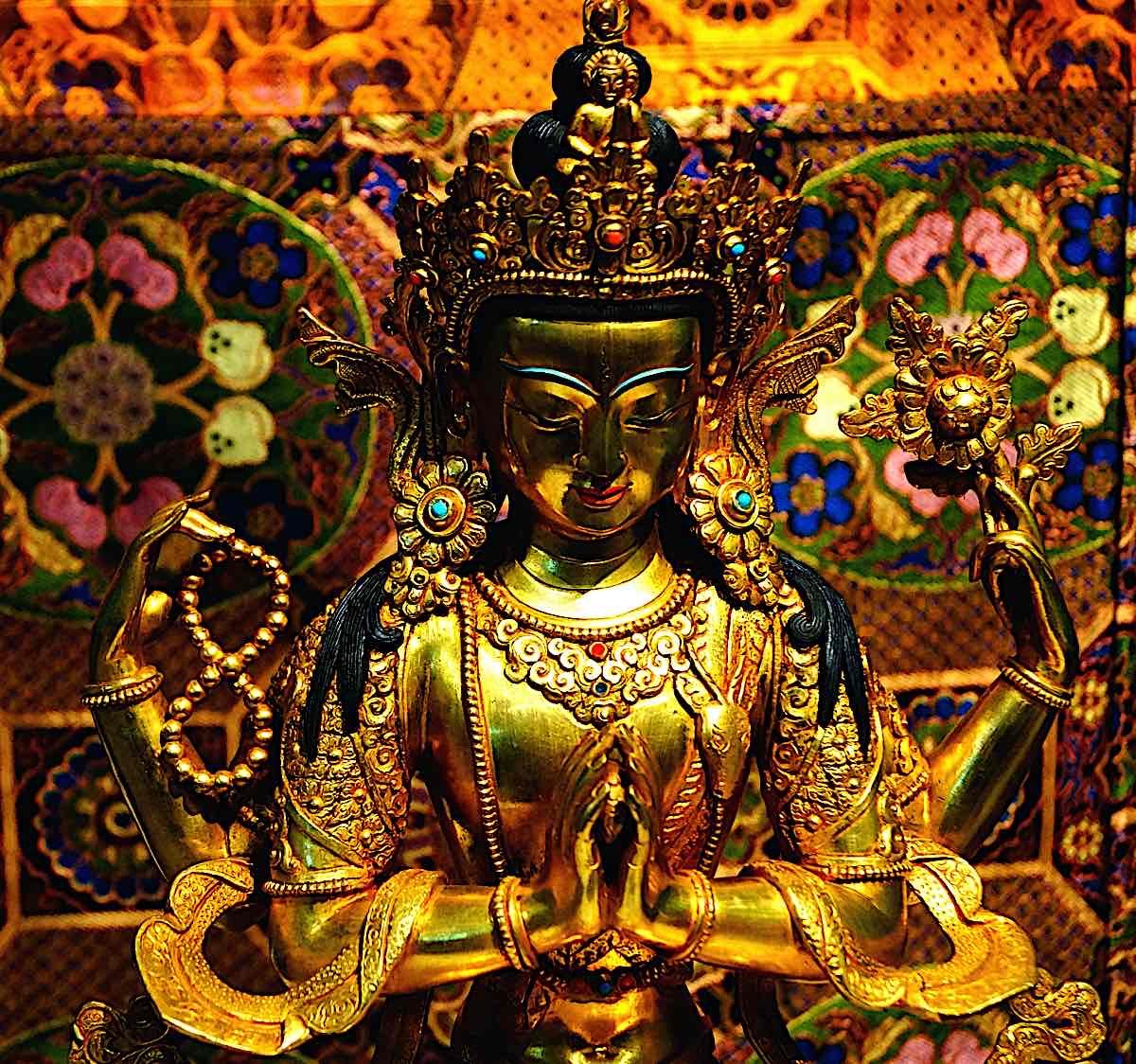 For two days, live like a nun or monk
During the Nyung Nye retreat, for two days we conduct ourselves as if we were nuns or monks. The eight precepts (which normally only apply to nuns and monks) are widened from the normal five that lay Buddhists observe, such as refraining from killing, stealing, damaging speech, intoxicating substances, and sexual offenses (not sex, but abusive behavior) — which apply to us year-round.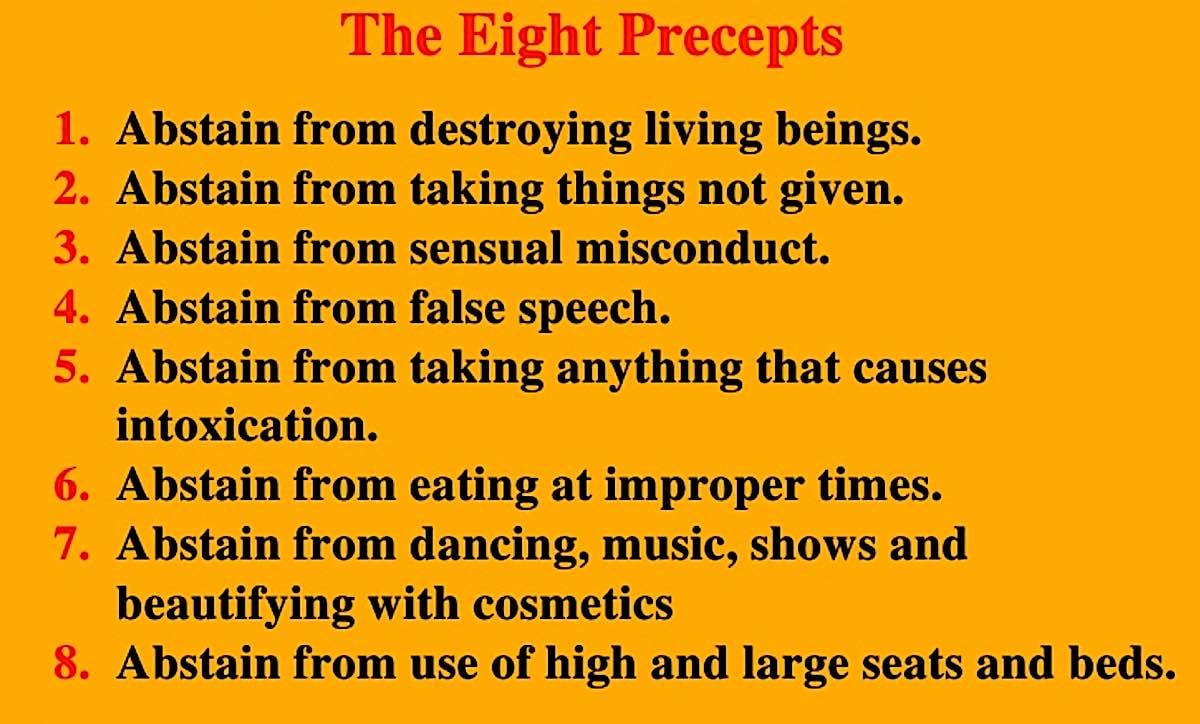 During the retreat, "refraining from sexual offenses" becomes "refraining from sex" entirely, and three additional precepts are added for the 2-day duration of the retreat: "eating at the wrong time (after midday); to abstain from entertainment such as dancing, singing, music, watching shows, as well as to abstain from wearing garlands, perfumes, cosmetics, and personal adornments; and to abstain from luxurious seats and beds." In summary, all eight are:
I undertake [to observe] the rule of abstinence from taking life
I undertake [to observe] the rule of abstinence from taking what is not given
I undertake [to observe] the rule of abstinence from unchastity
I undertake [to observe] the rule of abstinence from false speech
I undertake [to observe] the rule of abstinence from intoxicants which cause a careless frame of mind
I undertake [to observe] the rule of abstinence from taking food at the wrong time
I undertake [to observe] the rule of abstinence from dancing, music, visiting shows, flowers, make-up, the wearing of ornaments and decorations
I undertake [to observe] the rule of abstinence from luxurious seats and beds.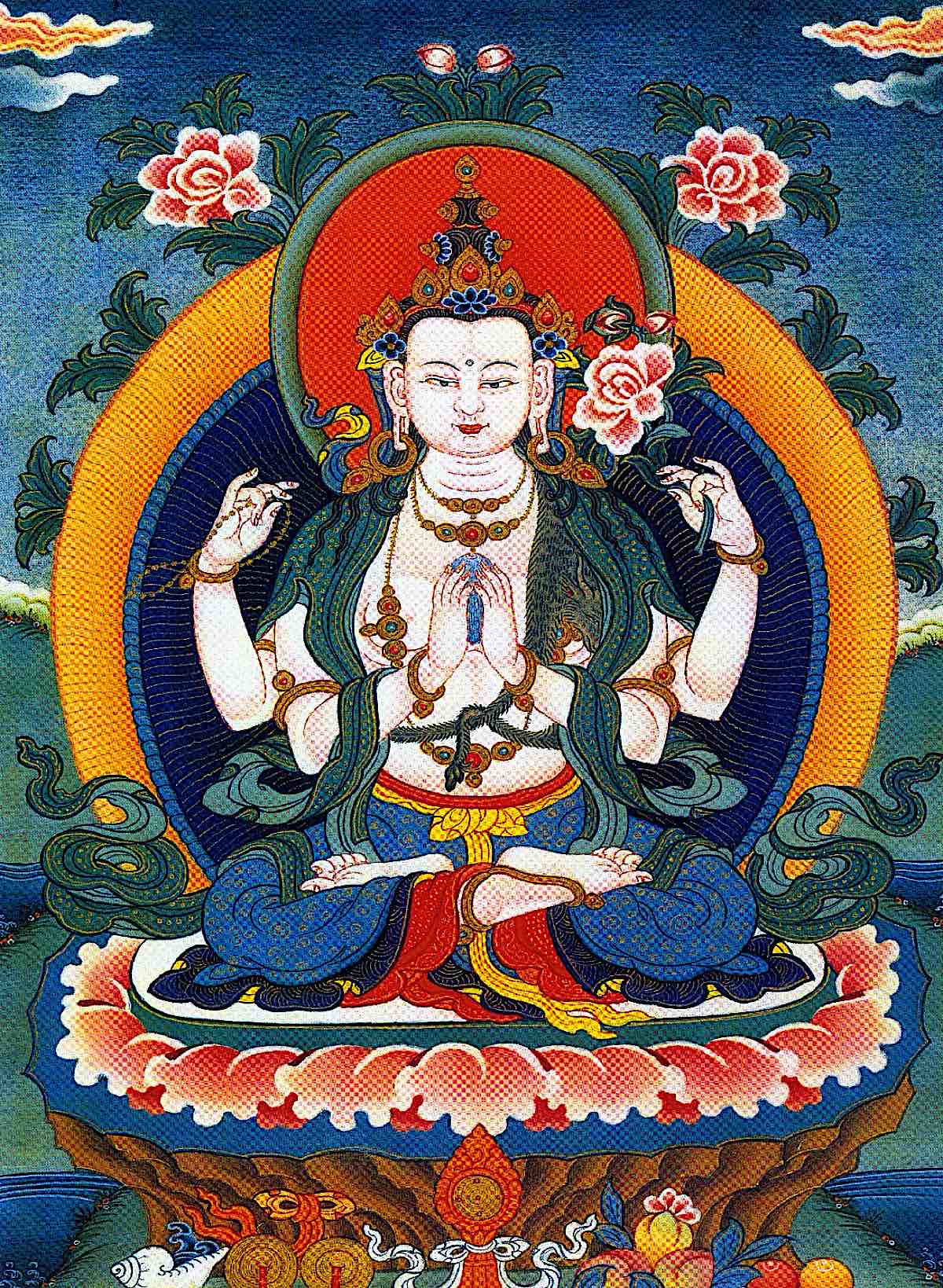 Zasep Tulku Rinpoche offers a One-Weekend Nyung Nye fasting Retreat Purification Practice with Chenrezig Empowerment via Zoom. [See details below.]
Fasting and Prostrations
Nyung Nye is a purification practice with fasting and prostrations. It is a widespread Buddhist practice in the Himalayan region, originating in Tibet. This is a highly effective purification for body, speech and mind — and will also open your heart to compassion, while accumulating much merit. There are countless stories of purification of diseases such as leprosy through this wonderful purification practice. To engage in the retreat, you will take the 24-hour Mahayana precepts.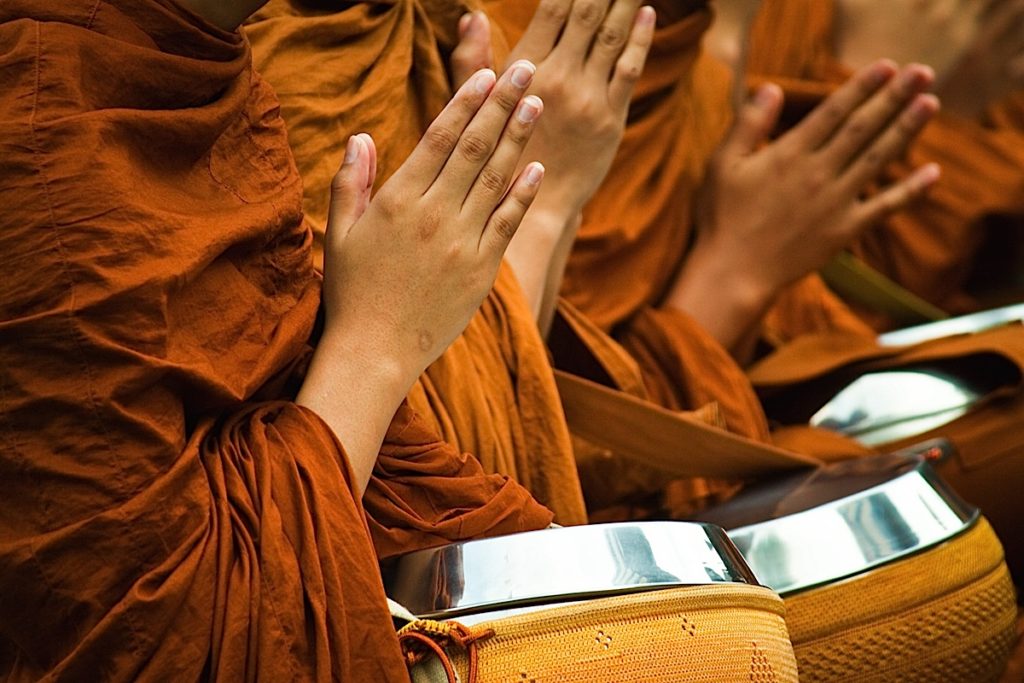 The combination of prostrations, with mantras, practices, meditation and fasting for one weekend is not only meaningful, it is powerful. The Nyung Nye requires two full days of practice, preceded by the Four-armed Chenrezig-Avalokiteshvara empowerment (for those who have not yet taken the empowerment).
On the two full days of actual Nyung Nye practice, you take the Eight Mahayana precepts known as Tekchen Sojong vows daily. You then practise Nyung Nye in at least four daily sessions, with sadhana recitations, mantras and prostrations, led by Rinpoche on Zoom. (In Australia, because of the time differences, Rinpoche will lead several sessions a day, and Australian practitioners will lead several later sessions).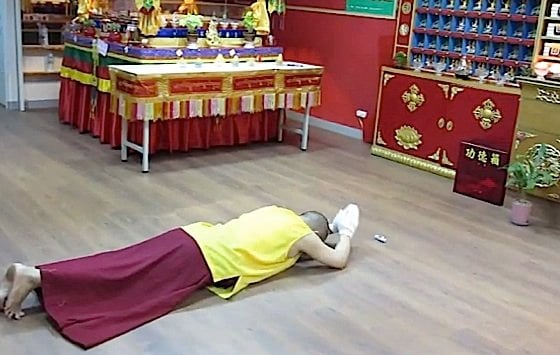 After beginning the retreat, you only have one meal, vegetarian, in the middle of the first full day of practice, and may drink only water – and importantly, you must keep silent.
Important health advice
LISTEN TO YOUR OWN BODY, and only do what is safe for you.This can be a vigorous practice. Please listen to your body and know your limitations. It is a good idea to learn how to do full prostrations properly and safely, according to the Tibetan tradition, before you start the Nyung Nye retreat, but please know that you can modify them at any time. NOTE: You do not have to do full prostrations, or keep to strict fasting, if you are unable to do so for health reasons — please ask your medical advisers if you are uncertain — please adjust to your body and be safe. Instead of full prostrations, try bowing from the waist. If that is difficult, bow from your seat. Or, just mentally visualize your bow and recite mantras. For fasting, also listen to your body and the advice of your medical advisers.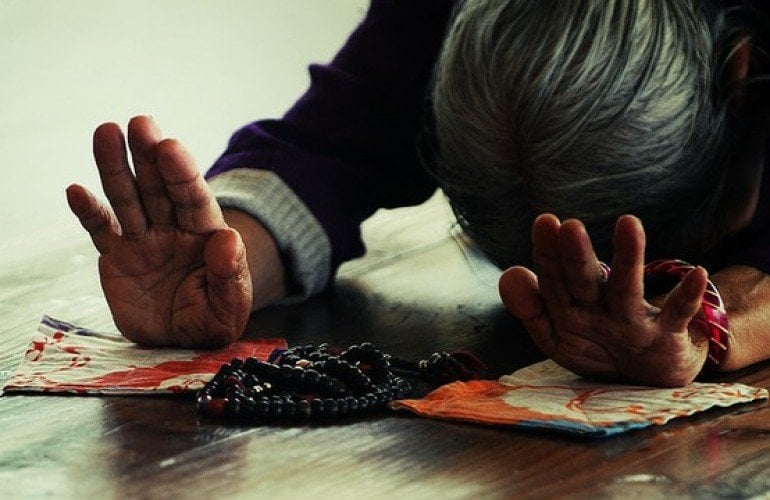 Dates for Zoom Retreat
Empowerment of Chenrezig – Canada B.C. time 3.30 p.m. (PT) or 6:30 p.m. (in Toronto/ New York etc.). Friday 3 December (Australia in Victoria, NSW and Tasmania this will be 10.30 a.m. Saturday 4 December)
Two-day Nyung Nye retreat – Canada B.C. time begins at 6 a.m. (9 a.m. in Toronto) Saturday 4 December and Sunday 5 December (Australia in Victoria, NSW and Tasmania this will begin at 6 a.m. Sunday 5 December and Monday 6 December)
Register
Register via Eventbrite https://www.eventbrite.com/e/nyung-nye-fasting-retreat-on-zoom-tickets-193164218377
All instructions (Zoom link, schedule, sadhana etc) will be given to registered participants via email as soon as you register. Please reference and read this email fully (to the bottom) as it has all the links you will need for items to print, how and where to donate, the schedule and zoom link.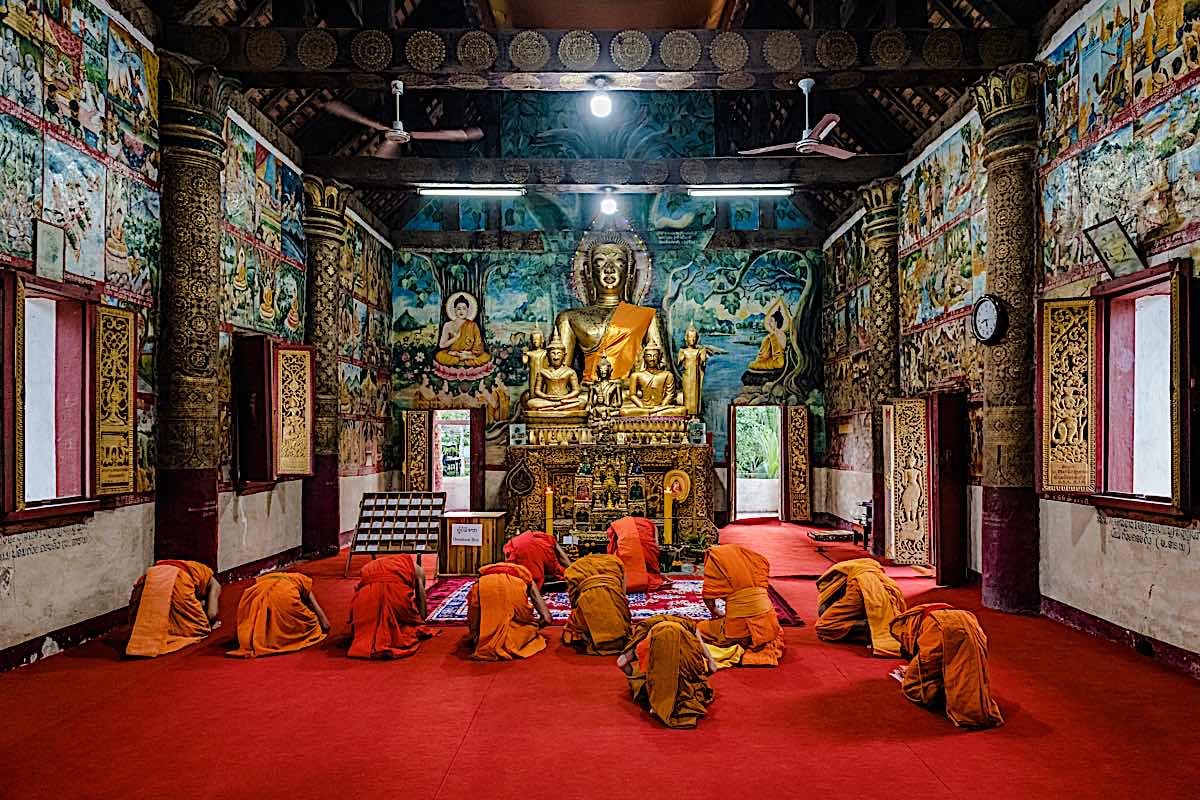 Donation Dana
If registering for the empowerment only (Chenrezig), suggested donation to Gaden for the West is $30-$60 (sliding scale)
Suggested donation for empowerment and 2-day retreat to Gaden for the West is $90-$180 (sliding scale)
Dana to Rinpoche is gratefully accepted through Gaden for the West . Information on the event and donations>>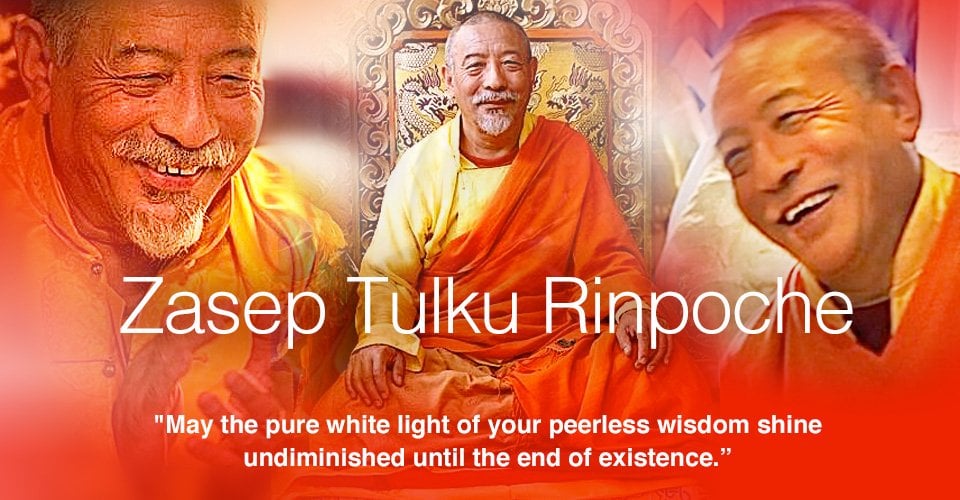 About Venerable Zasep Rinpoche
The Venerable Acharya Zasep Tulku Rinpoche, a highly realized and internationally respected teacher of Gelugpa Buddhism, was born in Tibet in the province of Kham in 1948. Zasep Tulku Rinpoche was recognized as the 13th incarnation of Lama Konchog Tenzin of Zuru Monastery. In 1959, during the Chinese invasion, he escaped from Tibet and continued his education for sixteen years in India under the tutelage of many of the greatest teachers of Mahayana Buddhism. In 1975, Zasep Rinpoche left India to study in Thailand where he joined the monks of a forest monastery. For eighteen months he studied and practiced with them. He then traveled to Australia and translated for Tibetan speaking Lamas for a number of years.
NOTES
[1] Normal disclaimers: healing meditations and practices are always supportive and valuable, but seek primary care from your health care experts.
Please support the "Spread the Dharma" mission as one of our heroic Dharma Supporting Members, or with a one-time donation.
Please Help Support the "Spread the Dharma" Mission!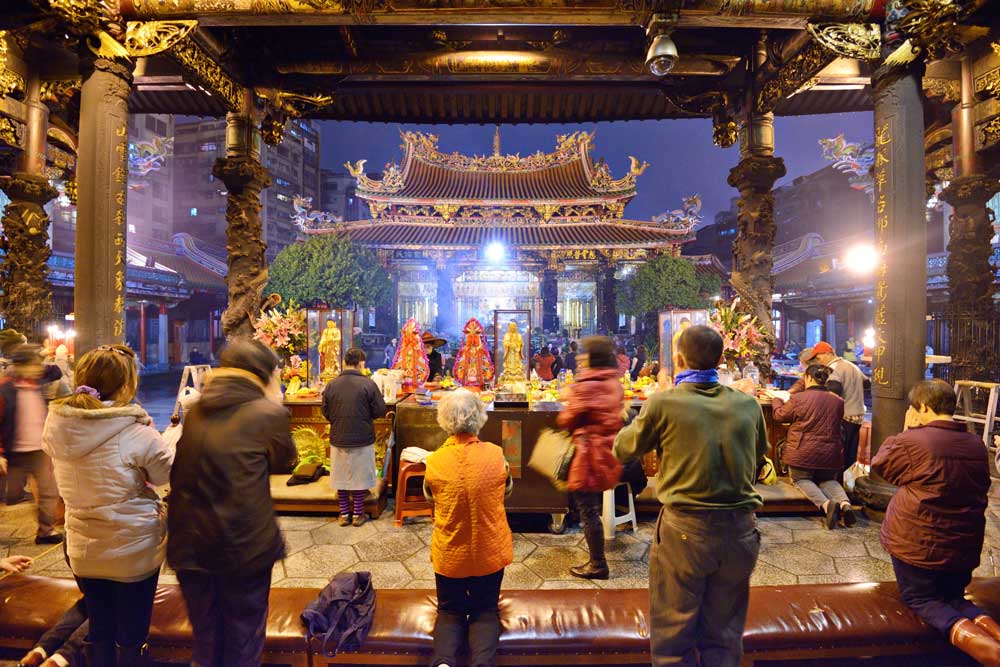 Be a part of the noble mission as a supporting member or a patron, or a volunteer contributor of content.
The power of Dharma to help sentient beings, in part, lies in ensuring access to Buddha's precious Dharma — the mission of Buddha Weekly. We can't do it without you!
A non-profit association since 2007, Buddha Weekly published many feature articles, videos, and,  podcasts. Please consider supporting the mission to preserve and "Spread the Dharma." Your support as either a patron or a supporting member helps defray the high costs of producing quality Dharma content. Thank you! Learn more here, or become one of our super karma heroes on Patreon.
Lee Kane
Author | Buddha Weekly
Lee Kane is the editor of Buddha Weekly, since 2007. His main focuses as a writer are mindfulness techniques, meditation, Dharma and Sutra commentaries, Buddhist practices, international perspectives and traditions, Vajrayana, Mahayana, Zen. He also covers various events.
Lee also contributes as a writer to various other online magazines and blogs.