Video: Celebrating 40 Years of Dharma Practice in Remote Tasmania! One of the oldest Dharma centers in the West Commemorates with Retreat, and a Party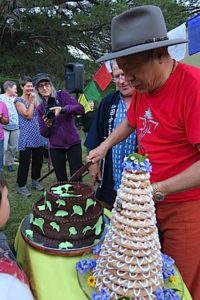 Dancing and singing seems like an appropriate way to bring in a celebration of Dorje Ling's 40 Years as a non-sectarian Dharma Centre — especially a Dharma retreat farm in remote and stunning island state of Tasmania. To live music, with appropriate lyrics of "Om Tare Tuttare Ture Svaha" the lucky students and friends partied outdoors.
It's a party! Live music and dancing to "Om Tare Tuttare Ture Svaha" at the 40th anniversary of Dorje Ling/Illusion Farm, Lorinna, Tasmania. Musicians: Max Bladel (vocals), Seymour Turnbull (guitar), Ngaire Green (keyboard):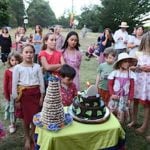 The 1970s vibe resonated through the event, from retro posters to cool, live music and dance — and of course teachings and retreats! All ages partied and received teachings.
Teachings in Tasmania
Where better to absorb the essence of Dharma than in the stunning beauty of Tasmania? The lucky anniversary attendees received teachings in Mahamudra, as well as a Medicine Buddha initiation and practice. At the end of teachings, the dancing began.

For those who missed Zasep Rinpoche's teachings in Tasmania, and previously in Vajra Ling, Zasep Rinpoche moves on to Melbourne Daylesford and Perth for more teachings in Australia (see bottom for schedule).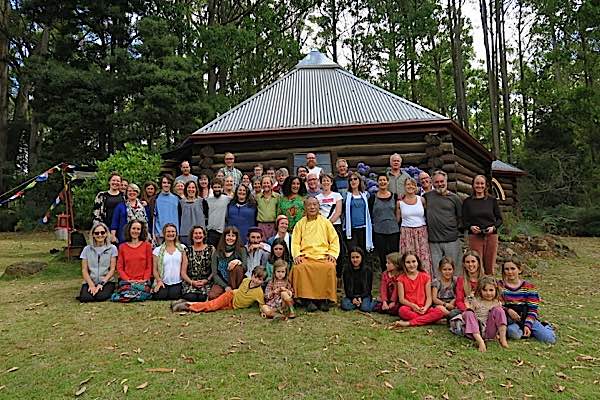 1977 to 2017 — a Colorful History
Today, situated on 48 acres of beautiful forest, the centre was first called Illusion Farm, a very 70-ish name. Illusion Farm, the current day Dorje Ling Retreat Centre, has hosted continuous retreats and teachings since the first teachings led by Phra Kantipalo of the Thai tradition in 1977. Shortly after, in 1978, the most Venerable Geshe Thubten Loden of the Gelug Tibetan tradition gave teachings, with the Venerable Zasep Tulku Rinpoche there as translator. The centre was so taken with Venerable Zasep Rinpoche, they invited him to become their spiritual head. Venerable Zasep Rinpoche is now the spiritual head of many centers in what is now known as Gaden for the West (with gompas, retreat centres and meditation centres in Australia, Canada, and the United States and Europe.)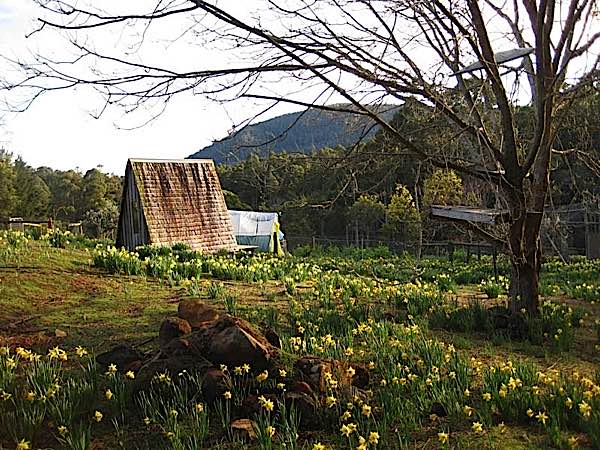 Today, the center is known as Dorje Ling, affiliated with Tashi Choling Foundation, Hobart Buddhist Meditation Centre and Gaden for the West. Over the years, many teachers have visited to deliver teachings. After Phra Khantipalo and Geshe Acharya Thubten Loden and Zasep Tulku Rinpoche, teachers included Traleg Rinpoche, Ayya Khema, Hogen San, Gala Tulku Rinpoche, Jampa Gendun, Tarchin Hearn and Geshe Ngawang Dhargyey.
Even with set backs such as the 2016 flood, the Gompa continues to flourish in beautiful Tasmania.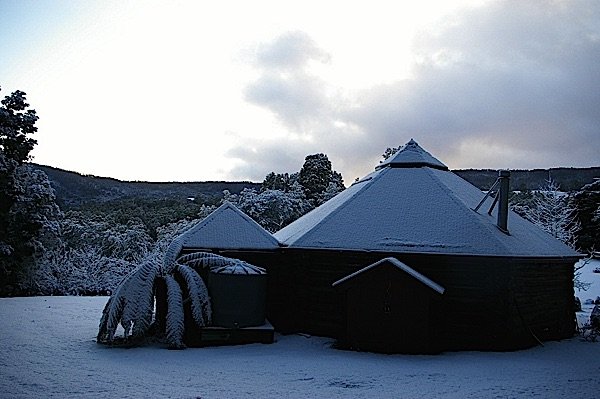 Dorje Ling Today
Dorje Ling retreats may come as close to the Yogi's cave retreat as a modern-day aspirant could hope for. Dorje Ling's rustic Gompa, an hexagonal log building is equipped for retreats, with kitchens, a caretaker, a long-term teacher's residence, and solar powered retreat huts is ideal for retreatants seeking to really escape the stress of urban living. Dorje Ling is as wild and wonderful as it gets, with camping space, walking trails, forests and nearby whitewater.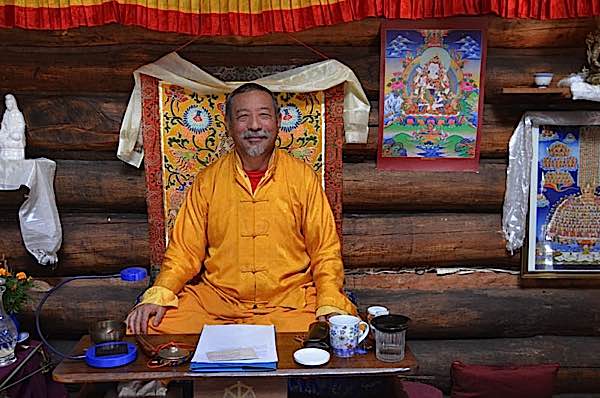 Venerable Zasep Tulku Rinpoche
The most Venerable Zasep Tulku Rinpoche's history with the centre goes back to 1978, just after he first came to Australia in 1977. Although Zasep Rinpoche is also spiritual director of all Gaden for the West centres in Australia, Canada and the U.S., Rinpoche regularly delivers teachings at Dorje Ling. For Buddha Weekly features, including teachings, videos and commentaries, mentioning Zasep Rinpoche, visit>>
A review of Zasep Rinpoche's biography, A Tulku's Journey from Tibet to Canada is here>>
Buddha Weekly is currently running as series of 10 short videos, Advice from the Teachers, which feature Venerable Zasep Rinpoche>>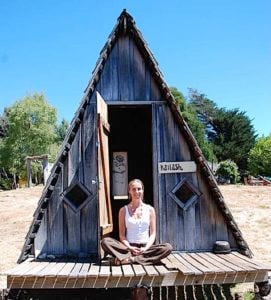 Tashi Choling Dharma Foundation Inc. is a non-profit incorporated association based in Tasmania, Australia.
Dorje Ling downloadable PDF information sheet>>
Their mailing address is:
Tashi Choling Dharma Foundation Inc.
PO Box 593
North Hobart
TAS 7002
Australia
Zasep Tulku Rinpoche's February and March Teachings in Australia
FEBRUARY 2017 
Melbourne
Tibetan Buddhist Society – Yuroke, Melbourne
Venerable Zasep Rinpoche 

Wednesday 8th February – Public talk – How to Realise your Buddha Potential

Friday 10th – White Tara Long Life Initiation
Weekend Saturday 11th – Sunday 12th – Teaching on Six Yogas of Naropa Teaching on Six Yogas of Naropa (prerequisites required: You must have one of the Maha Anuttara Yoga tantric initiations like Yamantaka, Heruka, Vajrayogini or Chittamani Tara)
Tuesday 14th – Medicine Buddha initiation
Wednesday 15th – Six Armed Mahakala initiation
Daylesford
Friday 17th – Evening Je Tsongkhapa initiation
Sunday 19th February – Concise Lam Rim teaching and Vajrapani initiation and practice
Melbourne
Tuesday February 21 – Mindfulness and Loving Kindness Practice, Abbotsford Convent 7 pm.
Thursday 23rd  February – Black Manjushri Initiation **CHANGE OF VENUE** Tibetan Buddhist Society Yuroke
Saturday 25th – Sunday 26th February – Mahamudra and Heart Sutra teachings
MARCH 2016
Perth
Sunday 5th March: Mahamudra Retreat
Tuesday 7th March: Black Manjushri Initiation
Wednesday 8th March: Six Armed Mahakala Initiation
Thursday 9th March: Book Launch – A Tulku's Journey from Tibet to Canada
Friday 10th March: Medicine Buddha Initiation
Saturday 11th – Sunday 12th March: Medicine Buddha Retreat
Tuesday 14th March: Teaching on Mahamudra
Wednesday 15th March: How to do personal retreats and make Tormas
Darwin
Friday 17th March: Public talk – Mindfulness with Loving Kindness
Saturday 18th – Sunday 19th March: Retreat on Mindfulness with Loving Kindness
Queensland
Maroochydore (details on the web at www.tangsootao.com.au)
Saturday 24th – Sunday 25th March: Black Manjushri Healing Initiation and practice retreat
Other centres affiliated with Zasep Tulku Rinpoche
North American umbrella organisation:

Canada:

The most Venerable Zasep Tulku Rinpoche is a Tibetan born Guru, spiritual head of many meditation centres in North America and Australia.

U.S.A:

TsongKhapa Center
Kalamazoo, Michigan

Vajrayogini Center
Seattle

Europe:

Mudra
Bristol, UK