H.E. Zasep Tulku Rinpoche Teaching in Toronto Area: Three Principle Paths of Lam Rim, Lama Je Tsongkhapa's Guru Yoga Path of Clear Light and Bliss, Vajrayogini 11 Yogas; and Initiations in Sarasvati, Medicine Buddha, Chod, Vajrayogini, Black Manjushri, and Palden Lhamo
His Eminence Zasep Tulku Rinpoche will tour through Toronto for an autumn/winter schedule of teachings at Gaden Choling in Toronto, including the "Three Principle Paths of Lam Rim", and "Lama Tsongkhapas Guru Yoga Path of Clear Light and Bliss". In November and December, for those seeking an even more committed practice, Zasep Rinpoche will offer initiations in Sarasvati, Medicine Buddha, Chod, Vajrayogini, Black Manjushri and Palden Lamo. (Full event poster and end of this feature.)
Rinpoche is popularly known for his approachable teaching style, strong humor and teachings based on a long lineage of great lamas. His own gurus included the most celebrated of Gelug teachers: His Holiness Kyabje Trijang Rinpoche, His Holiness Kyabje Ling Rinpoche, Venerable Geshe Thupten Wanggyel, His Holiness Kyabje Zong Rinpoche, Venerable Lati Rinpoche, Venerable Tara Tulku Rinpoche and Venerable Khalkha Jetsun Dampa Rinpoche. Rinpoche is spiritual director of many temples, meditation centers and retreat centers in Australia, the United States and Canada. He was first invited to teach in Australia by Lama Thubten Yeshe in 1976.
Autobiography Book Launch Event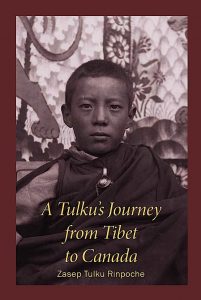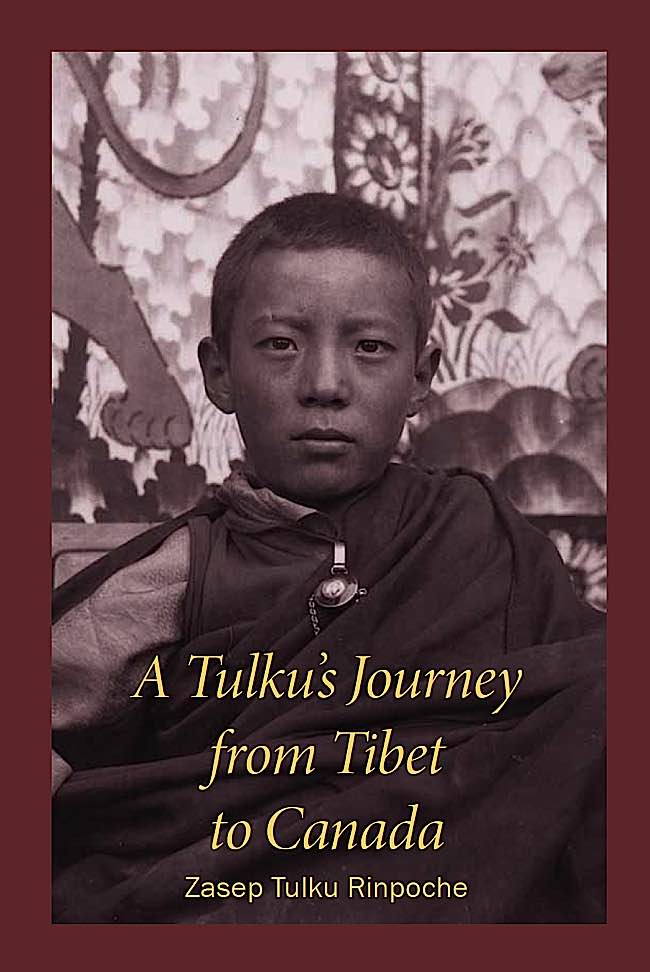 On Saturday November 12, 2016, Zasep Rinpoche will be at the Wychwood Library, 2pm-4pm at 1431 Bathurst St., Toronto, to launch his autobiography A Tulku's Journey from Tibet to Canada. In a Buddha Weekly advance book review was described as "equal parts autobiography, spiritual epic journey, gripping adventure narrative, inspiring Buddhist life example, and a travelogue spanning nine countries." Full review>>
Sarasvati initiation: "inspiration wisdom flows from her like a sweetly flowing river"
Note: This initiation has a commitment and includes Refuge and Bodhisattva Vows
November 12 @ 7:00 pm – 9:00 pm
A rare opportunity to receive the blessings and initiation in Sarasvati, known as an inspirational wisdom Yidam. Artists, writers, and thinkers turn to Sarasvati practice for inspiration. As a heart deity (Yidam) she personifies high wisdom, high art and scholarly perfection. She is particularly loved by artists, performing artists and Dharma scholars, and is often depicted as a beautiful female Buddha on the back of a swan or peacock with four arms, with which she plays the lute. She is also the Goddess of Eloquence, as words "flow from her like a sweetly flowing river."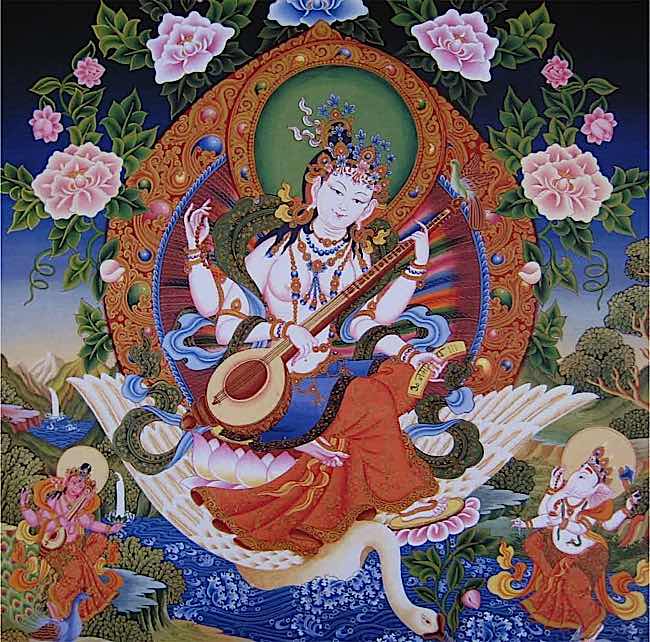 Event Description from Gaden Choling: "Sarasvati is a Buddha of Wisdom. Doing her practice helps us memorize Dharma texts, gain deep wisdom in understanding the meaning of Dharma, and engage in creative Dharma pursuits such as literature, visual arts, music and dance."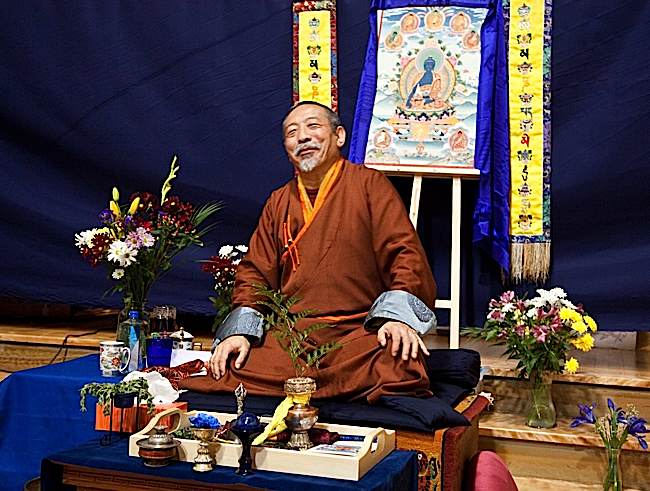 Medicine Buddha Initiation: "simply calling his name is a blessing"
Note: Please go early — this event is usually popular.
November 13 @ 3:00 pm – 6:00 pm
Millions of Buddhists turn to Medicine Buddha practice in times of pain, sickness, stress, or just for peace and comfort. This is a Sutra practice, open to all. Medicine Buddha's kindness extends to all beings. Simply calling his name or mantra brings his blessing. Baishajyaguru is famous for His "Twelve Vows", which includes: "I vow to relieve all pain and poverty of the sick and poor. The sick be cured, the helpless be helped, the poor be assisted." Full story on Medicine Guru here>>
From the Gaden Choling event description: "The Medicine Buddha Sutra was taught by Lord Buddha upon the request of Bodhisattva Manjushri for healing the body/mind and cultivating harmony and peace in the world."
NOTE CHANGE from Gaden Choling: "MEDICINE BUDDHA Initiation on SUNDAY NOVEMBER 13 at 3pm. Due to the confusion the registration page has cause, we will not be registering attendees but instead the event will be on a FIRST COME FIRST SERVE. Please arrive early as the event is in high demand. Many apologies for the inconvenience. Please share so folks are aware."

Lama Je Tsongkhapa's Guru Yoga Path of Clear Light and Bliss
November 14, 16, 28 and 30 @ 7:00 pm – 9:00 pm
This is a very special Guru Yoga, where we visualize our spiritual guide as Lama Tsongkhapa, a fully Enlightened Buddha. It is a major practice in Gelugpa tradition, and a powerful method for helping us connect with both the wisdom of our Guru (teacher) and the Enlightened qualities of the Yidam (heart deity). To learn more about Lama Tsongkhapa, please see our BW feature>> 
From the Gaden Choling event description: "In this series of teachings over four evenings, Venerable Zasep Rinpoche will give a commentary on Lama Chopa Guru Yoga written by the revered master, the First Panchen Lama Losang Chokyi Gyaltsen. Guru Yoga is a practice that helps our mind understand the wisdom mind of our Guru and Yidam as one. The Guru Yoga of Lama Tsongkhapa is an oral, sacred teaching of Manjushri to Lama Je Tsongkhapa; more than simply Guru Yoga, it contains the gradual path of enlightenment of a Buddha."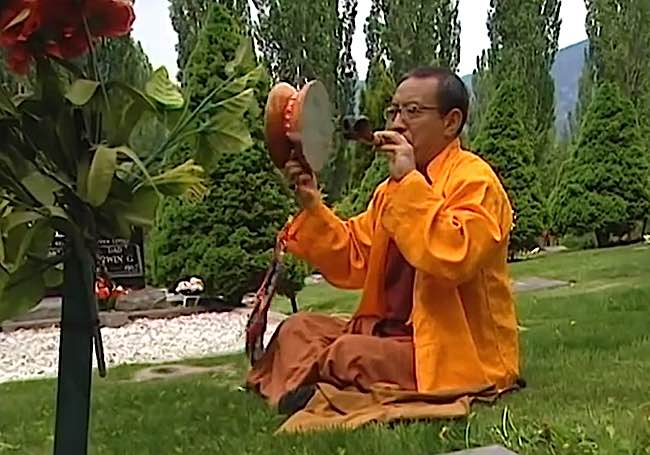 Chöd initiation: a "powerful way to tame our internal demons"
December 1 @ 7:00 pm – 9:00 pm
"The visceral imagery of offering your own chopped up body to all sentient beings is perhaps the most misunderstood of profound Buddhist practices," we wrote in a feature on Chod>> 
"Teachings such as Chod are advanced and profoundly effective practices that help us "cut" our ego, tame our internal "demons" and develop genuine bodhichitta for all beings. But, the need for explanation and teacher guidance is critical."
From the Gaden Choling event description: "The essence of Chöd practice is the chapter on the subjugation of demons in the Prajnaparamita Sutra. Chöd originated with Machig Labdron, a highly realized Dakini who promulgated the practice in Tibet during the 12th century. The Chöd practice dispels negative mental states, which are our "demons." The Chöd practice transforms mental defilement into the wisdom of Bodhichitta and Shunyata."
Vajrayogini Initiation: "the practice for our times"
Commitments: This is a highest yoga tantra, advanced practice, and initiation comes with a commitment, Bodhisattva and Tantric Vows, and the requirement of making a Tsog offering ceremony twice per month.
Prerequisites: Please only attend if you have previously received Yamantaka or Heruka initiation.
December 2 @ 7:00 pm – 10:00 pm
Vajrayogini practice is the highest of the high tantric practices, yet it is concise, easy to visualize and a complete path — ideal as a "practice for our times". She is considered the "Mother of the Buddhas" because Her essence is Blissful Wisdom. Her practice is the quintessence of the Chakrasamvara root tantra, and is considered the best short practice for times of stress and degeneration, where busy lives interfere with practice. Many great Mahasiddas from India and Tibet obtained Enlightening Wisdom from her practice.
From the Gaden Choling event description: "Venerable Vajrayogini is a very sacred practice that is the essence of all mother Tantras. Through the practice, it is possible to attain the state of Vajrayogini, a fully realized Buddha, within this life time. It is said that if you practise Vajrayogini a time when true spirituality is declining, then you will have greater opportunity to attain her realizations."
Teachings: Unless you've already received the commentary on the 11 Yogas of Vajrayogini, you should attend the weekend commentary. An advanced yoga practice of this class requires commentary.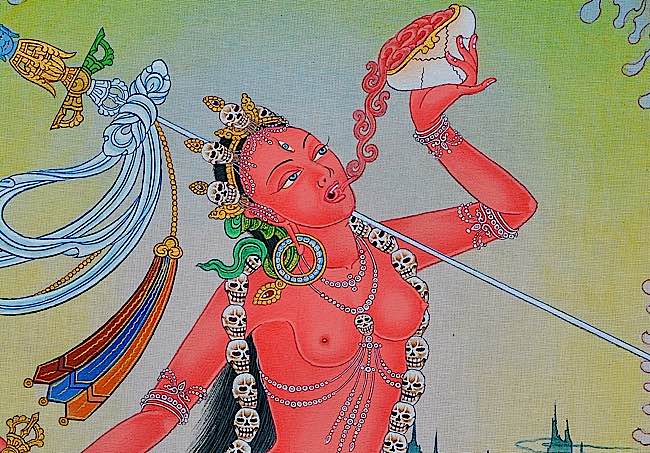 Weekend teaching on the precious 11 Yogas of Vajrayogini
December 3 and 4th @ 10:00 am – 5:00 pm
Note: To attend you must have received Vajrayogini initiation, either on the previous night, or on a previous occasion.
The precious 11 Yogas of Vajrayogini are literally a complete path, a Highest Yoga Tantra practice taught by many of the greatest teachers past and present from Tibet.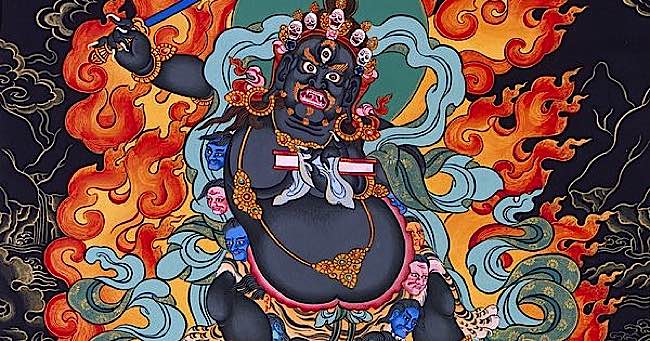 Black Manjushri initiation
December 7 @ 7:00 pm – 9:00 pm
"Black Manjushri practice has a reputation for successfully helping victims of the most dangerous diseases, including cancer, heart disease and AIDS" — from the Buddha Weekly story on Black Manjushri. For more information on Black Manjushri see this BW feature>>
From the Gaden Choling event description: "The Black Manjushri initiation and practice are helpful in healing cancer and protecting against curses and negative energies."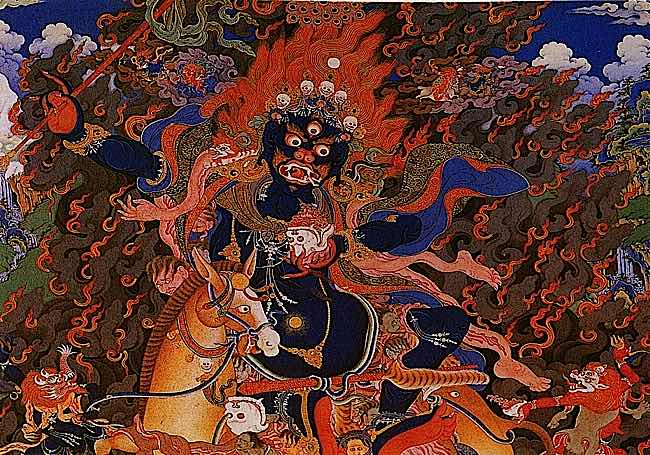 Palden Lhamo Initiation: "the great Dharma Protector, emanation of Tara"
December 8 @ 7:00 pm – 10:00 pm
Palden Lhamo is the protecting Dharmapala of he Gelug school of Tibetan Buddhism, a wrathful deity honoured all over Tibet and Mongolia, and a main protector of the Dalai and Panchen Lamas. She is deep blue in colour with red hair to symbolize her wrathful nature. To learn more about psychology and extraordinary power of 'Wrathful' deities, please see this BW feature>>
From the Gaden Choling event description: "Palden Lhamo, or Sri Kali Devi, is a Dharma Protector of all Tibetan and Mongolian Buddhists; she is an emanation of Tara."