Mahamudra is the path of enlightenment – realizing the Ultimate Nature of the mind. Of the two aspects of Mahamudra meditation, Shamatha Mahamudra is the method of developing the concentrated, calm abiding mind where as Vipassana Mahmudra is the method of generating the direct realization of Ultimate Truth – Emptiness. Rinpoche will on both of these topics.
For coverage of Zasep Tulku Rinpoche's previous 2-day Mahamudra event in Owen Sound, please see this three part series with the key teaching points:
Mahamudra Part 1: Mahamudra is ultimately about trying to experience absolute truth" — and Helping Your Mind Get to Know Your Mind: Teaching Retreat Notes, Zasep Tulku Rinpoche

Mahamudra Part 2: Much More-Than-Six-Words of Advice — Zasep Tulku Rinpoche teaches on Mindfulness of Body; Anger; and Healing Through Meditation (Mahamudra Teachings Session 2)

Mahamudra Part 3: The Mindfulness of Feelings: Overcoming Negative Feelings and Using Discriminating Alertness of Feelings in Your Practice: Mahamudra Teachings from Zasep Tulku Rinpoche, Session 3.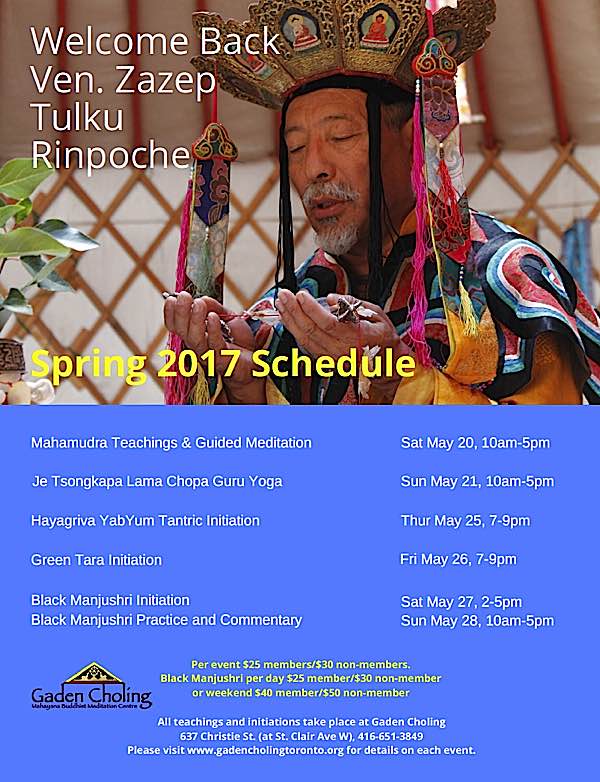 Suggested Donation – $25. members / $30. non-members for the day or for the weekend, $40 for members and $50 for non-members.
ABOUT VENERABLE ZASEP TULKU RINPOCHE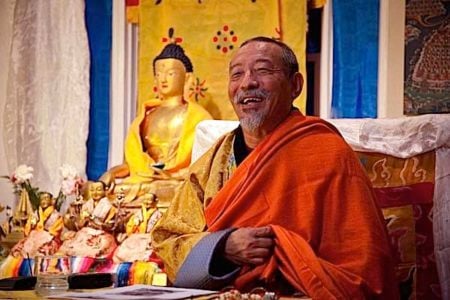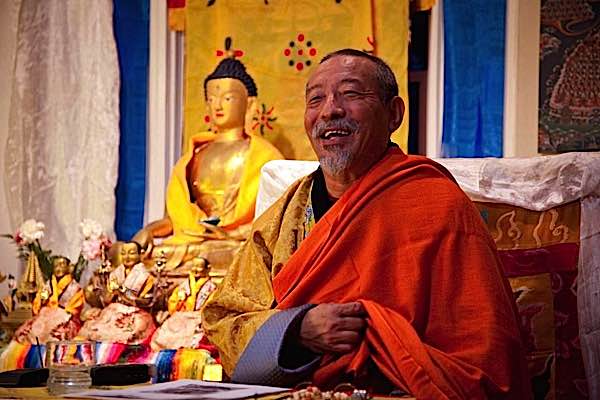 Rinpoche is popularly known for his approachable teaching style, strong humor and teachings based on a long lineage of great lamas. His own gurus included the most celebrated of Gelug teachers: His Holiness Kyabje Trijang Rinpoche, His Holiness Kyabje Ling Rinpoche, Venerable Geshe Thupten Wanggyel, His Holiness Kyabje Zong Rinpoche, Venerable Lati Rinpoche, Venerable Tara Tulku Rinpoche and Venerable Khalkha Jetsun Dampa Rinpoche.
Rinpoche is spiritual director of many temples, meditation centres and retreat centres in Australia, the United States and Canada. He was first invited to teach in Australia by Lama Thubten Yeshe in 1976.
More on Zasep Tulku Rinpoche>>
Gaden for the West Meditation Centres
Australia
Vajra Ling, Uralla, N.S.W.
Losang Gyalwa Mandala, Sydney, N.S.W.
Tenzing Ling Centre, Quamaa, N.S.W.
Dorje Ling Retreat Centre, Lorina Valley, Tasmania
Canada
Chittamani Mahayana Buddhist Meditation Centre, Ottawa, Ontario
Gaden Choling, Toronto, Ontario
Medicine Buddha Centre, Calgary, Alberta
Potala Tibetan Buddhist Meditation Centre, Thunder Bay,Ontario
Tashi Choling, Nelson, B. C.
Zuru Ling Society, Vancouver, B.C.
United States