Avalokiteshvara's Ten Prayers for happiness and well-being of all sentient beings chanted by Khenpo Pemo Choephel Rinpoche
Avalokiteshvara's 10 prayers for the happiness and well-being of all sentient beings, exquisitely chanted by Khenpo Pema Choephel Rinpoche (mini-biography below) — with chant lyrics in video and below (song available on Soundcloud):
10 Prayers in Tibetan (chanted version) Chinese and English
JE LAMA NAMLA SOLWA DEB, GOE KADRIN CHENGYI JINGYI LOB
祈请至尊上师众们,尤其具恩者祈加持,
To the assembly of spiritual masters, I beseech with gratitude – please grant blessings.
DIR TSOKPEI KALDEN PHOMO NAM, WANG CHOEDHI DONDANG DENPAR ZHU
聚于此具缘男女众,此灌顶法有义祈请行,
Fortunate men and women gathered here, please receive these precious Empowerments and Teachings
OM MANI PADME HUM HRI OM MANI PADME HUM
DENG JALWI TSENDEN LAMA DI, JE SANGYEY YERMED CHIWOR GOM
现拜谒具德上师此,顶上观本尊佛无二,
Having met the assembly of Gurus here, visualize above your head – whom in essence is Buddha himself –
LHA THUKJE CHENPO CHIWOR GOM, GNAG YIGEY DRUKMEI SOLDEB ZOD
顶上观大悲观音尊,语六字真言请念诵,
The great compassionate Avalokiteshvara, beseech and chant:
OM MANI PADME HUM HRI OM MANI PADME HUM
SEM JAMDANG NYINGJE CHENPO GOM, CHOE JETSED DROWEI DONDU ZOD
意大慈大悲请修持,所修法利众请实行,
Practise great love and compassion, practise for the benefit of all sentient beings.
JIG GEYDANG NEDDON GANGJUNG YANG, JIG KYOBKYI YIGEY DRUKMA YANG
八畏病魔产生何亦,救怙怖畏六字明音,
Whatever eight fears, diseases and evil obstacles, can be pacified by reciting these six syllables:
OM MANI PADME HUM HRI OM MANI PADME HUM
LUE MITAK PANI NGONSUM LA, YONG KHORWA DILA NYINGPO MED
身为无常者乃现量,此一切轮回无意义,
Our bodies are impermanent, there is no essence in samsara.
CHOE GEWA CHUPO DRUPA DANG, DIG MIGEY CHUPO PANGWAR JA
修行十种善法且,罪恶十不善应舍弃,
Practice the ten positive deeds, and abandon the ten negative deeds.
OM MANI PADME HUM HRI OM MANI PADME HUM
DE TARDU ZEDPI PHENYON GYI, TSE DIDANG CHIMA DELEK JUNG
以如是修行之诸利益,此世及后世吉祥生,
The benefits of practising accordingly, will bring happiness and well-being in this and future lives.
CHIR GYALKHAM YONGLA TRASHI SHOG, GOE DIRTSOK THROMLA TRASHI SHOK
总国土一切愿吉祥,尤聚此会众愿吉祥。
May all be auspiciousness in this world, and may auspiciousness come to all gathered here.
OM MANI PADME HUM HRI OM MANI PADME HUM
Mini Biography Venerable Pemo Rinpoche
From the Palyul Centre website:
Ven. Khen Rinpoche Pema Chophel (Pema Rinpoche) joined Palyul Monastery at the age of eight at his own will. He took his vows of refuge from His Holiness Penor Rinpoche and received from him the Palyul traditional practice of Ngondro, Tsa Lung und Dzogchen from the Namcho Cycle.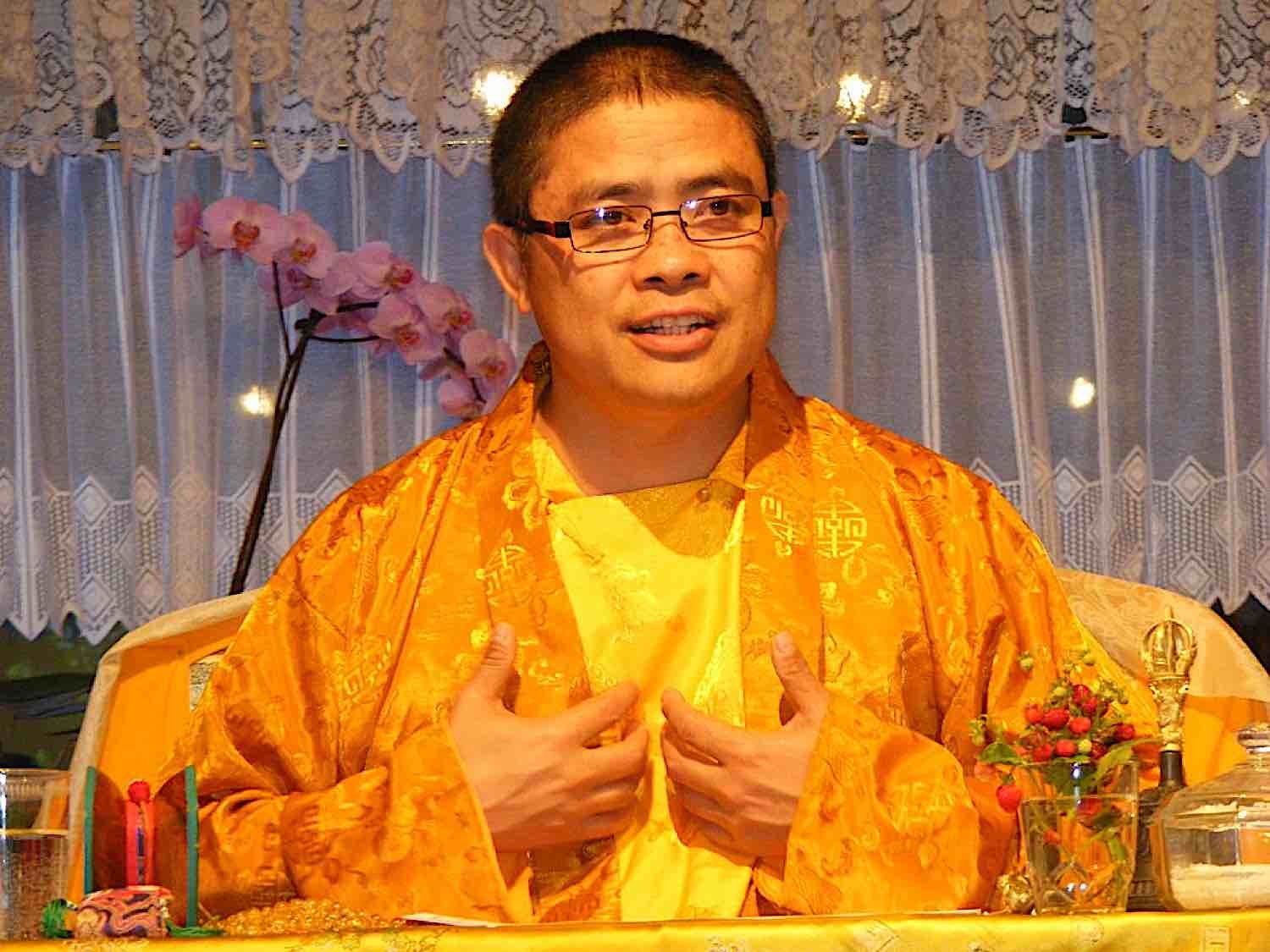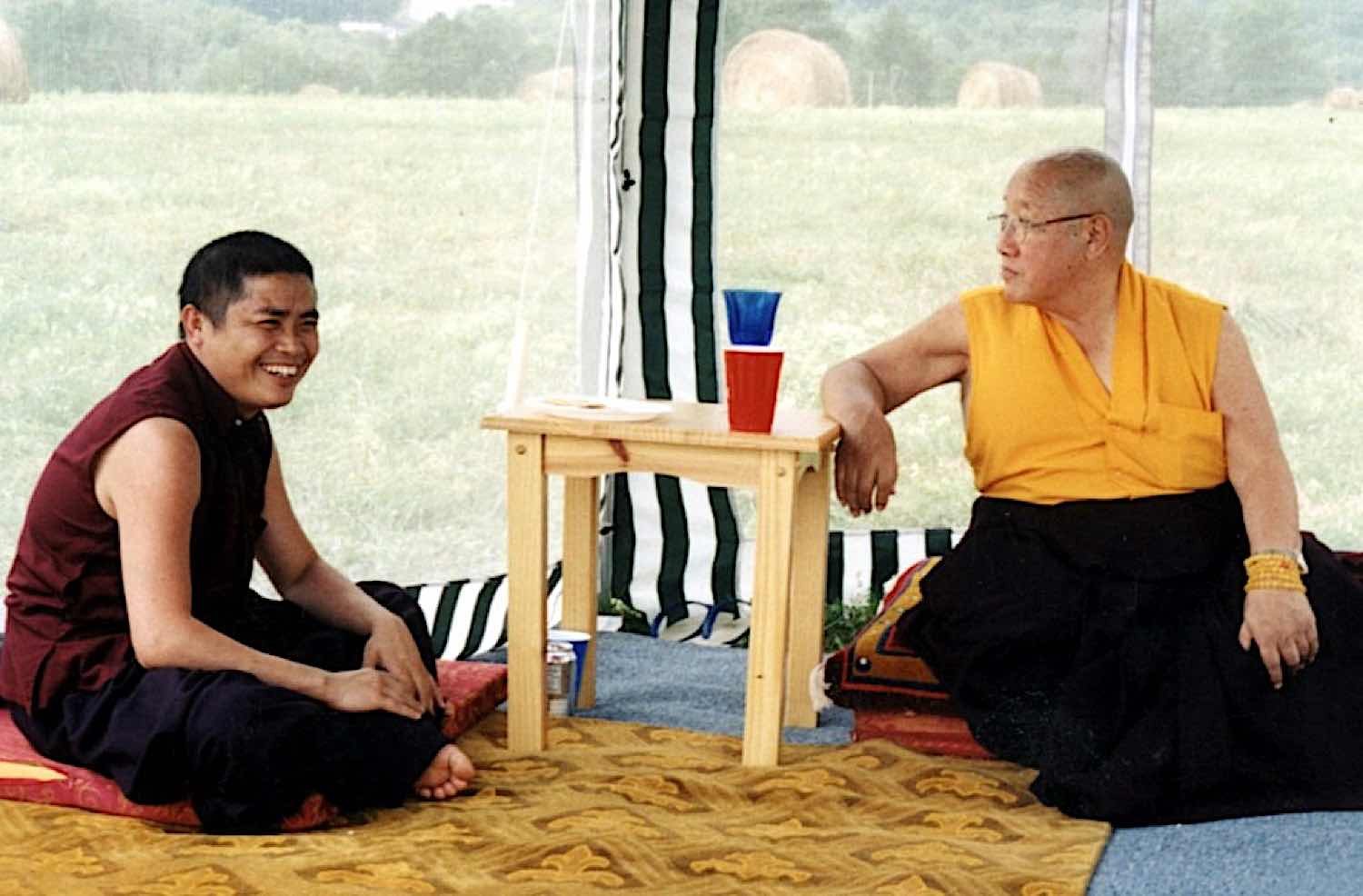 From His Holiness Dilgo Khyentse Rinpoche, Khen Rinpoche also received teachings on the Nyintig Great Perfection Practices of Trekchod and Togyal. Khen Rinpoche received many profound transmissions from His Holiness Penor Rinpoche, His Holiness Dilgo Khyentse Rinpoche, Nyoshul Khen Rinpoche and many other great Tibetan masters.
Please support the "Spread the Dharma" mission as one of our heroic Dharma Supporting Members, or with a one-time donation.
Please Help Support the "Spread the Dharma" Mission!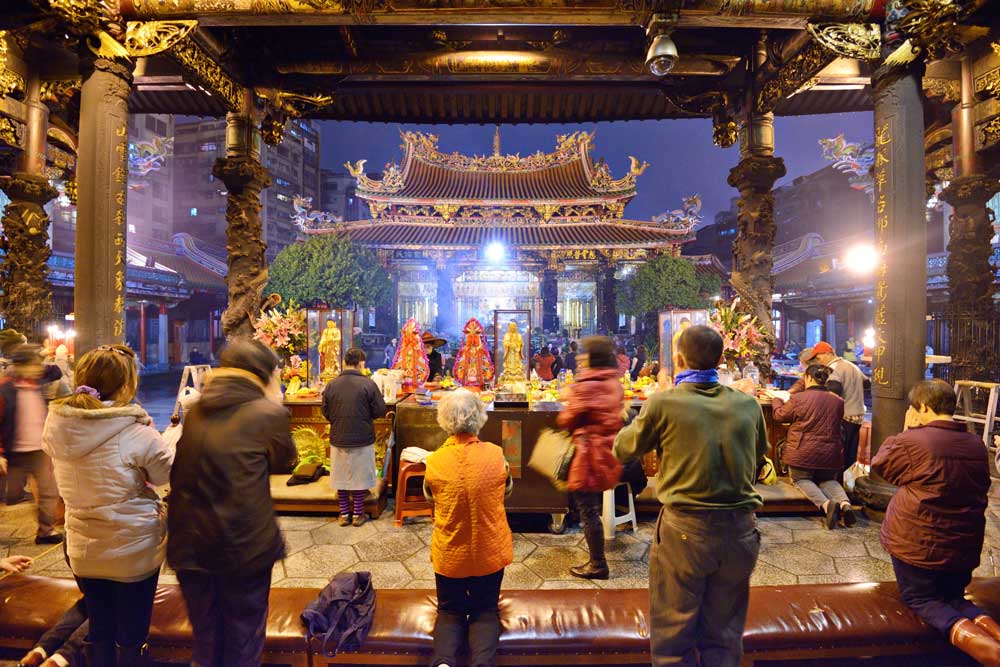 Be a part of the noble mission as a supporting member or a patron, or a volunteer contributor of content.
The power of Dharma to help sentient beings, in part, lies in ensuring access to Buddha's precious Dharma — the mission of Buddha Weekly. We can't do it without you!
A non-profit association since 2007, Buddha Weekly published many feature articles, videos, and,  podcasts. Please consider supporting the mission to preserve and "Spread the Dharma." Your support as either a patron or a supporting member helps defray the high costs of producing quality Dharma content. Thank you! Learn more here, or become one of our super karma heroes on Patreon.
Lee Kane
Author | Buddha Weekly
Lee Kane is the editor of Buddha Weekly, since 2007. His main focuses as a writer are mindfulness techniques, meditation, Dharma and Sutra commentaries, Buddhist practices, international perspectives and traditions, Vajrayana, Mahayana, Zen. He also covers various events.
Lee also contributes as a writer to various other online magazines and blogs.