Buddhist Ngondro Video 4: Overcoming the Obstacles of Irritation and Sleepy Mind –– a Foundation Practice Teaching from Venerable Acharya Zasep Tulku Rinpoche
In part four of his video teachings on Ngondro Foundation Teachings, Venerable Zasep Tulku Rinpoche discusses two of the biggest obstacles to practice and their antidotes: irritating monkey mind and sleepy mind — perhaps the biggest problems in modern practice due to the distractions of busy lifestyles. In parts one, two and three of this series on Vajrayana Foundation Practices, Rinpoche explained the four  "outer preliminaries" and the obstacles to dharma practice such as doubt, fear, and restlessness, and how to overcome them.
Zasep Tulku Rinpoche is the spiritual head of many temples and meditations centres in Canada, U.S. and Australia and tours worldwide from Mongolia to Mexico to Australia, to Canada and the U.S. His autobiography, A Tulku's Journey from Tibet to Canada, releases November 12, 2016. (Review of this much anticipated autobiography will soon follow in Buddha Weekly.) He will be teaching at Gaden Choling Toronto in November and December of this year (schedule at bottom of this feature).
Highlights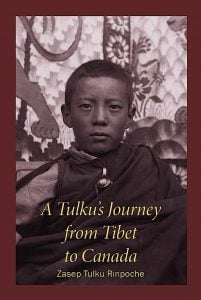 "The obstacle of irritation… you'll find irritations everywhere."
"Internal irritation… the monkey mind"
"Sometimes you can be irritated by not understanding the practice."
"Another obstacle is dullness of mind or sleepy mind."
"Some people have doubts about meditation."
"Dharma practice shouldn't be used for worldly purposes."
"The antidote for sleepy mind…"
"There is a subtle dullness… you can get confused between subtle dullness and calm abiding mind."
"The obstacle of grasping, wanting, attachment…"
"If you have any questions…" Rinpoche answers student questions.
"When you meditate on Mahamudra, you see your mind."
"First you do foundations… then you can move on…"
COMING SOON — PART FIVE
Guru Yoga Foundation Practices of Vajrayana Buddhism.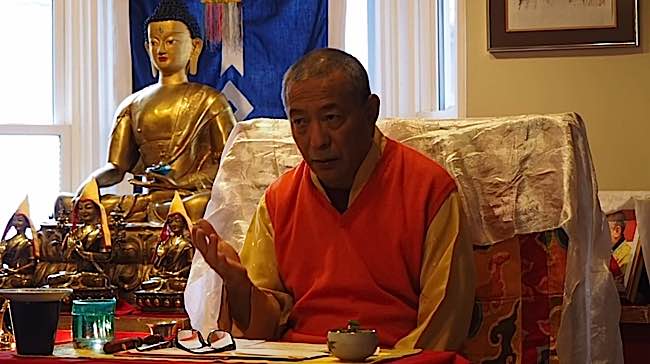 About Archarya Zasep Tulku Rinpoche
Rinpoche is popularly known for his approachable teaching style, strong humor and teachings based on a long lineage of great lamas. His own gurus included the most celebrated of Gelug teachers: His Holiness Kyabje Trijang Rinpoche, His Holiness Kyabje Ling Rinpoche, Venerable Geshe Thupten Wanggyel, His Holiness Kyabje Zong Rinpoche, Venerable Lati Rinpoche, Venerable Tara Tulku Rinpoche and Venerable Khalkha Jetsun Dampa Rinpoche.
Rinpoche is spiritual director of many temples, meditation centers and retreat centers in Australia, the United States and Canada. He was first invited to teach in Australia by Lama Thubten Yeshe in 1976.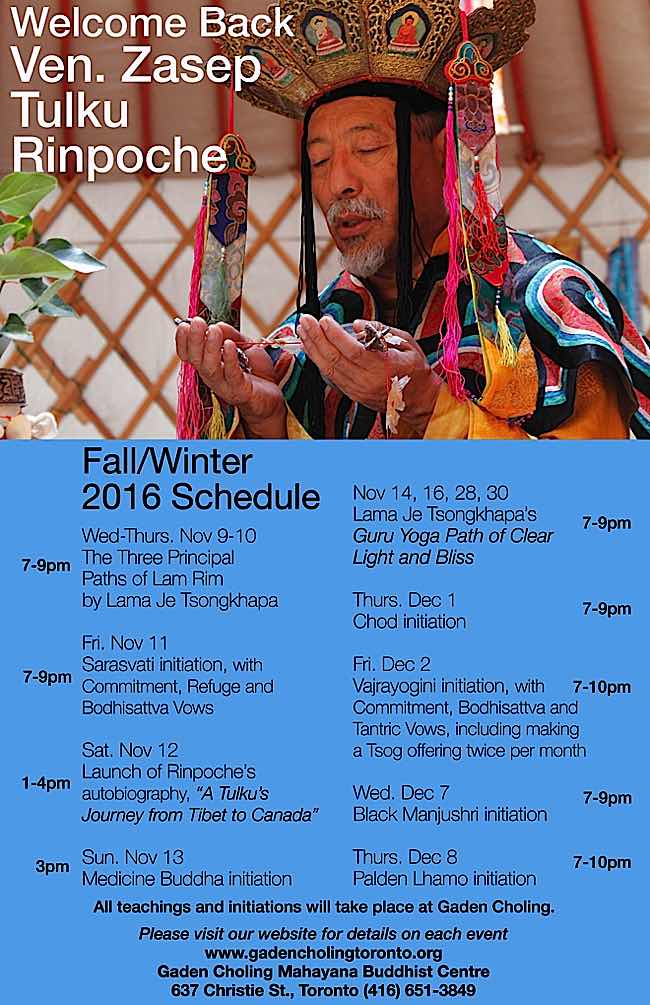 Fall/Winter Teachings from Venerable Zasep Tulku Rinpoche
Fall/ Winter Teachings Gaden Choling 2016 Schedule>>
Wednesday-Thursday, November 9-10, 7pm-9pm
The Three Principal Paths of Lam Rim by Lama Je Tsongkhapa
Rinpoche will teach how to meditate step by step on the three principal paths of Lam Rim. The Three Principal Paths is a very concise presentation of the entire Lam Rim path composed by Lama Je Tsongkhapa. This text is universally recognized as a concise yet eloquent presentation of Renunciation, Bodhichitta, and the correct view of Shunyata.
Friday, November 11, 7pm-9pm
Sarasvati initiation, with Commitment, Refuge and Bodhisattva Vows
Sarasvati is a Buddha of Wisdom. Doing her practice helps us memorize Dharma texts, gain deep wisdom in understanding the meaning of Dharma, and engage in creative Dharma pursuits such as literature, visual arts, music and dance.
Saturday November 12, 1pm-4pm
Launch of Rinpoche's autobiography, A Tulku's Journey from Tibet to Canada. Wychwood Library, 1431 Bathurst St, 1pm – 4 pm
Sunday, November 13, 3pm
Medicine Buddha initiation
The Medicine Buddha Sutra was taught by Lord Buddha upon the request of Bodhisattva Manjushri for healing the body/mind and cultivating harmony and peace in the world.
November 14, 16, 28, 30, all 7pm-9pm
Lama Je Tsongkhapa's Guru Yoga Path of Clear Light and Bliss
Zasep Rinpoche will give a commentary on Lama Chopa Guru Yoga written by the revered master, the First Panchen Lama Losang Chokyi Gyaltsen. Guru Yoga is a practice that helps our mind understand the wisdom mind of our Guru and Yidam as one. The Guru Yoga of Lama Tsongkhapa is an oral, sacred teaching of Manjushri to Lama Je Tsongkhapa; more than simply Guru Yoga, it contains the gradual path of enlightenment of a Buddha.
Thursday, December 1, 7pm-9m
Chod initiation
The essence of Chod practice is the chapter on the subjugation of demons in the Prajnaparamita Sutra. Chod originated with Machig Labdron, a highly realized Dakini who promulgated the practice in Tibet during the 12 th century. The Chod practice dispels negative mental states, which are our "demons." The Chod practice transforms mental defilement into the wisdom of Bodhichitta and Shunyata.
December 2, 7pm-10pm
Vajrayogini Initiation
(Initiation into Highest Yoga Tantra comes with Commitment, Bodhisattva and Tantric Vows, including making a Tsog offering twice per month.)
Venerable Vajrayogini is a very sacred practice that is the essence of all mother Tantras. Through the practice, it is possible to attain the state of Vajrayogini, a fully realized Buddha, within this life time. It is said that if you practise Vajrayogini a time when true spirituality is declining, then you will have greater opportunity to attain her realizations.
Note: In order to receive this initiation, as a prerequisite, you need to have had a Yamantaka or Heruka initiation.
December 3-4 (requires Vajrayogini initiation), full day 9am-5pm both days
Weekend teaching on the precious 11 Yogas of Vajrayogini
December 7, 7pm-9pm
Black Manjushri initiation
The Black Manjushri initiation and practice are helpful in healing cancer and protecting against curses and negative energies.
December 8, 7pm-10pm
Palden Lhamo Initiation
Palden Lhamo, or Sri Kali Devi, is a Dharma Protector of all Tibetan and Mongolian Buddhists; she is an emanation of Tara.
All teachings and initiations will take place at Gaden Choling, 637 Christie St., Toronto.
Parts One, Two and Three:
Video: Buddhist Teachings on Ngondro, The Foundation Practices with Venerable Zasep Rinpoche
Video: Part 2 of Buddhist Teachings on Ngondro, the Foundation Practices with Venerable Zasep Tulku Rinpoche: Teachings on the Truth of Suffering, the Importance of Taking Refuge, and a Guided Meditation Visualizing Shakyamuni Buddha
Video: Purification of the obstacles of Dharma practice: Doubt, Fear and Restlessness. Buddhist Ngondro Foundation Teachings, Part 3 –– a Teaching from Venerable Acharya Zasep Tulku Rinpoche