Precious Green Tara Teachings: Venerable Zasep Rinpoche Returns to Gaden Choling
Rinpoche teaches in English with a warmth and charm that keeps attendees engaged, always ready to laugh and even make a joke. His vast knowledge of Dharma and willingness to answer tough questions adds to his irresistible charisma.
By Derek Armstrong
Retreats and Dharma talks from the Most Venerable Archarya Zasep Tulku Rinoche are always precious opportunities. Torontonians have eagerly awaited Rinpoche's April 2014 visit to Gaden Choling Toronto, Canada. The very full April schedule includes retreats, Buddhist debate training sessions, a fund-raiser for the Gaden Relief Project, and some very rare opportunities to receive initiations from a highly realized and internationally respected teacher. Some events are open to the general public, including a weekend retreat on the Lamrim and Green Tara. Other events are initiations by permission of Rinpoche.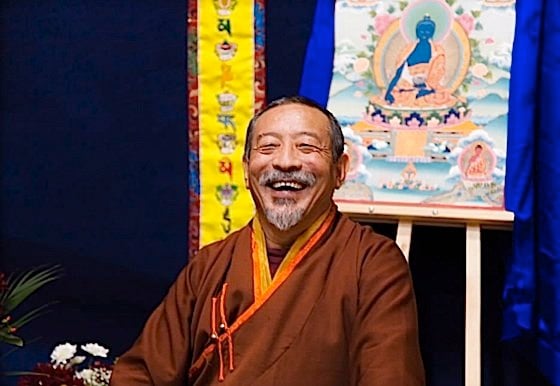 An Engaging and Highly Realized Teacher
Rinpoche was enthroned as the Thirteenth Zasep Tulku at Zuru monestary at the age of five. Rinpoche developed Dharma centres in the Gelugpa tradition in Canada, United States and Australia, organized as Gaden for the West. He is the author of a precious commentary on the female Buddha: Tara in the Palm of Your Hand.
I have attended several of Rinpoche's past Dharma talks and, despite arthritis pain and intense schedules, came away feeling accomplished, blissful and "unstuck" in my practice. Rinpoche teaches in English with a warmth and charm that keeps attendees engaged, always ready to laugh and even make a joke. His vast knowledge of Dharma and willingness to answer tough questions adds to his irresistible charisma.
April 2014 Schedule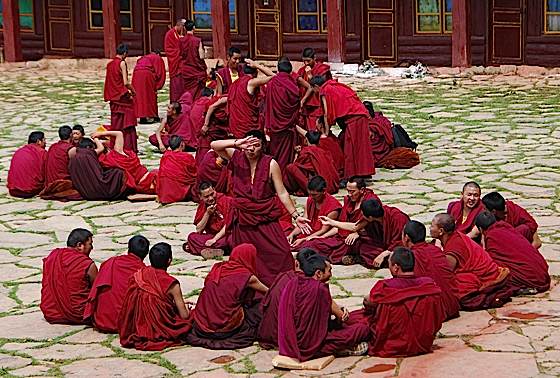 Saturday April 12 – Sunday April 13
How to do Buddhist debate and logic
10:00AM – 5:00PM
Suggested Offering: $ 40 per day or $ 60 for both days (Gaden Choling (GC) members)
$ 50 per day or $ 80 for both days (non-members)
Debate is training in logical analysis, which is a central part of traditional monastic education. The point of developing clear logic is not simply to win intellectual arguments, but to become skilled in meditative analysis of the Buddha's teachings. Traditionally, a monk or nun hears teachings on topics of debate; then they read the texts, memorizes the definitions and divisions and then, on their own, thinks about the meaning of what he is studying and meditates (analytical meditation) on its implications. After this preparation, they are able to debate the topic with others, and to help clarify their own or other's wrong view.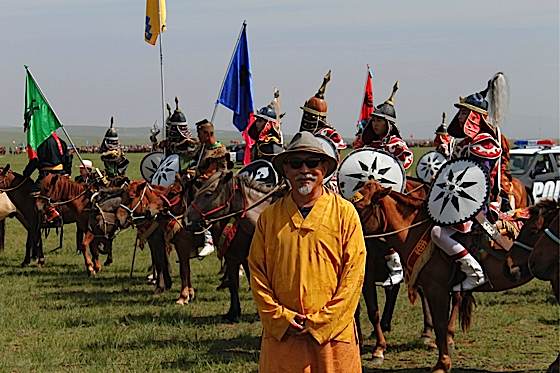 Thursday April 17
Mongolia slide show
To raise funds for Gaden Relief Project for Gobi Monastery
7:00PM – 9:00PM
Suggested Offering:  $ 20 for GC members $ 25 for non-members
Please join us for an exciting slide show of Rinpoche's recent trips to stunning Mongolia, and of the successful work Gaden Relief has been doing to help revive Mongolia's traditions and to provide health care to the urban and rural poor. All proceeds go directly to Gaden Relief Projects and their ongoing work in Mongolia.
Saturday April 19 – Sunday April 20
Lam Rim & Green Tara  Retreat
Special Location: 612 Markham St. – Bathurst and Bloor
(Only this event is not held at Gaden Choling)
10:00AM – 4:00PM both days
Suggested Offering:   $45 per day
Lam Rim is a step by step guide for training on the path to enlightenment. Both study and practice are essential tools for deepening our understanding of our spiritual path and our place in the world. The essence of Lam Rim is self-discipline in meditation, calm abiding, mindfulness, compassion and wisdom of Shunyata (or emptiness). Please join us as Rinpoche introduces the Lam Rim and explains who to integrate its practice into our daily life, both on and off the meditation cushion.
On Sunday, Rinpoche will continue his teachings on Green Tara, the female Buddha of active compassion. In this retreat, we will have an opportunity to listen to lectures, engage in group discussion, practise meditation, recite mantras and do visualisations – gaining first-hand experience to understand what is required to become our own inner alchemists – the foundation for living a life of peace, health, happiness and clarity.
Wednesday April 23
Chöd Initiation
According to Gaden Ear Whispered lineage.
7:00PM – 9:00PM
Suggested Offering:  $ 35 for GC members $ 45 for non-members
Chöd originated in the 12th century by Machig Labdron (1062-1153 C.E.), a highly realized female lama. The purpose of the practice is to develop wisdom and compassion; to heal the sick, remove obstacles, and purify an environment of negative forces using peaceful means. Chöd takes a nonviolent yet radical approach to healing by welcoming negative mental states and harmful forces. These are referred to in the tradition as internal and external "demons," that might normally give rise to fear and reactivity. Instead of fighting against them, we nourish them, offering our own bodies. This allows them to become allies. Through this process we uncover the truth of our indestructible nature.
Friday April 25
Very Sacred Black Dakini (Tronag) Initiation
According to Gaden Chokor; Manjushri given to Je Tsongkapa.
Note: In order to receive this initiation, you need the Chöd initiation on the 23rd as a prerequisite.
7:00PM – 9:00pm
Suggested Offering: $ 35 for GC members $ 45 for non-members
There are two Black Dakini initiations – the Dakini Ear-Whispered Lineage and the Gaden Ear-Whispered Tradition.
On this occasion, Zasep Rinpoche will give the Gaden Tradition Black Dakini initiation, which is part of 10 initiations which are called the Ten Jamyang Chokor – Manjushri's circle of initiations given by Lama Umapa Dorje to Lama Je Tsongkhapa. Again, please note: in order to receive this particular initiation, you must have received the common Chöd initiation given on April 23rd, or else you cannot receive this one.
Saturday April 26
Chittamani Tara Initiation
Tagpu Dorje Chang lineage (Only given in Gelug tradition)
2:00PM – 5:00PM
Suggested Offering:          $ 40 for GC members  $ 50 for non-members
Chittamani Tara is the Highest Yoga Tantra form of Green Tara, the female embodiment of the loving kindness of all the Buddhas. Chitamani Tara practice is quickly ripens our Buddhanature by identifying with the enlightened body, speech, mind, activity, and environment of the guru-Buddha. Please note that this initiation requires permission from Zasep Rinpoche to attend, as it requires entering and keeping certain precepts of a d).
Sunday April 27
Teaching and Practice on Chittamani Tara
10:00AM – 5:00PM
Suggested offering:  $ 40 for GC member $ 50 for non-members 
Those who have received the Chittamani Tara initiation are invited to attend this one day retreat, where Rinpoche will explain the practice, lead meditation, and be available to clarify all of our questions.
Wednesday April 30
Benefits of Sadhana and Mantra Retreat
7:00PM – 9:00PM
Suggested Offering: $ 20 for GC members  $ 30 for non-members 
Sadhana ("means of accomplishment") is a structured meditation that involves physical postures, oral recitation, and meditation and visualization. This is the primary practice of the Buddhist tantric tradition, but can sometime overwhelm practitioners unfamiliar with the basic structure, goals, and benefits of its practice. Mantra recitation, and especially the "Close Retreat" (reciting 100,000 mantras of a Buddha in order to "draw close"), is equally perplexing for practitioners. Please join us for this special teaching on the benefits, structure, and goals of sadhana and mantra practice in Tibetan Buddhism, and how these fit into the structure of our own spiritual practice.
All events will take place at Gaden Chöling, except for the LamRim & Green Tara Retreat.
 Map to Gaden Choling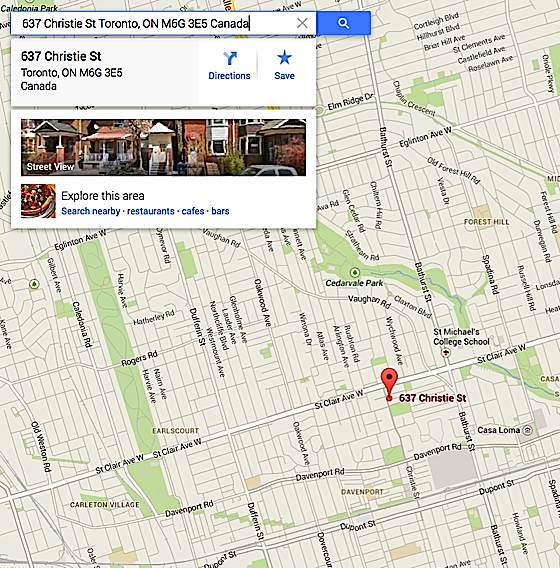 Map to the Lamrim and Green Tara Retreat only: