EVENT: Lamrim The Stages on the Path to Enlightenment Lecture Series on Thursdays at Gaden Choling Toronto
Teacher Theodore Tsaousidis, of Medicine Buddha Toronto, will give lectures on "The Stages on the Path to Enlightenment" in the Toronto, Canada area, at Gaden Choling Mahayana Buddhist Meditation Centre at 637 Christie St, Toronto. (Teacher bio at end of feature.)
March 23, 2017  — Buddhism 101: Simple, Clear and Strong
Often, one comes to a point where all the ideas that one held as true and solid are questioned. Buddhism is useful here as it acts as a sword of skillfulness, cutting away that which is harmful and false, making way for a life that is good and wholesome. Ironically, this is accomplished by continued study, questioning and embodied experience.
March 30, 2017  — Becoming a Buddha
In this lecture, we will investigate the life of Siddhartha Gautama who became the Buddha. We will explore how with courage and determination, amid the human condition of birth, illness, old age and death, he realized what is wholesome and beneficial.
April 6, 2017  — Truth by Any Other Name
This lecture asks the question: "What is it that is missing in ourselves or the world that prevents us from living a life informed by truth?"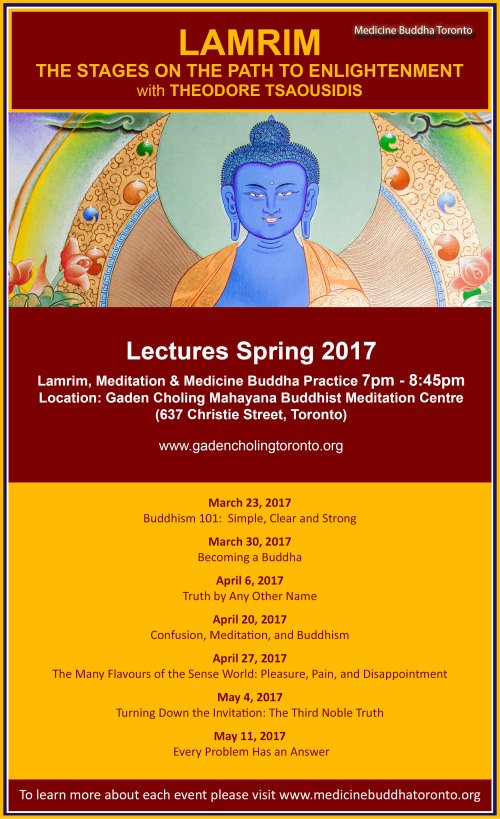 April 20, 2017  — Confusion, Meditation, and Buddhism
There are many misconceptions about the foundations of Buddhism. This lecture will show that there are four basic pillars of Buddhism that need to be understood and investigated thoroughly. From this foundation, we can use our body/minds as vehicles to embark on the path of meditation and toward ultimate freedom.
April 27, 2017  — The Many Flavours of the Sense World: Pleasure, Pain, and Disappointment
This lecture will look at how our body, mind and consciousness help us to understand the first two principles of the Four Noble Truths. The first noble truth explains that suffering (dukkha) exists and second noble truth diagnoses the source of this suffering. The space between body and consciousness is the door to this understanding.
May 4, 2017 — Turning Down the Invitation: The Third Noble Truth
The third noble truth, which can be stated as "suffering ceases when attachment to desire ceases," shows that knowledge of "dependent origination" is the key to deeper understanding. From this deeper understanding, we must continue to build concentration to break old familiar habits so we can know directly our experiences and thoughts as they are unfolding. From this place, we can respond with freedom and clarity in the present moment.
May 11, 2017  — Every Problem Has an Answer
In the fourth noble truth, the Buddha gave us eight "tools" to use in living mindfully and fully in the world. These tools or truths are not abstract philosophical theories but practical responses to living life in a physical body.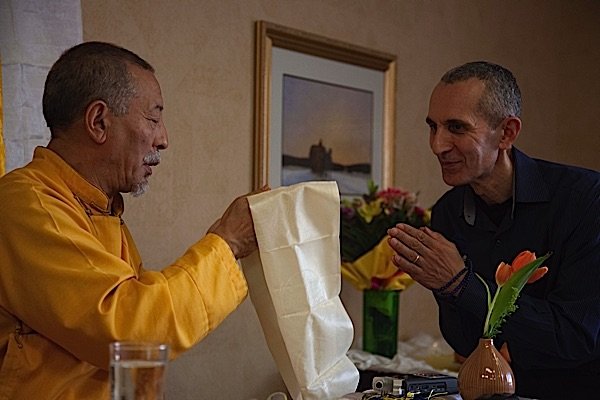 Teacher Theodore Tsaousidis
Theodore Tsaousidis has been practicing meditation and psycho-spiritual healing for the past forty years. Born in a rural community in Greece and immerced in a tradition of village healers, he has always been innately connected with nature and spirit. He has been a student of Buddhism for the past three decades and continues to study under traditional teachers in both Zen and Tibetan Buddhism. Acharya Zasep Tulku Rinpoche has requested and authorized Theodore to teach Buddhism and healing practices. For more information see>>
Location
Address: 637 Christie St, Toronto, ON M6G 3E6
(One block south of St.Clair on Christie)