Empowerment for the practice of Avalokiteshvara — Chenrezig in 4-Armed Form as Buddha of Compassion — together with mantra lung from the most Venerable Zasep Tulku Rinpoche, Spiritual Head of Gaden for the West Centres around the world.
---
The Empowerment will be via Zoom, hosted by Gaden Choling in Toronto. 
●Date: Saturday August 14, 2021
●Time: 3:30pm Vancouver, B.C. time OR 6:30pm Toronto time (Eastern Time)

●How: Regular GFTW Zoom Link (For new students the link will be sent to them, see Registration below.)
---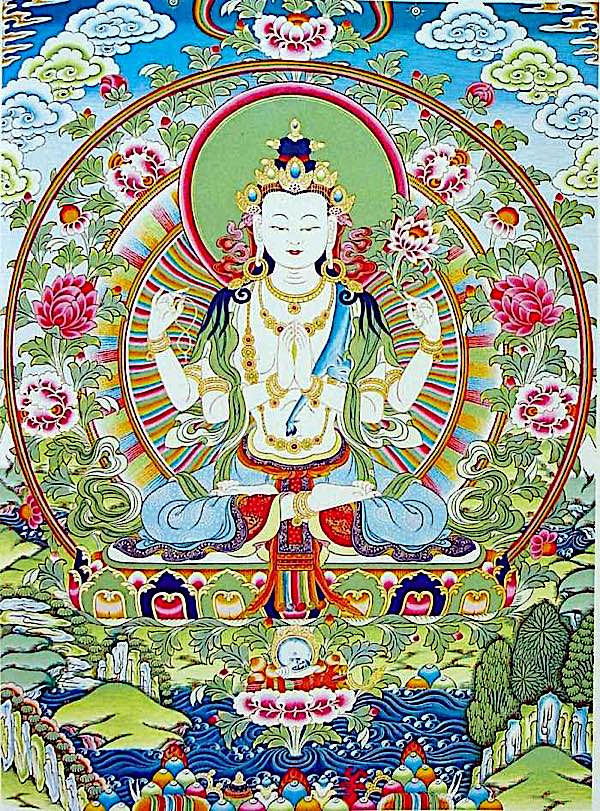 Empowerment was Requested by Students
The empowerment was requested by many students after Rinpoche requested people make offerings to the Nagas — which begins with Chenrezig's sadhana. Rinpoche wrote to the Sangha:
"We are facing global warming, devastating forest fires and smoke on the west coast of Canada and the U.S. … There are lots of people who wish to do Naga Pujas. I recently gave the loong of the mantra Naga King to the 21 Tara group. It will be much more effective if they have received Avalokiteshvara-Chenrezig empowerment.

I have decided to offer Avalokiteshvara-Chenrezig empowerment for everyone, not only as preparation for initiation of Naga Puja, but one can take it for the purpose of meditation on loving kindness and so on. Right after the mantras loong of Chenrezig, I will give the loong of Naga King Mantra. I will give both mantra loongs during the empowerment August 14th. I am including the updated Naga sadhana below for you and you can share with others."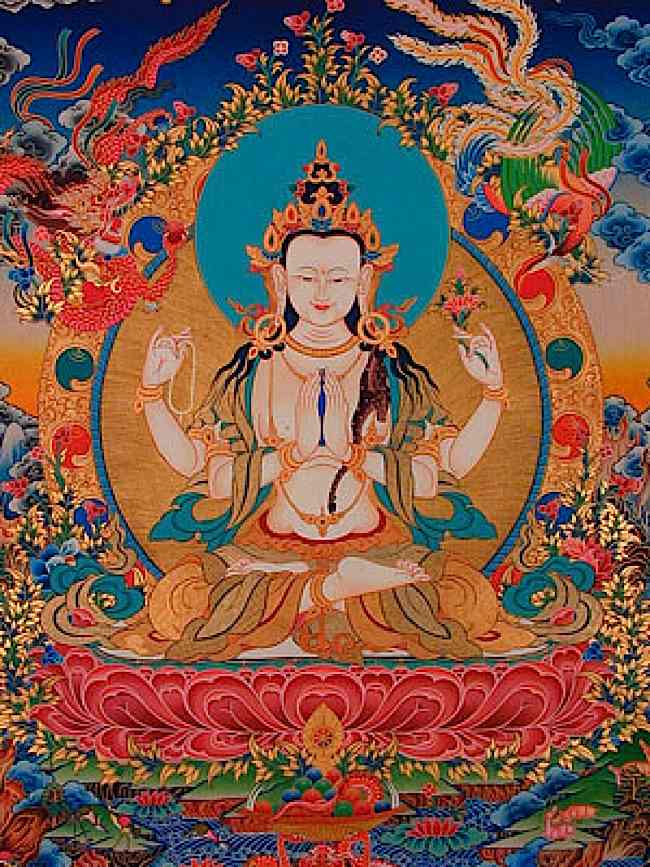 ---
Registration
●Cost: Suggested donation is $30 to the Gaden Choling Mahayana Buddhist Meditation Centre in Toronto.
●Additional Details: Please print 4-Armed Chenrezig photo to place on your crown during initiation and please rinse your mouth with saffron water. 
●Registration: registrant's email addresses will be collected by Gaden Choling at the canada helps donation link above.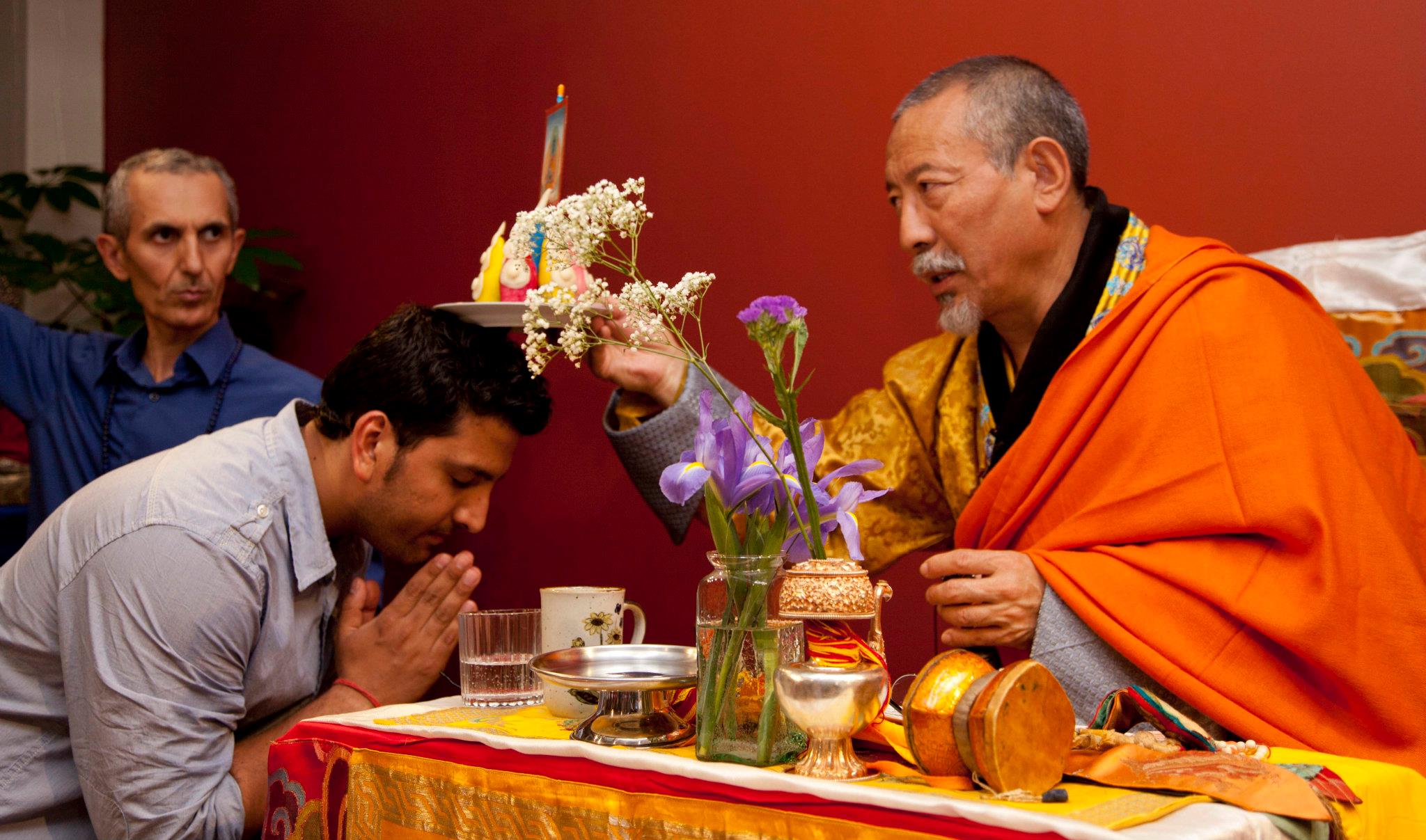 About Venerable Zasep Rinpoche
Rinpoche is the spiritual director of many temples, meditation centers, and retreat centers in Australia, the United States, and Canada and teaches also in Mexico and Mongolia. He was first invited to teach in Australia by Lama Thubten Yeshe in 1976.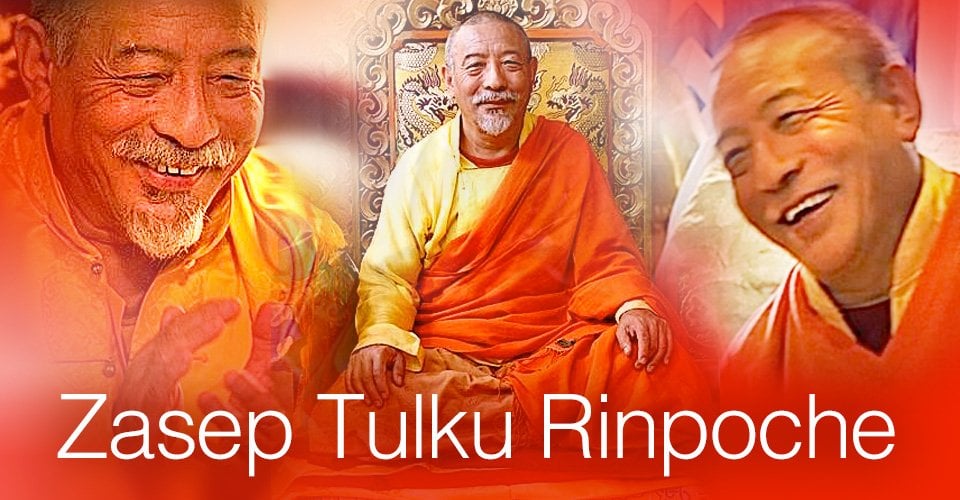 H.E. Venerable Zasep Tulku is the spiritual head of a number of Buddhist Centers, including Gaden Tashi Choling Retreat Centre in Nelson, BC, Canada, Vancouver, BC, Calgary, Alberta, Toronto, ON, Ottawa, ON, Thunder Bay, ON, Seattle, WA, Moscow, ID, Kalamazoo, MI, and Tasmania, Australia.
The Venerable Acharya Zasep Tulku Rinpoche — a highly realized and internationally respected teacher of Gelugpa Buddhism — was born in Tibet in the province of Kham in 1948. Zasep Tulku Rinpoche was recognized as the 13th incarnation of Lama Konchog Tenzin of Zuru Monastery. In 1959, during the Chinese invasion, he escaped from Tibet and continued his education for sixteen years in India under the tutelage of many of the greatest teachers of Mahayana Buddhism. In 1975, Zasep Rinpoche left India to study in Thailand where he joined the monks of a forest monastery. For eighteen months he studied and practiced with them. He then traveled to Australia and translated for Tibetan speaking Lamas for a number of years.
Since 1976 he has taught western Dharma students in Australia, Canada, and the United States and has developed Dharma centres in each of these countries. Rinpoche regularly visits these centres and offers extensive teachings, initiations and retreats which his many students enthusiastically attend. Zasep Rinpoche now resides in Nelson, BC, close to the Gaden for the West retreat centre (Gaden Tashi Choling Retreat).
In 1999, Rinpoche and his students created the Gaden for the West umbrella organization to more effectively support and nourish the study of Gelugpa Tibetan Buddhism in the West. He supports a number of Buddhist projects in Tibet, Mongolia, and India through the non-profit society Gaden Relief. 
About Gaden Choling Toronto
Zasep Rinpoche:
"Gaden Choling is a very old centre. I can share a few interesting stories. I came here in the autumn of 1981. When I arrived here, there was an auspicious event, something that had not happened before. Three great lamas arrived in Toronto at the same year.

H.H. the Dalai Lama came in October to Toronto for the first time. Then, H.H. the 16th Karmapa arrived in November. Then, my teacher, H.H. Kyabje Ling Rinpoche, he also arrived in November. All these things happened in the fall of 1981 in Toronto. When I arrived here, we were so energized by these great lamas, that a group of dharma students of the Gelug tradition told me they were thinking of setting up a meditation centre here. They had been thinking about it for a couple of years.

When H.H. Kyabje Ling Rinpoche arrived in November, we asked Rinpoche to give us a name. He gave the name Gaden Choling. Gaden Choling means joyful dharma land."
From the Gaden Choling website:
"Gaden Choling Mahayana Buddhist Meditation Centre is a refuge of teaching, study and practice of Buddhism in the Tibetan Gelug school of Lama Tsongkapa. It is one of the oldest Tibetan Buddhist centres in Canada, first established by H.E Kyabje Yongdzin Ling Rinpoche.
The centre is a registered charitable organization and offers a friendly and supportive atmosphere for meditation and study, open to all regardless of religious affiliation, ethnicity or gender. Teachings, initiations, weekend retreats, courses and specialized group meditation practices are held frequently. Our Spiritual Director is Zasep Jamseng Rinpoche, a traditionally trained and fully qualified master of the tradition with decades of experience presenting the Gelug tradition in the West. Please see Rinpoche's bio and Guidelines for Students for more info.
In addition to teachings from Zasep Jamseng Rinpoche, we also host teachings and retreats run by senior students regularly throughout the year.
Gaden Choling follows the advice of Zasep Rinpoche to continually try and become socially engaged Buddhists, and fundraisers for relief work and other charitable causes are a common element in our programming. A major and long-standing affiliate of our centre is Gaden Relief, which has a long and celebrated history of doing health and cultural reconstruction work in Tibet, India, and Mongolia. Gaden Choling itself is a charitable organization, run entirely by volunteers, and is able to exist based solely upon the kind donations of those who benefit from the centre. A special way that people do this is by becoming members of the community, which provides a regular and dependable source of income for the centre and is a crucial and wonderful way of supporting it's continued existence. Please visit our membership/membership/page."
Please support the "Spread the Dharma" mission as one of our heroic Dharma Supporting Members, or with a one-time donation.
Supporting Member Content
Please support the "Spread the Dharma" mission as one of our heroic Dharma Supporting Members, or with a one-time donation.
Please support the "Spread the Dharma" mission as one of our heroic Dharma Supporting Members, or with a one-time donation.
Please support the "Spread the Dharma" mission as one of our heroic Dharma Supporting Members, or with a one-time donation.
Please Help Support the "Spread the Dharma" Mission!
Be a part of the noble mission as a supporting member or a patron, or a volunteer contributor of content.
The power of Dharma to help sentient beings, in part, lies in ensuring access to Buddha's precious Dharma — the mission of Buddha Weekly. We can't do it without you!
A non-profit association since 2007, Buddha Weekly published many feature articles, videos, and,  podcasts. Please consider supporting the mission to preserve and "Spread the Dharma." Your support as either a patron or a supporting member helps defray the high costs of producing quality Dharma content. Thank you! Learn more here, or become one of our super karma heroes on Patreon.
Lee Kane
Author | Buddha Weekly
Lee Kane is the editor of Buddha Weekly, since 2007. His main focuses as a writer are mindfulness techniques, meditation, Dharma and Sutra commentaries, Buddhist practices, international perspectives and traditions, Vajrayana, Mahayana, Zen. He also covers various events.
Lee also contributes as a writer to various other online magazines and blogs.