Music Mantra Video: Om Mani Padme Hum wonderfully chanted by Yoko Dharma, the sacred sound of compassionate Buddha Chenrezig
Around the world, millions chant "Om Mani Padme Hum" each day. Many Buddhist children learn to chant Chenrezig's compassion mantra from very young ages. Chenrezig, also known as Avalokiteshvara (Sanskrit) and Kwan Yin (Guanyin, Kuan Yin), is the Great Bodhisattva of Compassion whose loving-kindness is iconic of Metta, Bodhichitta and love in Buddhism.
Bring even more compassion into your practice with a daily recitation of Om Mani Padme Hum. Or, chant along with Yoko Dharma and enjoy the video visualizations on screen. Please enjoy! May all beings benefit. Play here (full screen available by clicking icon in bottom right of video):
Om Mani Padme Hum (in Tibetan "Om Mani Peme Hung") is near-universal to most Mahayana Buddhists. In some ways, Om Mani Padme Hum is the best known of mantras; yet, in other ways, it is profound and deeply meaningful, with many layers of meaning.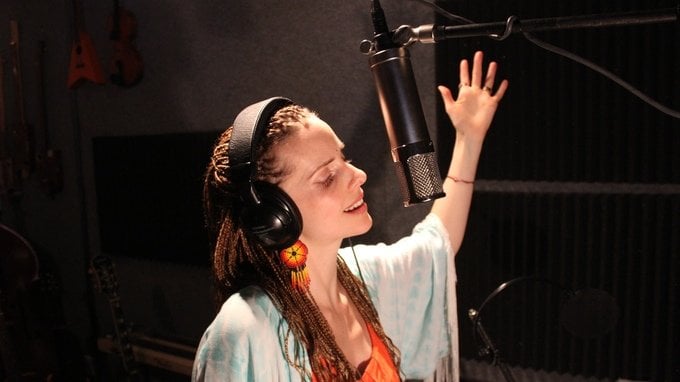 We previously interviewed Yoko Dharma regarding a recording project:
About Yoko Dharma
From her website:
 "Sometimes when you wait, it gives you time to grow and flower into something much more beautiful then you had ever imagined. This is the case with Yoko Dharma. The last 5 years for this Canadian born recording artist has been full of growth opportunities as she has patiently been waiting to record her RnB debut album "Freedom Reign." Now her album is almost complete!  Producer Marty Rifkin is working on this album with Yoko, bringing "Freedom Reign" to life and helping Yoko manifest her vision into the world. Marty has recorded with Jewel, Bruce Springsteen, Elton John and numerous other well-known artists. The culturally diverse world music influences drawn on to make "Freedom Reign" album, stem from Yoko's passionate love of world music and unique world instruments, which are all a part of Yoko's intriguing sound. Her motivation to break through cultural barriers using music as the conduit for positive global change and peace, is a call to action and  transformation of one's mind, which is given to the listener through Yoko's conscious lyrics throughout the album.  Steeped in the basic human qualities of love, compassion and awareness, Yoko draws from the deep rooted wisdom that Tibetan Buddhism has given her in her life and reflects this in her songwriting. Between Marty Rifkin's expertise and Yoko Dharma's strong message and powerfully sweet voice, I have no doubt that Yoko's debut  RnB album will shake the globe, stirring international fans everywhere!
     Growing up as a Tibetan Buddhist in the west was a slightly different childhood then most Canadian kids have. This had a profound and deep influence on Yoko from an early age, especially when she started adapting Tibetan Buddhist meditations and practices more seriously at the age of 13. This definitely makes Yoko unique in the way she writes music and in terms of what she has to say based on her own understanding. This seems to spill out to people because many of her fans resonate with what she is singing about . Her ability to connect with the listeners weather it is on stage or through a recording is profound because of some basic truths she sings about which transcend culture, race and religion. Essentially, the science of the mind, the truth of all phenomena and some fundamental human qualities that we all possess like love, kindness and compassion. This is why so many people relate to her music and I think this is why she can move people so deeply because somewhere inside they also know these truths or have had similar experiences."Yoko started singing as soon as she arrived in this world. Born deep in the lush mountains of British Columbia, Yoko is a small town girl from Nelson. She was raised surrounded by musicians and artists. Her mother is a singer and her father a guitar player who both write music. As a child growing up she would often create fantastic shows for guests when they would visit, stepping onto stage in public at the young age of 13. This was when she also began to write her own songs. From disco bands to African dance troupes, Buddhist Mantras to touring with her own original RnB/world music and opening for Jan Arden, Yoko has a captivating musical and performance background. Yoko has also studied African, Modern, Afro Cuban, Salsa and Balinese styles of dance.""In 2007 she co-produced and recorded her first album " Yoko Treasury of Jewels." The album received amazing reviews, being happily received by Yoko's fans. It also was chosen as "editor's pick"  by Peters on CD baby.  "Her voice is a bit like Madonna's, that is to say, she is fully capable of pure enchantment. Yoko's entrancing voice is a pure pleasure to listen to." ~ Writes Peters at CD Baby. This album reached beyond the Buddhist community spilling out to many of Yoko's fans internationally who are not Buddhist but fell in love with the album. "Treasury of Jewels" is sung in Sanskrit and Tibetan, it is comprised of traditional Tibetan mantras and chants made into beautiful, engaging world music songs."