Mama Buddha Tara: Compassionate Action
Tara is the Buddha of Enlightened Activity. Tara (Drolma in Tibetan) is often just called the "saviouress", not just in the sense of spiritual salvation, but a rescuer of beings suffering in samsara here and now.
On my path, my Yidam is Tara, the female Buddha. In Tibet, despite enormous respect and love for Tara, She is often just known as "Mummy Tara"—and that's how I feel about her as well. 

Bhikshuni Thubten Chodron (see video below) wrote
"If you put your full trust in Tara, you will receive the guidance you need and all your problems will be solved…"

Green Tara, Mother of All Buddhas. Inset is Venerable Zasep Tulku Rinpoche. In the background surrounding Green Tara are manifestations of the 21 Taras.
There are literally thousands of stories of ordinary Tibetans, fearing for their lives, abused, in pain, in prison, fleeing persecution—who simply turned to Tara in these times of desperation, and were rescued. Bhikshuni Chodron tells many personal stories of physical rescue in her book "How to Free Your Mind: Tara the Liberator." In the preface to her book, Lama Zopa Rinpoche also told the story of a student who had terminal cancer, who received the practice of Twenty-one Taras (the praise)—and fully recovered. Simply chanting her Mantra, when in need or danger, can bring rescue you from danger:
Om Tare Tuttare Ture Svaha  (in Tibetan Soha)
Tara's mantra "throat chanting" from Lama Tashi:

Tara's numerous anecdotal stories of rescues, some very dramatic and very recent, are compelling, and one of the reasons she is loved and praised by millions each day.

Tara's Omniscient Mind
Like all Buddha's, She is a fully enlightened being with an omniscient mind. All Buddhas have the same qualities. Buddhas have no defilements. Tara has no defilements. She has no afflictive obscurations, the ones that keep us in samsara: ignorance, anger, and all other karmic afflictions that keep us in cyclic existence. Tara is no different from other enlightened beings, such as Shakyamuni, Avaolokitesvara, Vajrapani or Manjushri.
21 Praises to Tara from Her Eminence Jamyang Dagmola Sakya (accompanied by Nyima Gejie):

Tara, the Activity of Compassion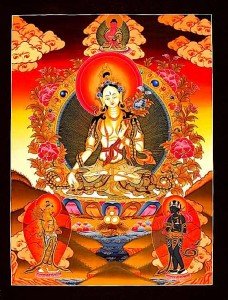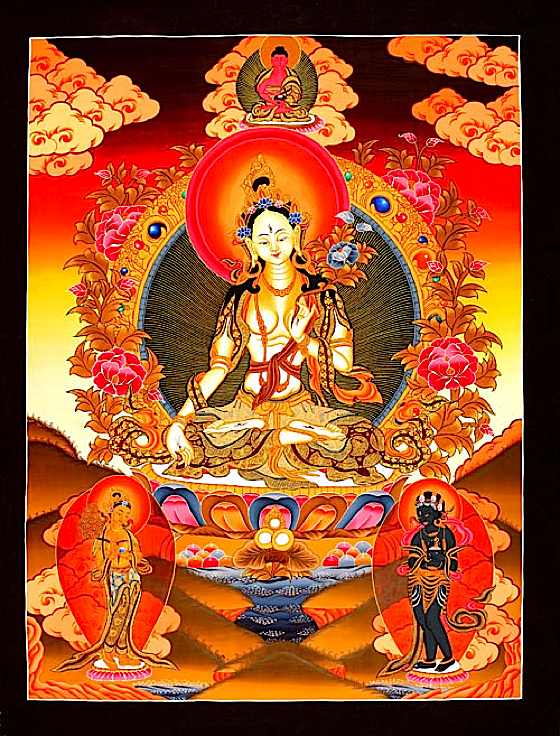 Although the attainments and qualities of equanimity, love, compassion, joy and the six far-reaching attitudes are the same, Tara is considered to be the "activity of compassion", while Avalokitesvara is associated with "compassion", Manjusri with "wisdom" and Vajrapani with "power." All the Buddhas contain these qualities, but Tara attracts those who benefit most from compassionate action.
"Tara is not a concrete, self-existent person with a personality, and for this reason, we train our minds to see her as an emanation of the good qualities that we want to cultivate," explains Bikshuni Thubten Chodron in her popular book How to Free Your Mind: Tara the Liberator.  She goes on to explain, "A Buddha has two main bodies: a dharmakaya or truth body, and a rupakaya or form body." The omniscient mind that has eliminated defilements is the dharmakaya, she explains. The rupakaya, are various forms assumed by enlightened beings to communicate more effectively with us.
Dance of the 21 Praises of Tara at the Maui Bliss Fest 2012:

In other words, there isn't just one manifestation of the enlightened qualities of Tara—or any Buddha. She can appear as Green Tara, White Tara, Red Tara, Black Tara, Yellow Tara, or many other forms from fierce to peaceful, including the well-known 21 Taras. These are simply appearances, to help us understand, since a Buddha's mind is far beyond our present limited conceptual abilities. While it is true we all enjoy Buddha Nature, conceptually, we are not able to comprehend the true state of Tara or any Buddha without Her rupakaya or form body.
Mama Tara
Why is Tara often called Mummy Tara? This is not just an endearment, to millions of followers who find refuge in Her active mothering aspects. She is often called the "Mother of all Buddhas"—not in the maternal, physical sense, of course, any more than "Sons of Buddhas" means physical offspring. Sons of Buddhas, a term used in various praises, including versions of the Seven Limb Prayer, refers to spiritual children of the Buddhas—Buddhas, Bodhisattvas and enlightened beings who followed a guru Buddha. In a similar way, Tara is considered the "Mother of all Buddhas."
Tara embodies the feminine principle, and for this reason is known as the Mother of Mercy and Compassion. Like a mother, She is protective, and as the embodiment of "active compassion" She is also a saviour who will rescue those in trouble.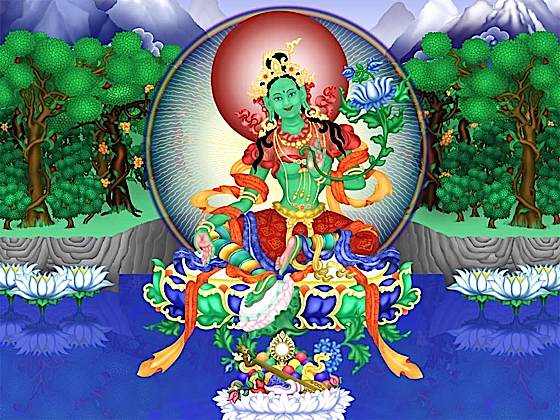 Mother of All Buddhas
Mother of all Buddhas refers to enlightened wisdom of the Buddhas, in her aspect as Prajnaparamita. In sutra, she is mentioned in the Mahavairocana Sutra, Manjusri-mula-kalpa and others.  In Tantric texts, Shakyamuni Buddha called her the Mother of Buddhas when he delivered Her Dharani.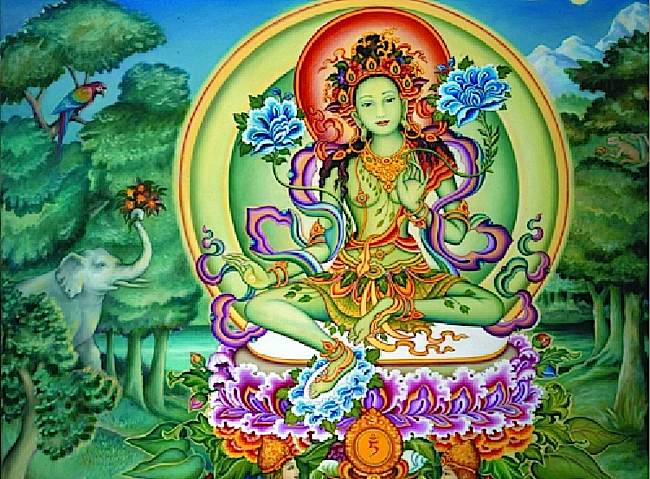 In "Sarva-tathagata-matr-tara-visvakarma-bhava-tantra-nama", Buddha teaches Manjusri and countless deities in Tushita realm (quoted from Martin Willson's In Praise of Tara: Songs to the Saviouress.)
Manjusri asked the Lord: "Lord, all the Buddhas of the three times are deep. How therefore did She produce them? How is She their Mother?"
And the Lord said, "That is true, Manjusri, but all the Buddhas of the three times are also unproduced and unceasing, not defiled and not immaculate, with decrease or increase, and by nature in Nirvana; for this reason: that is the nature of all dharmas."
When Manjusri asked Shakyamuni to clarify, the Lord said, "Manjusri, the Ultimate is called Nirvana, the Universal Law (dharmadhatu) is called Nirvana; it is a synonym with the True Goal. It is Great Compassion. Conventional nature is a synonym of samsara. The Mother who produces the buddhas of the three times is beyond this; therefore She is beyond samsara and affliction. Thus, Manjusri, She is to be regarded as Mother.
And the Lord said: "Therefore, Manjusri, with understanding of the Suchness of dharmas should one meditate on Her; one should recite this dharani, practice earnestly, understand Her qualities and make offerings to Her. One should receive instructions and have no doubts. One should act earnestly in the deeds, remember Her praises, and practice the rites severally." In these words He taught to the Bodhisattva Manusri the Youthful.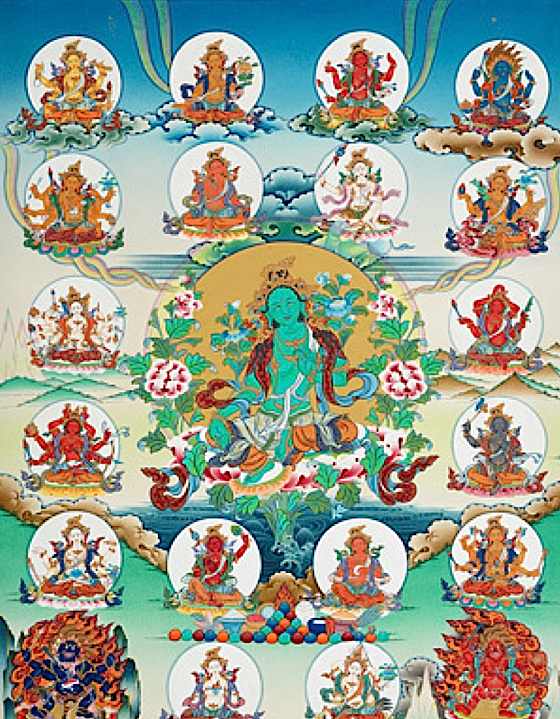 The 21 Praises
Around the world, millions chant the 21 Praises to Tara, as first taught by Shakyamuni. Her popularity is universal amongst most Vajrayana Buddhists and many Mahayana Buddhists, and for this reason, lay practitioners regularly, usually daily, chant the praises. Because Tara's quality is "action" the Praises are said to bring immediate benefits, blessings and protection. In a separate post, I'll explore the Praises, but here is an English Version:
1 Homage to you, Tara, the swift heroine,

Whose eyes are like an instant flash of lightning,

Whose water-born face arises from the blooming lotus

Of Avalokiteshvara, protector of the three worlds.

2 Homage to you, Tara, whose face is like

One hundred full autumn moons gathered together,

Blazing with the expanding light

Of a thousand stars assembled.

3 Homage to you, Tara, born from a golden-blue lotus,

Whose hands are beautifully adorned with lotus flowers,

You who are the embodiment of giving, joyous effort, asceticism,

Pacification, patience, concentration, and all objects of practice.

4 Homage to you, Tara, the crown pinnacle of those thus gone,

Whose deeds overcome infinite evils,

Who have attained transcendent perfections without exception,

And upon whom the sons of the Victorious Ones rely.

5 Homage to you, Tara, who with the letters TUTTARA and HUM

Fill the (realms of) desire, direction, and space,

Whose feet trample on the seven worlds,

And who are able to draw all beings to you.

6 Homage to you, Tara, venerated by Indra,

Agni, Brahma, Vayu, and Ishvara,

And praised by the assembly of spirits,

raised corpses,
Gandharvas, and all yakshas.

7 Homage to you, Tara, whose TRAT and PHAT

Destroy entirely the magical wheels of others.

With your right leg bent and left outstretched and pressing,

You burn intensely within a whirl of fire.

8 Homage to you, Tara, the great fearful one,

Whose letter TURE destroys the mighty demons completely,

Who with a wrathful expression on your water-born face

Slay all enemies without an exception.

9 Homage to you, Tara, whose fingers adorn your heart

With the gesture of the sublime precious three;

Adorned with a wheel striking all directions without exception

With the totality of your own rays of light.

10 Homage to you, Tara, whose radiant crown ornament,

Joyful and magnificent, extends a garland of light,

And who, by your laughter of TUTTARA,

Conquer the demons and all of the worlds.

11 Homage to you, Tara, who are able to invoke

The entire assembly of local protectors,

Whose wrathful expression fiercely shakes,

Rescuing the impoverished through the letter HUM.

12 Homage to you, Tara, whose crown is adorned

With the crescent moon, wearing ornaments exceedingly bright;

From your hair knot the buddha Amitabha

Radiates eternally with great beams of light.

13 Homage to you, Tara, who dwell within a blazing garland

That resembles the fire at the end of this world age;

Surrounded by joy, you sit with your right leg extended

And left withdrawn, completely destroying all the masses of enemies.

14 Homage to you, Tara, with hand on the ground by your side,

Pressing your heel and stamping your foot on the earth;

With a wrathful glance from your eyes you subdue

All seven levels through the syllable HUM.

15 Homage to you, Tara, O happy, virtuous, and peaceful one,

The very object of practice, passed beyond sorrow.

You are perfectly endowed with SOHA and OM,

Overcoming completely all the great evils.

16 Homage to you, Tara, surrounded by the joyous ones,

You completely subdue the bodies of all enemies;

Your speech is adorned with the ten syllables,

And you rescue all through the knowledge-letter HUM.

17 Homage to you, Tara, stamping your feet and proclaiming TURE.

Your seed-syllable itself in the aspect of HUM

Causes Meru, Mandhara, and the Vindhya mountains

And all the three worlds to tremble and shake.

18 Homage to you, Tara, who hold in your hand

The hare-marked moon like the celestial ocean.

By uttering TARA twice and the letter PHAT

You dispel all poisons without an exception.

19 Homage to you, Tara, upon whom the kings of the assembled gods,

The gods themselves, and all kinnaras rely;

Whose magnificent armor gives joy to all,

You who dispel all disputes and bad dreams.

20 Homage to you, Tara, whose two eyes – the sun and the moon –

Radiate an excellent, illuminating light;

By uttering HARA twice and TUTTARA,

You dispel all violent epidemic disease.

21 Homage to you, Tara, adorned by the three suchnesses,

Perfectly endowed with the power of serenity,

You who destroy the host of evil spirits, raised corpses, and yakshas,

O TURE, most excellent and sublime!
My Personal Views
Om Tare Tuttare Ture Svaha
In my own life, Tara has saved me from one disaster or another. There is hardly a stressful moment when Tara's mantra doesn't spontaneously pop into my head, or burst out of my throat without conscious motivation: "Om Tare Tuttare Ture, Svaha." The last ten years haven't been kind to me in many ways, but each time I felt Tara intervening with just the help I needed. I sit and meditate on Tara twice a day, and say as many mantras as I can. It not only calms and clarifies, it takes me to a place of stillness where I can begin to practice.
Praises to Twenty-One Taras in Tibetan to the tradition of Lord Atisha:

Not mainly for temporal success
Lama Zopa Rinpoche is very clear on this area of devotion, for there's always a danger of attachment: "…the Twenty-one Taras do not exist mainly for temporal success and healing, but for the ultimate purpose of freeing you from all sufferings—such as the cycle of aging, sickness, death and rebirth, dissatisfaction, relationship problems and so forth—and their cause: delusion and karma and the negative imprints they leave on you mental continuum, and bringing you to the everlasting happiness of liberation and enlightenment.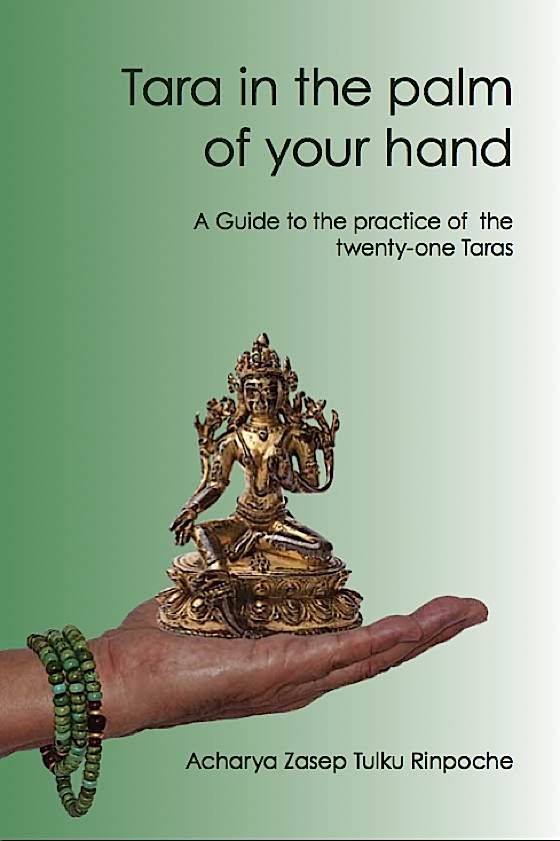 The Danger of Attachment
Lama Zopa Rinpoche is very clear on this area of devotion, for there's always a danger of attachment: "…the Twenty-one Taras do not exist mainly for temporal success and healing, but for the ultimate purpose of freeing you from all sufferings—such as the cycle of aging, sickness, death and rebirth, dissatisfaction, relationship problems and so forth—and their cause: delusion and karma and the negative imprints they leave on you mental continuum, and bringing you to the everlasting happiness of liberation and enlightenment."
– Josephine Nolan